America's Gerry Beckley's New Solo Journey "Carousel"
by Kim Cyr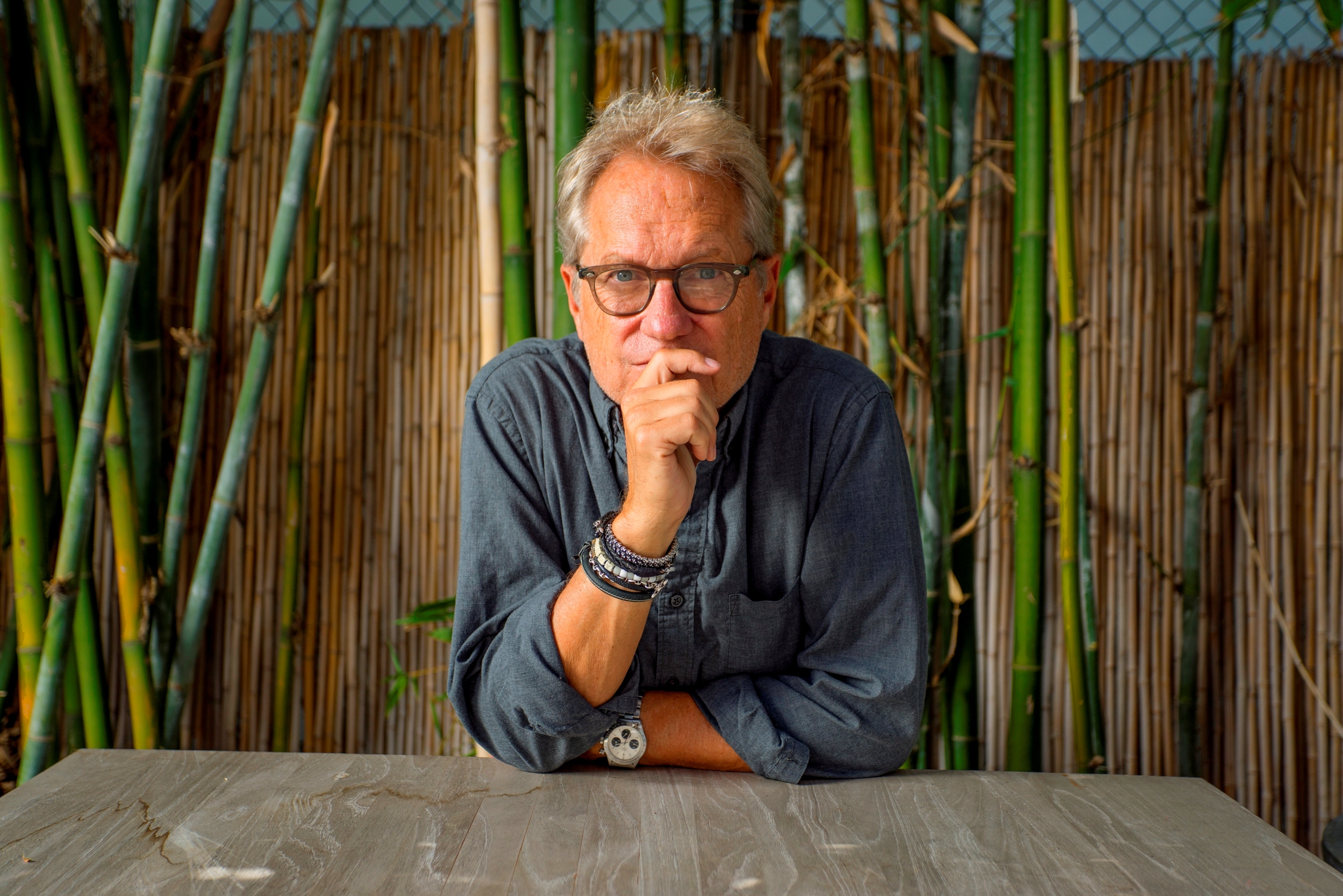 Gerry Beckley from Legendary Grammy Award-winning rock group America Photo
Credit Joe Beckley
(Podcast Interview with Gerry Beckley with Kim Cyr and John Marshall) Click here

America singer/songwriter Gerry Beckley released a new solo album titled Carousel on September 9, earlier this year.  The 12-track collection, Beckley's first studio effort since 2011's Unfortunate Casino, features mostly original material, along with three cover tunes -- Spirit's "Nature's Way," Gerry Rafferty's "To Each and Everyone," and the 1964 Gerry and The Pacemakers hit "Don't Let the Sun Catch You Crying." 

Beckley is half of the legendary band, America, which started their musical journey in 1970 in London with their mega hit, "Horse With No Name."  Mr. Beckley has written the band's hits "I Need You,' "Sister Golden Hair,' "Daisy Jane," and "You Can Do Magic."
"With a solo project I'm really a committee of one," says Beckley, who continues to co-lead America with fellow founding member Dewey Bunnell. "There's only myself to please. Having said that, it's not always easy. Each project is a snapshot in time. The material on Carousel came from a wide scope of inspiration." 

Kim:  How long did this solo project take from the time of conception to the final finished album Carousel?

Beckley: If you go by when I wrote some of the songs, some of the songs are 50 years old.  But that is a bit misleading. One of the songs, the Gerry and the Pacemaker song, was from 1963. For me, I write a lot and I tend to sit on them for a while. I don't want to expose that too much because it sounds like the songs weren't ready. When I dress an album, I just go back and find what I can find. I see which ones seem to go together.  So some of them are brand new. Some of them are quite old. The track "Tokyo" is quite old. This is the right time for it. So there it is.

New Single "Tokyo" from Carousel

Kim:  You have such a long list of hit songs that you have written over your very successful career.  What was the writing style of this new single "Tokyo"  in comparison to songs like "Sister Golden Hair" and "Ventura Highway"?

Beckley:  The truth in this song was that I was in a boarding lounge in Tokyo and the idea of the song, calling home, just got off stage and stuff, That was the idea and I started scribbling it down. I got a little distracted and I almost missed the plane. The muse of creativity, you never know when it's going to come. In that case, I almost missed the plane. The good news, I made it home.

Tokyo is one of the more commercial  songs on the album with controversial lyrics that can't be played on air but you can really feel the influence of the legends he has written with in the magic of Gerry's lyrics that he is so well known for throughout the tracks on this new album.  
 
The vocals on the entire album are mostly Gerry's but here are a couple of lines that were done by a couple of very dear friends of his, Jeff Foskett.  He toured with the Beach Boys and has toured for many years with Brian Wilson. He's on a few songs. And also, Executive Producer, Jeff Larson gave some very nice backing parts on a couple of songs on the album. He did some very lovely backing parts.

Beckley played most of the instruments.

Beckley:  I would have to go track by track to remember which instruments I didn't play. The instrument I played the least was the drums. The drummer I relied on the most was Ryland Steen. If it is not me, it is usually Ryland Steen playing drums.

Kim:  What is the style of writing on this new album?

Beckley:  I do try to make the whole album a listening experience rather than front load it with my favourite songs.  I want to tell a story from beginning to end to make sure the fans want to listen from one track to another like you would read a book.  

Kim:  This album does just that.  You can feel the story, the life's journey of relationships in a lot of the songs.  Something the fans can relate to instantly.  I love all the songs from your band America.  I can remember exactly where I was and what was happening in my life at that exact moment.  Until I went back and listened to the extensive list of hit songs you guys had, I was shocked.  I had forgotten just how many there was.  I really hope that listeners out there will go back into the library of America's hit songs and play them once again. It brought back some incredible memories for me and I know it will for them too.

Kim:  You can hear the influence of your life's journey in your songs and that's what holds the listeners to play one after the other on this new album.  I loved it.

Kim:  You produced and wrote most of this album, correct?

Beckley:  I produced the album. I wrote most of it. I played most of it and I produced it.

Kim:  Out of all the songs out there, there is three original tunes by other artists that you covered on this album.  Why ""Don't Let The Sun Catch You Crying" by Gerry and the Pacemakers? That was a big hit during the Beatles era. 

Beckley:  It was one of my favourites for years.  The three covers on the album are "from my long list of fave songs."  "Don't Let the Sun Catch You Crying" is a tune i have been singing "virtually since it came out in the '60s."  

Kim:  Among the original songs on Carousel are "No Way I'm Gonna Lose You," a tune you co-wrote with Adele collaborator.  There was a lot of influences that we recognize on this album.  

Beckley:  The whole entire British invasion during the 'sixties' had a huge influence on me.  I was born in Fort Worth, TX on an air base. I moved to England when I was one year old. It feels a little weird to say I am a Texan, not there is something wrong with the lovely state of Texas. I just don't remember anything about it. My first memories were in the UK.  We were very fortunate to work with George Martin on 7 of our albums with the band America.  He had a huge impact on me and the band.  

On the album there is other cover songs was a Gerry Rafferty song, "To Each and Every." It was another big influence for Gerry on the new album.  He was a fan from the very earliest days of his career. He used to be in a group called the Humblebums when America first started in England. The Humblebums were Gerry Rafferty and Billy Connolly. Billy became known as the comic and actor, Billy Connolly. But he was a musician and he was in this duo with Gerry Rafferty for a while. So, it go all the way back to Gerry's earliest recordings. Gerry Rafferty was lost a little while ago and it's a shame. Those of that era, we are starting to lose them a little more often. Sad to see him go, but he did leave a great body of work.

Beckley:  "Some wonderful stuff", says Gerry. I'm a big fan. Someone pointed out to me that of the three covers on the new album, I picked two guys with the first name of Gerry spelled with a G, Gerry Marsden, and Gerry Rafferty. Laughing, I'm going to record songs by anybody with the first name of Gerry!

The new record label came about through some mutual friends of Gerry's mostly.  A dear friend Cindy Alexander, who is on the BluElan record label, gave Gerry a call and said, 'Kirk at the label would love to get together with you and talk.' Gerry had a record that he had been working on, for this album, one that he had been working on for a few years. So, the timing was right and he was keen.  That's how it came about.

Kim:  Many of the songs on this album are kind of sad dealing with relationship and personal journey's that someone might take if they were separated from the one that they love.  

Beckley:  You know I think that's the theme of time and time passing. It's the theme of the "Carousel" song and for "Minutes Count" on the album. There are a few other references to it on other songs on the album. I think it is inevitable when you log into as many years as Dewey and I have, 46 years as a band. You are really talking in musician's terms many lifetimes. Its inevitable that that is an influence.
Here's the Carousel track list: 
"Tokyo" 
"Nature's Way" 
"Minutes Count" 
"Don't Let the Sun Catch You Crying" 
"Lifeline" 
"Widows Weeds" 
"No Way I'm Gonna Lose You" 
"Once a Distant Heart" 
"To Each and Everyone" 
"Fly" 
"Serious"   
"Carousel"

Carousel was recorded at Beckley's Los Angeles studio Human Nature, the shimmering 12-track album plays to all of BECKLEY's strengths; the singer, songwriter and musician. Each song seems to be a snapshot in time and personal reflection and a wide scope of inspiration gathered by Gerry own life throughout the years.    
It is how Beckley looks at the world and his place in it. By any conventional measure, he is a superb songwriter, a master of popular composition and a distinctive singer whether as the lead vocalist on "Sister Golden Hair" and "You Can Do Magic," in harmony on "A Horse With No Name" and "Ventura Highway," or singing on his group's other classic singles or on solo projects. 
At the same time, there's something in Beckley's work that skews toward the edge-- never at the expense of musical quality but perhaps to avoid being sucked into the maws of commercial conformity. Nothing exemplifies this better than his latest album--and first for Blue Élan Records--the shimmering CAROUSEL, which is at once similar to and utterly unlike everything he's written and recorded until now. 

"Lifeline" from the album Carousel
As for the meaning of CAROUSEL, Beckley leaves it up to listeners to reach their own conclusions. After all, aside from three intriguing covers, he wrote this music over a period of decades, in different places and stages of his experience. Still, it's hard to imagine there wasn't some rhyme and reason guiding him and ultimately his decision on which 12 songs he selected for this album. 
For example, to this writer, CAROUSEL seems to tell a somewhat nostalgic if not regretful story. In his sensitive arrangements and artful interactions of melody and harmony, Beckley reflects a life that keeps him separated far too long from his love one ("Tokyo"), adds to that a sense of a relationship ebbing from his grasp ("Once a Distant Heart"), of fear of "running out of time" ("Lifeline") and a premonition of personal decline as "I walk the line 'till I fade from existence" ("Minutes Count") and more, up to a resigned but not at all unpleasant acceptance of fate on the title track. 
"Minutes Count" from new album Carousel  
"I come from the era when an album was the normal listening experience," he says. "Today, the notion of making a listening experience that's 20 minutes or longer has been pushed to the side. People think it's old-school, but to me it's really valid." 
As CAROUSEL proves, so, too, is the idea of craftsmanship serving the emotions of a song or lyric. "You can talk about chord sequences in an esoteric way," Beckley observes. "But each chord can represent an emotion. Together, two chords can sound happy or morose. The key, as I always tell songwriters who ask for advice, is to 'write personal.' If you write from your heart, it doesn't matter what other people say. If it's fastened to some fiber inside of you, you know it's going to mean something." 
Kim: I know that it takes a lot of time for a listener in the digital age to sit down and listen to a whole album.  It's so convenient to just search for one song from an album that they might hear on the radio instead of getting a vinyl record and listening to it and if you liked it, you flipped it over.  How do you go about your writing now and how you capture the audience to get them to listen to the whole album?   
Beckley:  Well, it's true, I come from the days when you had to get attention for 20 minutes in order to get your audience to buy your record but I also come from the era of storytellers, like Pink Floyd, it was a listening experience and that's how I will always write.  

"No Way I'm Gonna Lose You" Carousel
 
He also pays tribute through details that evoke the performers he loves, such as the Chicago-inspired horns and Beatle-esque vocal riffs on "Lifeline." "And why not?" he asks. "You can go back to when I played lap steel on (America's) 'Sister Golden Hair'; the DNA came directly from George Harrison. I think I'm allowed these references. The thing is that none of these things yell out from the music. Whether I'm acknowledging someone I've known and respected, like George, or doing something completely my own, I would much rather that each element in the music is discovered. I want listeners to say, 'I want to hear that again' because you haven't heard everything about it if you've played it only once." 

In case you have forgotten these great story telling songs, here are a few of my favourites and yours I am sure.  

America's 1975 hit "Sister Golden Hair" 
Beckley has nurtured his artistry not just with America but extensively in many other endeavors. He has added vocals, guitar, original compositions and creative input in the studio with Harry Nilsson, Chicago, Dan Fogelberg, the Beach Boys and other innovators. He wrote music for the John Waters film Cry-Baby. He's performed on soundtracks to The Simpsons and Sesame Street. He's even sung parts for Alvin & the Chipmunks. 
("I spoke recently at Loyola University," Beckley notes. "I talked about doing a hundred shows a year for 46 years, but the thing that floored the class was when I admitted that I'd even been a Chipmunk."), says Beckley.   
Beckley's schedule is as busy as ever, not just with musical projects but also with his passion for photography and a commitment to dividing his time between the L.A. area and Sydney, Australia, where he maintains a home with his fiancée and her children. These obligations, fulfilling as they are, make CAROUSEL an even greater accomplishment. 
"I've explored so many avenues and had so many wonderful opportunities," Beckley concludes. "During America's years of being produced by George Martin, if we wanted a 60-piece orchestra, it was there for us. The main thing I learned from him, though, was to keep focused and remember that your options are unlimited. That applies completely to CAROUSEL. Making this album was hard work--in the best possible sense." 
What, then, is his interpretation of its meaning? Beckley thinks for a second before replying, "In the same way the Beatles called their album Revolver because it goes round and round, so does a carousel. Our messages are actually very similar: We're on this wheel of life. As long as we're on this circle, time is not our enemy; time is our challenge. It's a little bit tragic but also beautiful."

To preview and buy music from Carousel by Gerry Beckley, download iTunes now.   https://itunes.apple.com/us/album/carousel/id1137577810

There is no question that Beckley is one of the best lyricists and notable voices from the 70's and 80's.  There are so many hits from the band America that I bet you have forgotten as well.  I would suggest you go back and take a look yourself so that you can reflect on the incredible songs that this band put out over the years and a great part of that success was the writing of Gerry Beckley.   I have a few favourites from the album Carousel.  The one's that stood out for me the most were Tokyo, LifeLine and Minutes Count.  I have my personal reasons that may differ than your reasons for liking these tracks.  Time is such a gift in every aspect in life and valuing every moment in every area of our lives is the most important thing that we are can forget.  No matter what challenges you might be facing in your life, through life's journey's and experiences, we learn what really matters.  You will hear that often throughout life but it comes to hold solid ground with experience of loss and triumphs that only experience can give you.  It's a journey and Beckley tells the stories of life and relationships well in his new solo album Carousel.  

by Kim Cyr

Here are a few of America's greatest hits.  Enjoy some of the iconic hits of one of the best bands of all time! 
  "A Horse with No Name" by America click here


"Ventura Highway" by America click here


"Lonely People" by America click here


"Daisy Jane" by America click here


"You Can Do Magic" by America click here 


"Tin Man" by America click here

 
America is still touring today and if you get the change to see them live, I would suggest you go and pick up tickets for an evening your won't forget.   

Podcast Interview by Kim Cyr and John Marshall, click here
Social Media links:

www.gerrybeckley.com 
  
http://www.venturahighway.com/ 
  
https://www.facebook.com/americaband 
  
https://twitter.com/americaband