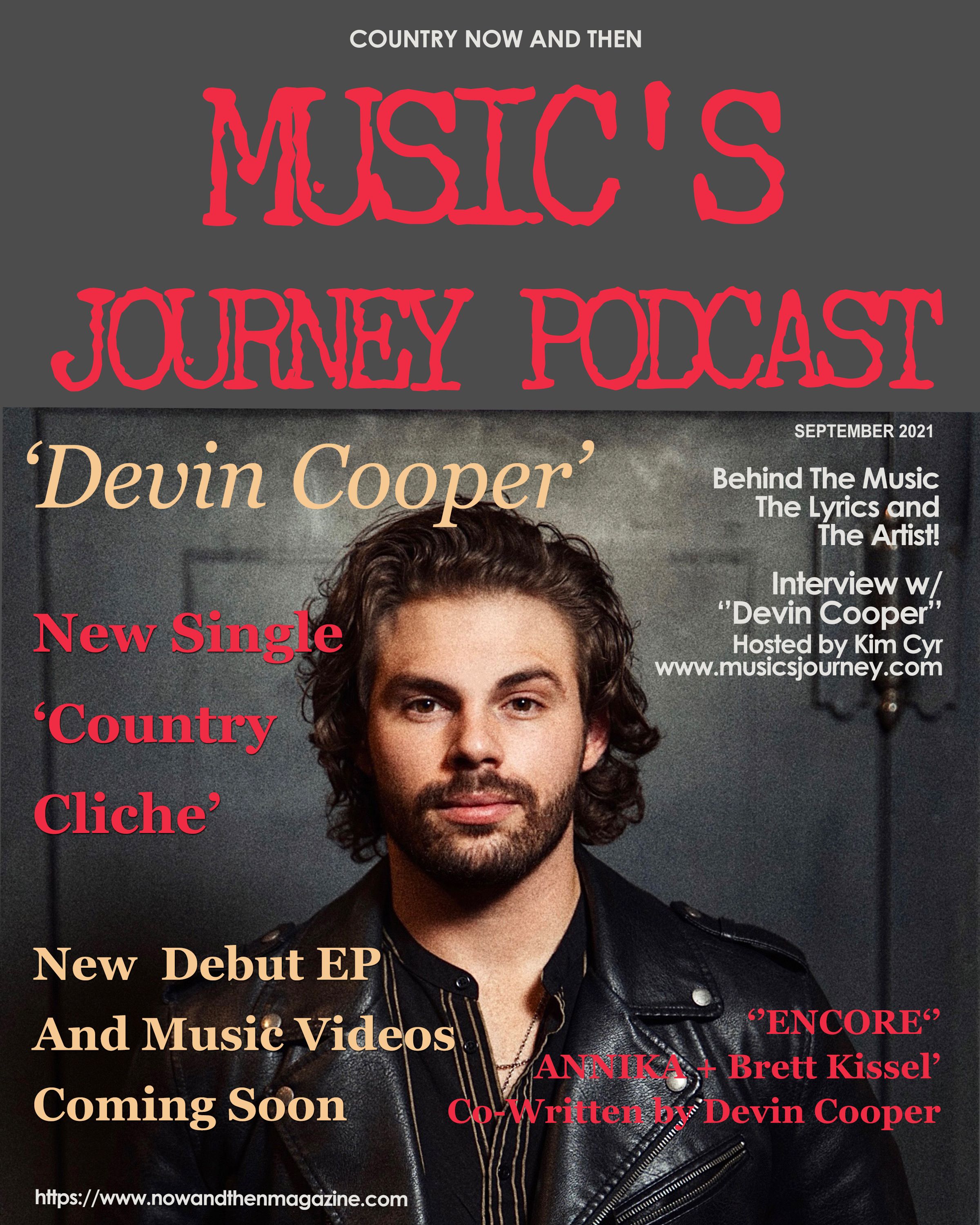 Music's Journey Podcast
w/ Country Artist ''Devin Cooper''
Hosted by Kim Cyr
Presented by NOW and THEN Magazine
https://www.nowandthenmagazine.com
Music's Journey Podcast #INTERVIEW #110 w/ Country Artist ''Devin Cooper'' Releases New Single ''Country Cliche'' Check It Out! Listen HERE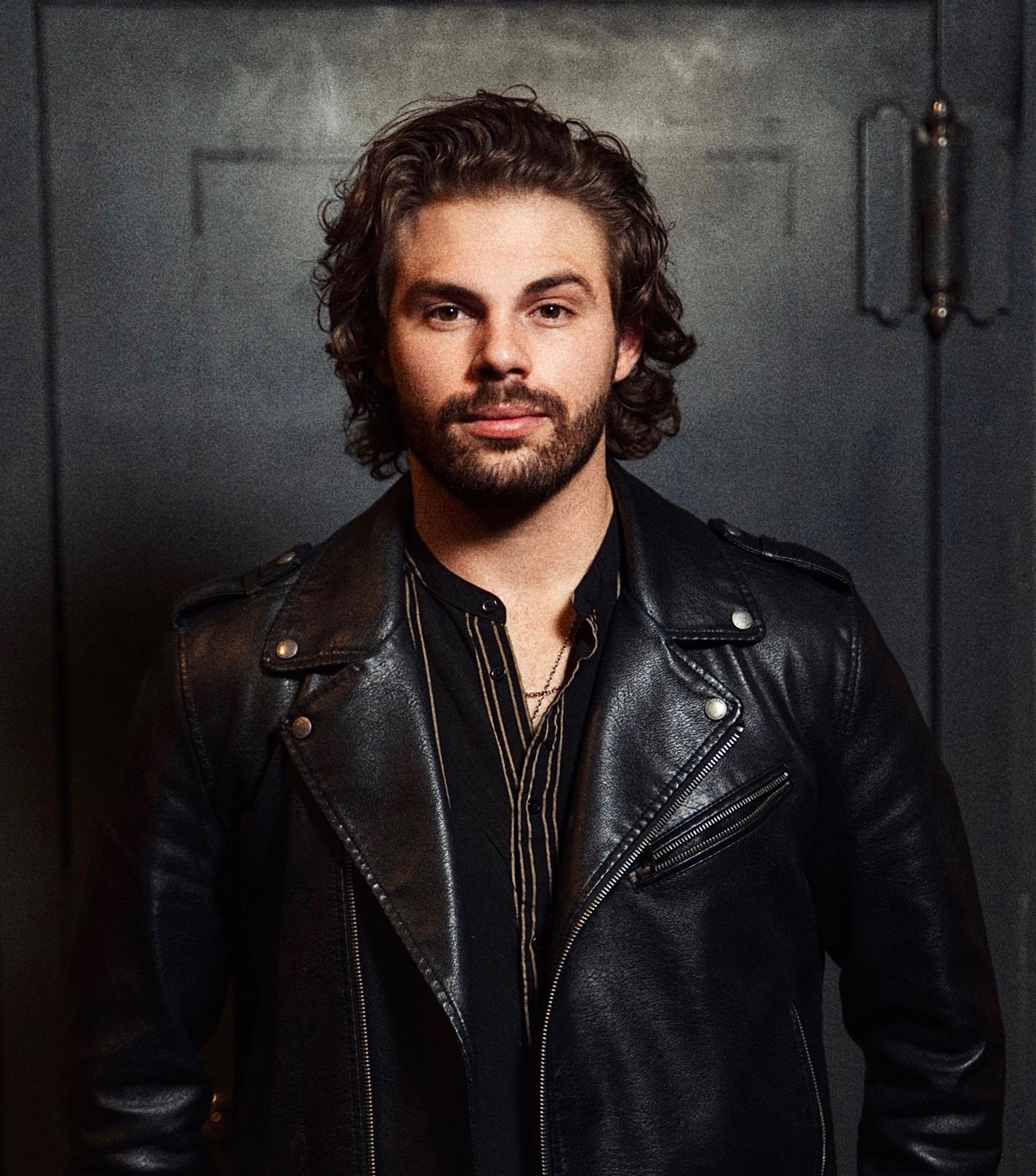 Devin Cooper
New Single
''Country Cliche''
Music's Journey Podcast #INTERVIEW #110 w/ Country Artist ''Devin Cooper'' Releases New Single ''Country Cliche'' Check It Out! Listen HERE
As the son of a motorcycle shop owner and custom car builder, Devin Cooper's childhood was filled with opportunities to be creative. Upon exchanging his toolkit for a guitar, Cooper found an unmistakable niche, reimagining the soul of Southern Rock and down-home country. The result is a genre-bending, driven young artist with a world of possibilities. 
With the soul of Johnny Cash and the chops of Stevie Ray Vaughan, Devin Cooper's thoughtful songwriting and thundering live show will leave audiences wanting more. His perfected vocal sneer is full of attitude and delivers on the promise. Offstage, Cooper's energy is unfiltered positivity and humility – an incredible asset for any musician with ambition. 
Devin Cooper's debut single, "Nothing On You", released in April 2018, received numerous local accolades. Shortly thereafter, he was nominated for Male Artist and Songwriter of the Year (YYC Music Awards); Best Song, Best Video, and Fans Choice (Alberta Country Music Awards), and was the winner of Artist of the Year (Red Deer Entertainment Awards). 
2020 began with a sold-out headlining slot in Calgary at the King Eddy. Since 2018, Cooper has performed alongside some of North America's top talent including Aaron Pritchett, Gord Bamford, and Lou Gramm of Foreigner. 
"He's only 22 years old, and he's the real deal." – says Aaron Pritchett.
''Devin Cooper is a jewel here in Canada as a naturally gifted singer-songwriter,'' says Kim Cyr, Editor in Chief for NOW and THEN Magazine, host of the International Music's Journey Podcast, and radio host on 91.3 FM Bluewater Radio.  ''It is remarkable to see the accomplishments and focus Cooper has.  He knows exactly who he is as an artist and his creativity with the vision of what he wants in his music, to the unique sound in genre influences he has delivered in the songs he has released so far, is truly amazing for someone so young.  I love the way he sees lyrics and the simplicity of genuine life experiences to vision by capturing and bringing the listener right into the story.  People make life complicated.  Cooper has a way of delivering the hooks and melodies that capture the simple magic of seeing life through a positive mindset with a silver lining at the end of every day.  Cooper knows exactly how to balance work, life, and quality time with family and friends.    He is living in the moment and cherishes what he has by creating memories along the way.''   
Devin Cooper has been writing a lot of new music for his upcoming debut EP.  One of those songs on the new EP is his latest single ''Country Cliche''.  
There are many things that come to mind when you hear the phrase "country cliche", but a cool, country-rock vibing song isn't one of them...or maybe it may be. Regardless, country singer Devin Cooper keeps things both hilariously stereotypical (with his lyrics) and uber-catchy–while proving his musical depth, especially when it comes to the guitar–in his latest single that oozes care-free summer vibes. 
"Country Cliche" takes many of the preconceived notions of living a simple country life and turns them into an anthem meant to help listeners celebrate the simplicity of just having a damn good time.
DEVIN TALKS ABOUT THE SONG: 
If you can't sit down and laugh about some of the things you do, then you're probably taking life too seriously. Country Cliché is as much of a joke as it is literally the truth. It doesn't matter how long it's been since I've been back home to hang with my buddies, the same small town country things are happening every weekend: parties by the lake, ripping around town with your buds, shotgunnin' cheap beer, and staying as far away from the city lights as possible. So, call it a joke, call it a cliche, but it is what it is, and if you're from a small town or the country, you know what I'm talking about.
Cooper's story is pretty cool...to hear my interview with country artist Devin Cooper, click on the link below!  You're going to love it...
Music's Journey Podcast #INTERVIEW #110 w/ Country Artist ''Devin Cooper'' Releases New Single ''Country Cliche'' Check It Out! Listen HERE
Devin Cooper has been honoured to be a contender for the 2021 CCMA Live Innovation Award for my charity event, @RideToRememberYYC in support of @alzcalgary.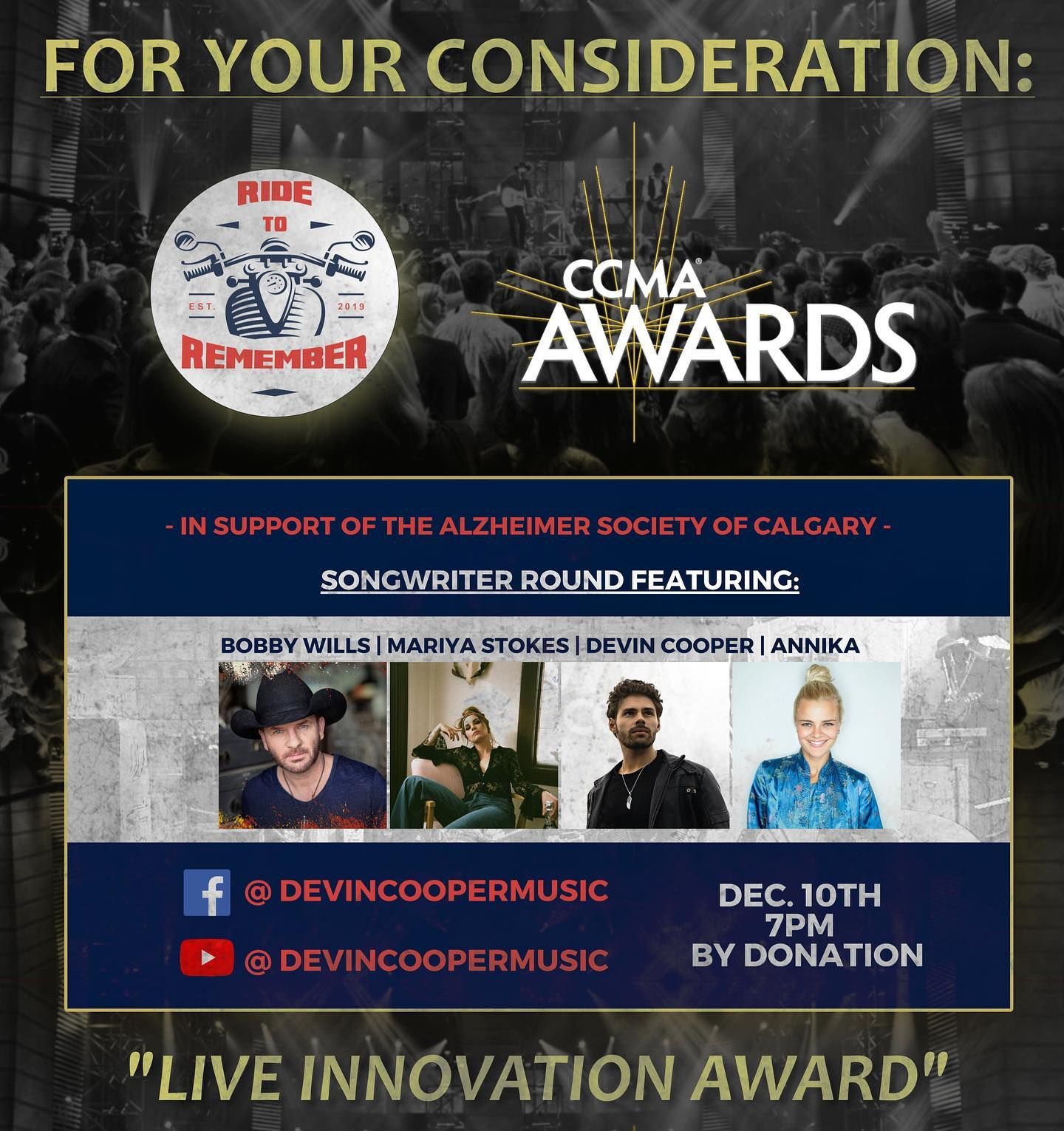 For everyone who is a CCMA member, thank you for considering "Ride To Remember" as a place for your vote. This nomination is for every family who has ever lived with, seen, or known someone who has had Alzheimer's. Music is such a positive force in helping folks who are living with Alzheimer's. This event creates awareness and raises funds that bring music programs into homes where folks with Alzheimer's are living. 
Thanks to all of the sponsors who make this event possible, for your consideration, and for your continued support as we head into our 3rd year hosting of this event.
The Making Of Good Things: Devin Cooper
Devin Cooper - Good Things (Live Acoustic)
Devin Cooper - Nothin' on You (Official Music Video)
Devin Cooper - Last Time Last (Live Acoustic)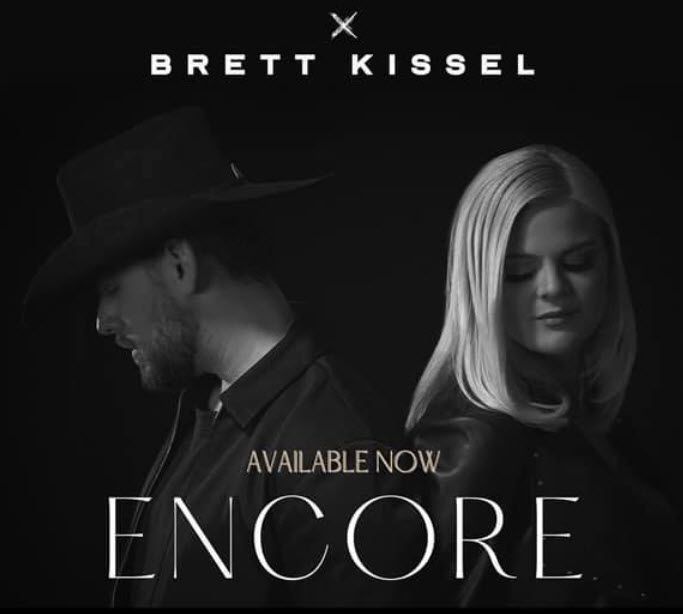 "ENCORE" is available everywhere now! 
ANNIKA's new single ENCORE.   Co-writers for this amazing new single are (ANNIKA, Spencer Cheyne - Mixer Aaron Pollock, Devin Cooper, and Chris Yurchuck), my producer (Spencer Cheyne), and the musicians (@russellbroom @kuddstagram @brendanwaterskeys and Spencer Cheyne) for making this song possible!
Thanks for bringing this song to life and delivering a world-class performance on it, Annika and Brett Kissel. 
Check it out! 
Music's Journey Podcast #INTERVIEW #110 w/ Country Artist ''Devin Cooper'' Releases New Single ''Country Cliche'' Check It Out! Listen HERE
To check out my full interview, click on the link below.  Don't forget that you can check all the interviews with the artists you love on www.musicsjourney.com.  You can also listen to all the podcast interviews on all streaming platforms under Music's Journey Podcast.
Follow Devin Cooper