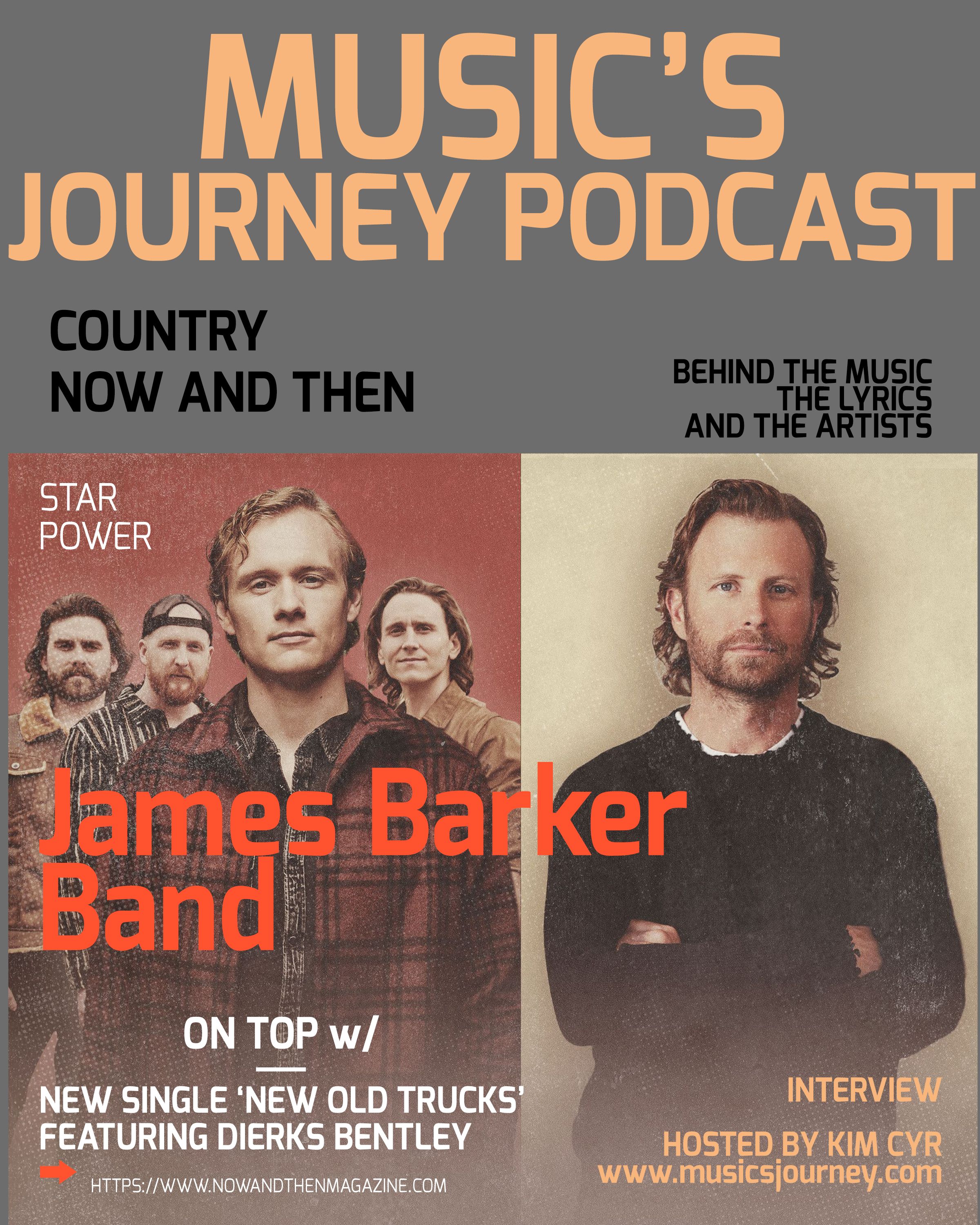 Music's Journey Podcast 
w/ Multiple CCMA and Juno Award Winning 
Country Group James Barker Band
Hosted by Kim Cyr 
Presented by NOW and THEN Magazine 
https://www.nowandthenmagazine.com 
Music's Journey Podcast INTERVIEW #119 w/ Multiple CCMA and Juno Award Winning  Country Group James Barker Band HERE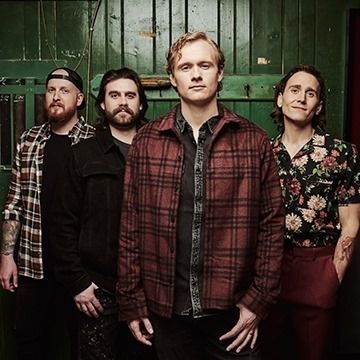 JAMES BARKER BAND 
NEW TRACK DROPS FOLLOWING JBB'S THIRD #1  
AT CANADIAN RADIO WITH "OVER ALL OVER AGAIN"  
NEW SINGLE  
Feat. DIERKS BENTLEY 
Music's Journey Podcast INTERVIEW #119 w/ Multiple CCMA and Juno Award Winning  Country Group James Barker Band HERE
Following the success of their third #1 at country radio with "Over All Over Again," PLATINUM-selling country stars James Barker Band (JBB) are back with "New Old Trucks" feat. 14x Grammy-nominated and multi-PLATINUM selling artist Dierks Bentley. An anthem for every small-town truck enthusiast, the new track embodies JBB's passion and knowledge for trucks and the memories they know so many fans have with their own pick-ups.  
"We were so surprised no one had written this song yet," said JBB frontman James Barker on how the track came to be. "When we got in the room to write a few months ago two of us actually came separately with this exact idea so we knew we had something good. When writing songs you always want every lyric to be true but sometimes you have to stretch things a bit. That wasn't the case with this - every lyric was something one of us had experienced; the first line is actually about my first truck."  
Written by James Barker, Jordan Minton (Keith Urban, Dan & Shay), Hunter Phelps (Florida Georgia Line), and Casey Brown (Russel Dickerson), "New Old Trucks" brought together four of the industry's top songwriters who also happen to know a thing or two about trucks. Having all grown up in rural country areas across the U.S. and Canada the track came together naturally as they reminisced about their own memories of driving around with their dads on weekends and buying their own first trucks. Anchored in nostalgia from the smell of old leather interiors each remembers so fondly, the track paints a vivid story that so many will relate to whether it's tied to a truck or not —of the tangible things in life that we hold closest because of the memories they have helped us create.  
Today's release marks a full-circle moment for JBB as they come together with Dierks Bentley, an artist that they have looked up to since starting the band in 2015. The four-piece has covered a number of songs by Bentley throughout their sets over the years and had the chance to play with the multi-ACM and CMA nominated artist in 2016 during a show at Boots and Bourbon in Toronto. After just one listen of "New Old Trucks," Bentley knew he wanted to be a part of the track. While it may sound like the song was written for a JBB and Bentley collaboration from the start, the perfect harmonies were really just the stars aligning. "We've looked up to Dierks since we started out and always respected everything he brought to country music. We can't thank him enough for going so far out of his way to champion us and make us feel like we mattered even when we were still just a band scrapping for tips every night," said Barker.  
"I've tried to write a few songs over the years that reflect how I feel about my '94 Chevy truck, and why I've never gotten a new one," said Bentley. "After hearing this song, however, I knew I'd never try to write one again...this song says it all. I'm honoured that the James Barker Band invited me to be a part of it. It hits home with me big time."  
Earlier this spring, JBB announced a landmark U.S. record deal with Sony Music Nashville and Villa 40 and released their first track with the new label, "Over All Over Again." In just a few months the track took its spot on the top of the charts earning them their third #1 on Canadian radio. The 2019/2020 CMA nominees for International Artist of the Year kept busy this summer with shows across Canada and the U.S. while continuing their unprecedented live stream series on their Instagram, Facebook, Twitter, YouTube, and TikTok social media channels. The Live Stream series culminated with their 150th show on September 27. With over 205 Million Global Streams under their belt, James Barker Band has fans and industry alike on both sides of the border taking notice.  
Music's Journey Podcast INTERVIEW #119 w/ Multiple CCMA and Juno Award Winning  Country Group James Barker Band HERE
James Barker Band - New Old Trucks (Audio) ft. Dierks Bentley
James Barker Band - Over All Over Again (Live)
Music's Journey Podcast INTERVIEW #119 w/ Multiple CCMA and Juno Award Winning  Country Group James Barker Band HERE
FOLLOW ALONG WITH JAMES BARKER BAND