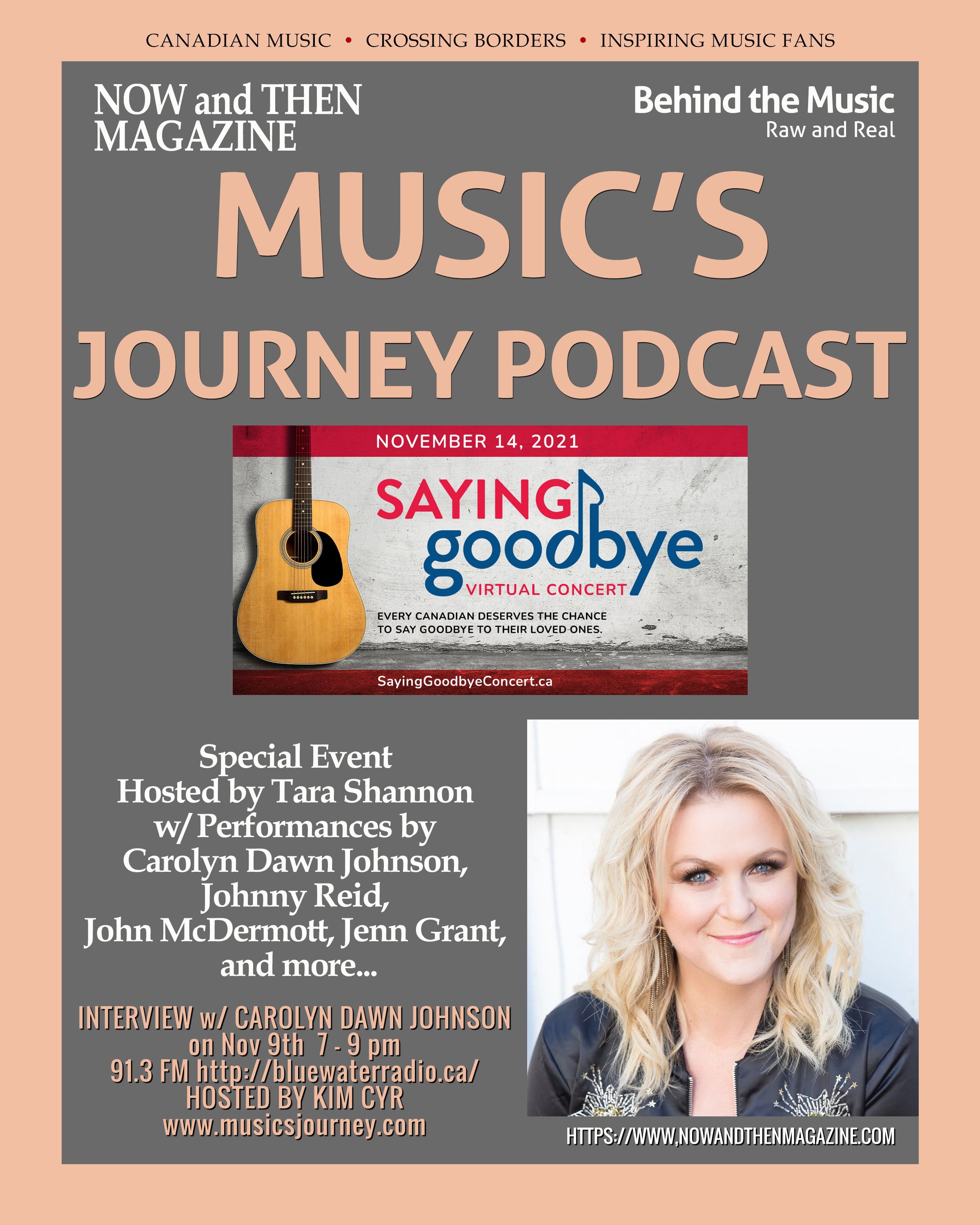 w/ Country Singer/Songwriter & Producer 
Hosted by Kim Cyr 
Presented by NOW and THEN Magazine 
https://www.nowandthenmagazine.com 
Music's Journey Podcast INTERVIEW #120 w/ Canadian Country Star Carolyn Dawn Johnson, Click HERE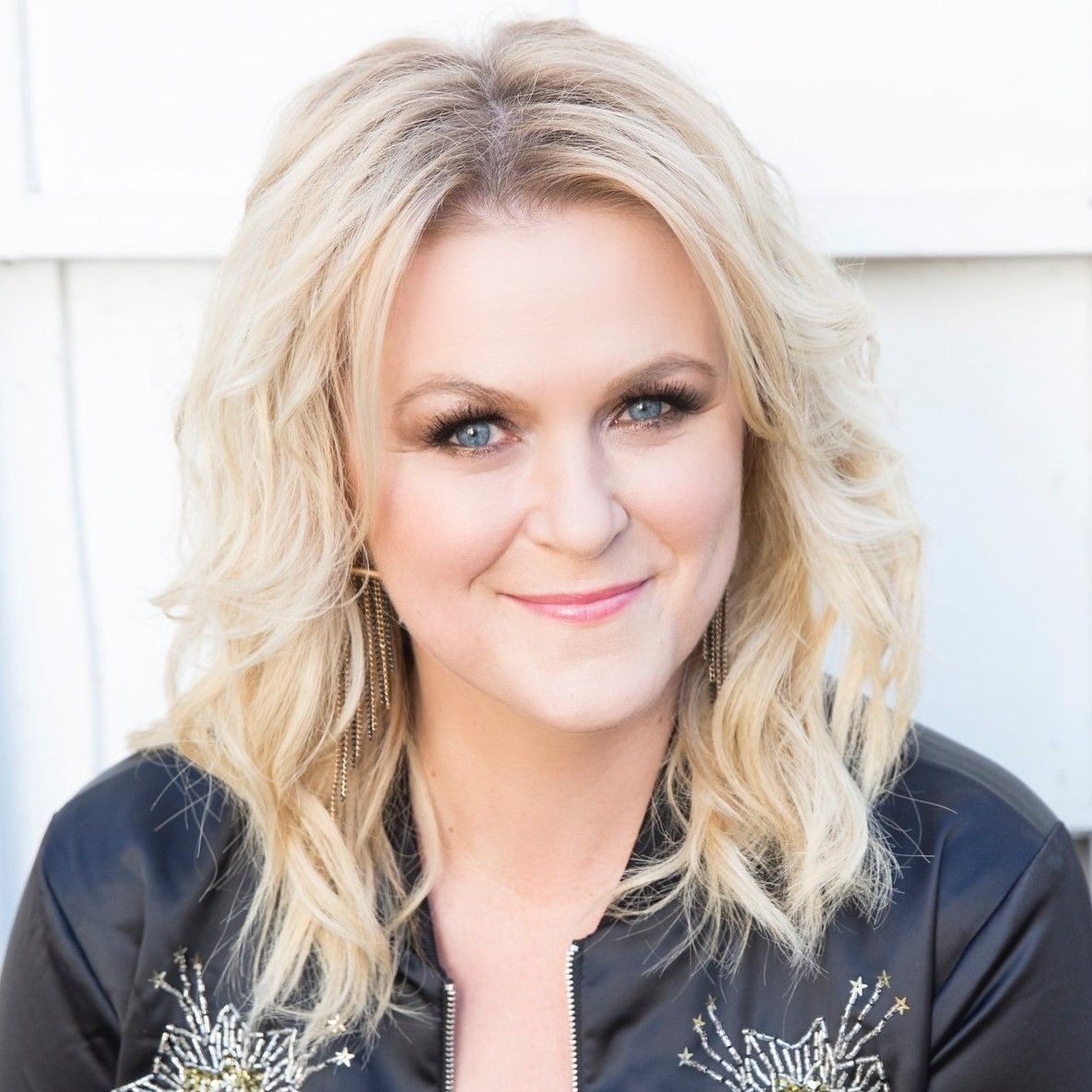 Carolyn Dawn Johnson  
Award-winning Canadian singers and songwriters that come together nationally for the Saying Goodbye concert held in honour of National Grief and Bereavement Day! 
Hosted by Tara Shannon, talent performing includes Johnny Reid, Gregory Charles, John McDermott, Michelle Wright, Fred Penner, Jenn Grant,  Ray Legere and many more...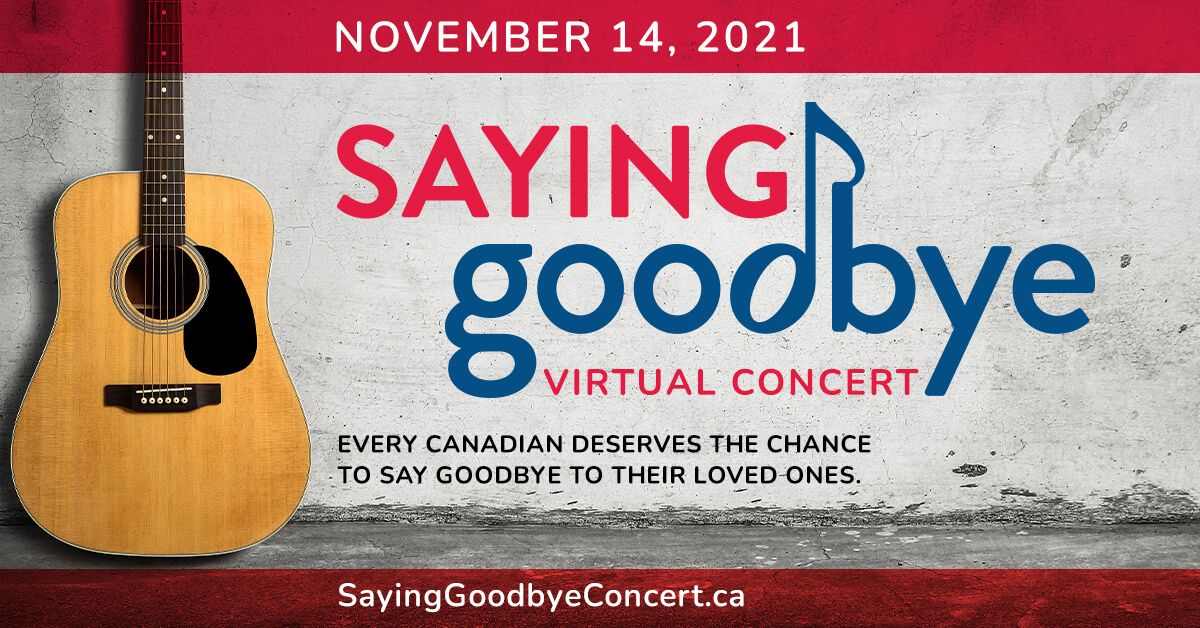 Music's Journey Podcast INTERVIEW #120 w/ Canadian Country Star Carolyn Dawn Johnson, Click HERE
Saying Goodbye is a national concert on November 14 from 8 p.m. to 10 p.m. EST with performers from across each province and territory, held in honour and awareness of National Grief and Bereavement Day on November 16, 2021. The national virtual live stream can be found at Sayinggoodbyeconcert.ca. Saying Goodbye is hosted by the National Arts Centre (NAC) and presented by the Canadian Hospice and Palliative Care Association (CHPCA) in partnership with all provincial palliative care associations across Canada. 
Just four short years after making the 60-hour drive from Vancouver, BC Canada to Music City U.S.A, Carolyn Dawn Johnson scored her first chart-topping hit as a songwriter when Chely Wright took 'Single White Female' all the way to No 1.  The success then led to publishing deals and cuts with several other artists like Patty Loveless, Mindy McCready, Kathy Mattea, Pam Tillis, SheDaisy, Lila McCann, Suzy Bogguss, Linda Davis, Jo Dee Messina & more.  
The life and career of hit singer-songwriter Carolyn Dawn Johnson has been a steady climb to the top, as she remains a staple in the country music industry today.  With a career that spans nearly 20 years, Carolyn is writing and producing with some of the world's rising stars in music today.  She is headlining shows on both sides of the border and performing with some of the biggest names in country music today. 
Johnson is revered as one of the most successful female voices in country radio in Canada, an artist that accomplished the same respect from the music industry and her peers on both sides of the border early on in her career.  She has that same respect for her music today as she did 20 years ago. 
''I had the honour of interviewing Carolyn Dawn Johnson, a woman that I consider a special friend and one of the best female country artists ever in Canada,'' says Kim Cyr, Editor in Chief of NOW and THEN Magazine, host of the International The Music's Journey Show and Podcast, and radio host on 91.3 FM.   
''Carolyn is a special soul and a woman of great depth.  She is so talented and one of the most humble artists I know in this business.  I still don't believe she understands what she has contributed to the opportunities and careers of all the top country female artists we listen to on the radio today.  Carolyn has been busy writing and producing with several top artists and she has been busy writing new music for some projects coming up in 2022.  To hear the amazing journey of music, her career and her life's special moments, listen to my chat with Carolyn Dawn Johnson HERE. 
Music's Journey Podcast INTERVIEW #120 w/ Canadian Country Star Carolyn Dawn Johnson, Click HERE
Carolyn Dawn Johnson - Complicated
Carolyn Dawn Johnson - I Don't Want You To Go
Carolyn Dawn Johnson - Georgia
Carolyn Dawn Johnson - Dress Rehearsal
Carolyn Dawn Johnson - Simple Life
Music's Journey Podcast INTERVIEW #120 w/ Canadian Country Star Carolyn Dawn Johnson, Click HERE
Follow Carolyn Dawn Johnson