JOJO MASON ANNOUNCES SKY FULL OF STARS, HIS NEW EP FEATURING HIT SINGLE
AVAILABLE OCTOBER 22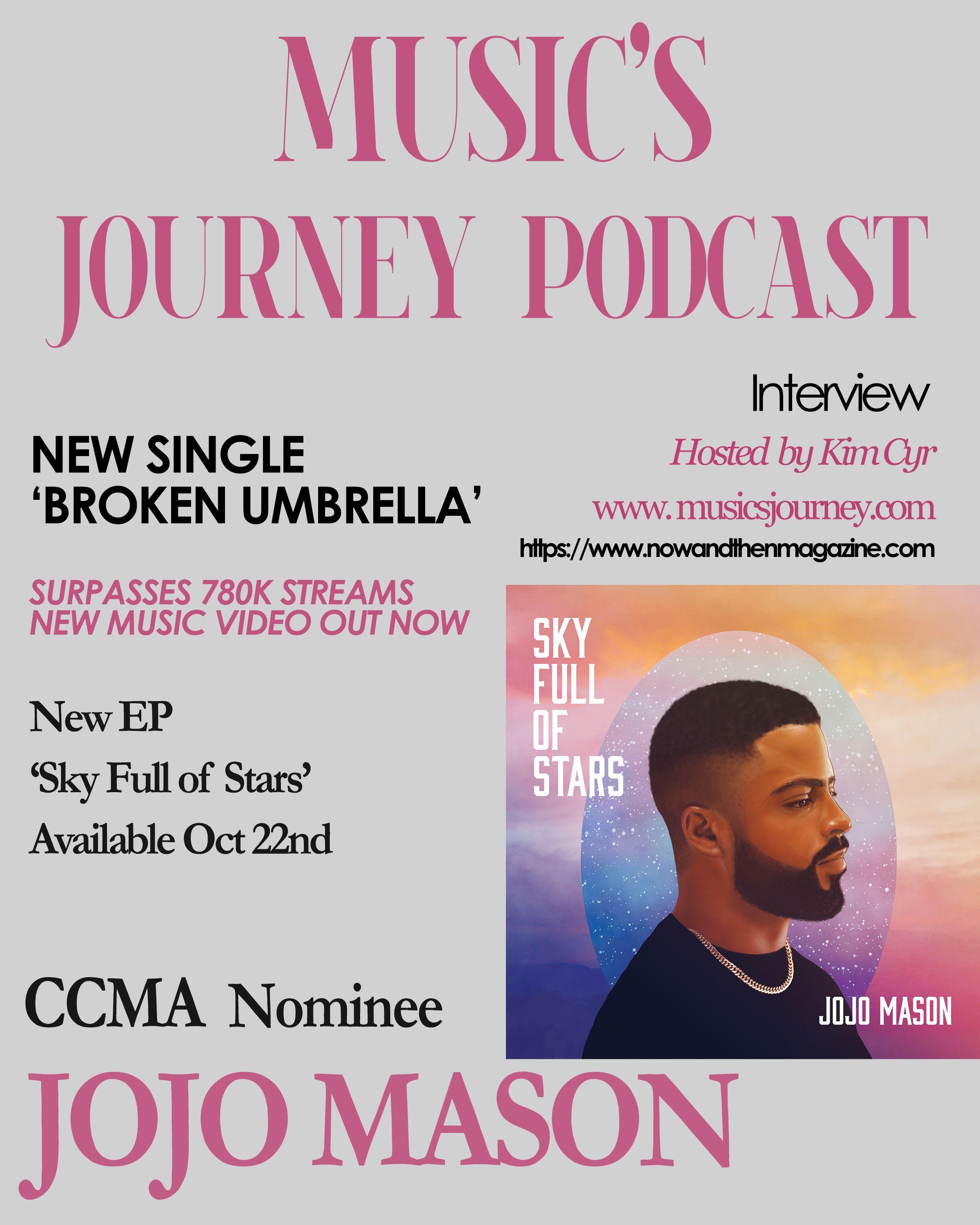 Music's Journey Podcast  
w/ CCMA Nominee Country Artist JoJo Mason 
Hosted by Kim Cyr 
Presented by NOW and THEN Magazine 
https://www.nowandthenmagazine.com
Music's Journey Podcast INTERVIEW w/ Country Artist ''JoJo Mason'' New EP Sky Full of Stars Feat. Hit Single 'Broken Umbrella' Listen HERE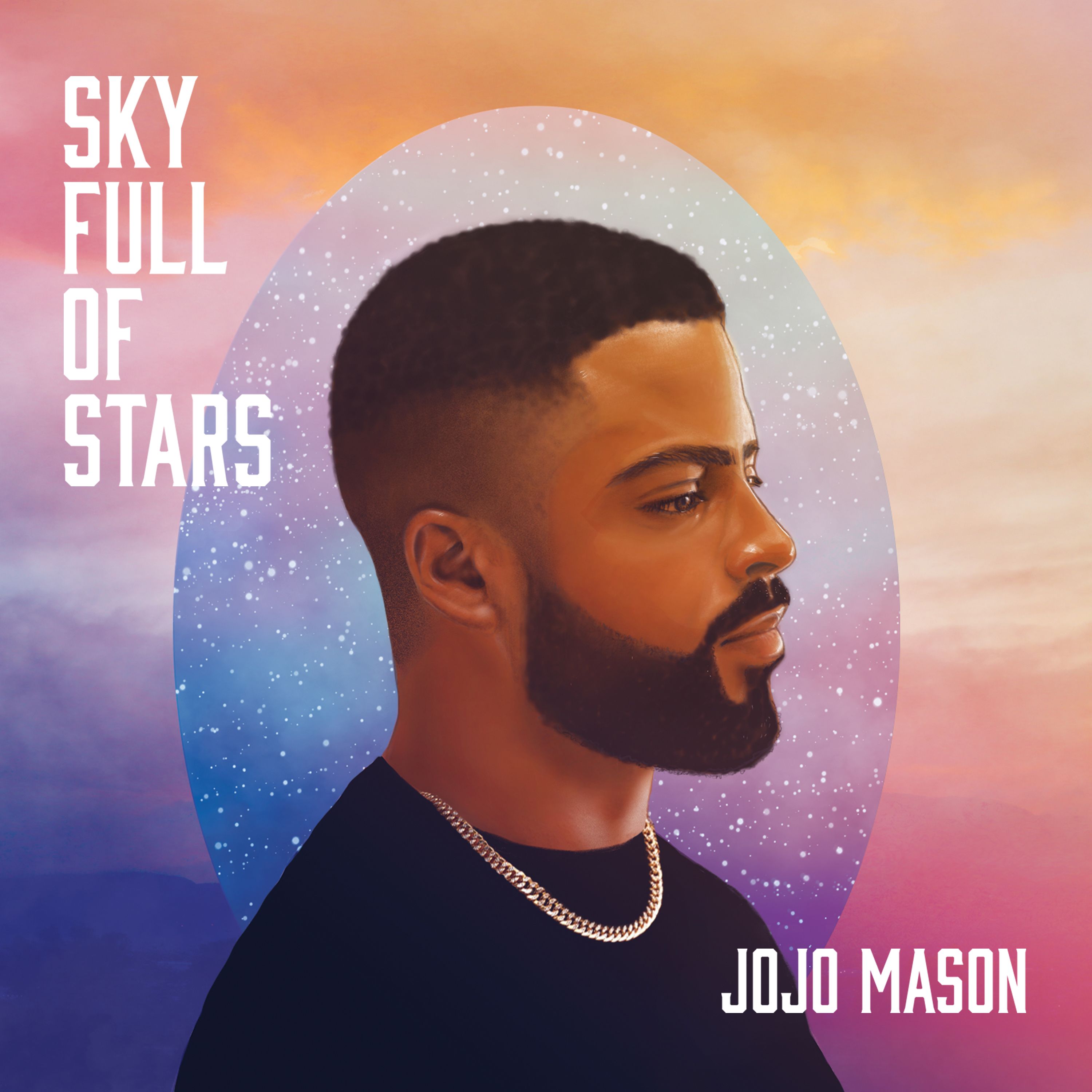 JoJo Mason
New EP Sky Full of Stars
LEAD SINGLE "BROKEN UMBRELLA" 
Music's Journey Podcast INTERVIEW w/ Country Artist ''JoJo Mason'' New EP Sky Full of Stars Feat. Hit Single 'Broken Umbrella' Listen HERE
Sky Full Of Stars, the new EP from multiple CCMA Award-nominated artist JoJo Mason will be released on October 22 via 604 Records. With seven new songs, the third EP from Mason showcases his evolution as an artist while continuing to highlight his fun-loving, upbeat personality. The lead single, "Broken Umbrella" has already been streamed over 780k times and continues to grow in popularity with the recent release of the official music video for the track. 
"One of the most important things in life to me is to continue to evolve and grow, as a person and as an artist. I honestly do not think I could be more excited about my new EP. I really feel like I've stepped up my game with this one y'all. Pumped for y'all to get these songs in your car, in your headphones, and in your soul!!" – JoJo Mason. 
The EP's title track, 'Sky Full Of Stars' is a captivating love song that is special to Mason, one that the musician hopes will have listeners in their feelings, as it did for him, while 'Think About Us' is a catchy, upbeat tune of reminiscing about life and its moments that you just can't forget. Silver linings are the focus in 'What You Do With It', where Mason shares that life will try to knock you down but if you can find the silver linings in a situation you'll find beauty in everything, while "Let Me Down Easy" is a first for Mason who doesn't usually record breakup songs; the singer felt this heartbreak anthem in his soul. Across the entire EP, JoJo Mason shares vulnerability balanced with new country swag and catchy anthemic themes of love, heartbreak, and life's little moments. 
SKY FULL OF STARS TRACK LIST: 
Let Me Down Easy 
Wind Up Like This 
Sky Full Of Stars 
Think About Us 
Broken Umbrella 
What We Do With It 
Hungover Alone 
ABOUT JOJO MASON: Since breaking into the Canadian country music scene over six years ago, 604 Records recording artist JoJo Mason has been on an incredible journey. In a career already full of highlights, Mason has earned five Top 10 singles, multiple CCMA Award and BCCMA Award nominations, an impressive 28M global streams to date and more. This past year Mason was presented with his first CRIA gold-certified record for 'Better On You'; his highest charting and most streamed single to date, sitting at 6.5M streams and rising. This past August, Mason showcased his ability to capture audiences with his live energy while touring across Canada, including two days at the Lifted Hotel Festival in Vancouver BC, a charity benefit for mental health with all proceeds going toward Lifted, A Dallas Smith Charitable Organization. The conversation around mental health is close to Mason's heart and prompted the weekly Instagram series hosted by Mason called "Mental Health Mondays" - a conversation with peers and industry professionals. Now, with a focus on his evolution as an artist, Mason is ready to show his fans and the world exactly the kind of act he wants to be. With the release of his latest single 'Broken Umbrella' and the news of his forthcoming seven-song EP, Mason is looking forward to getting back on the road again, making memorable connections, and entertaining fans. 
Music's Journey Podcast INTERVIEW w/ Country Artist ''JoJo Mason'' New EP Sky Full of Stars Feat. Hit Single 'Broken Umbrella' Listen HERE
JoJo Mason - Broken Umbrella (Official Video)
JoJo Mason - Better On You (Official Video)
JoJo Mason - As If We Won't (Official Video)
A Special Release Party Announcement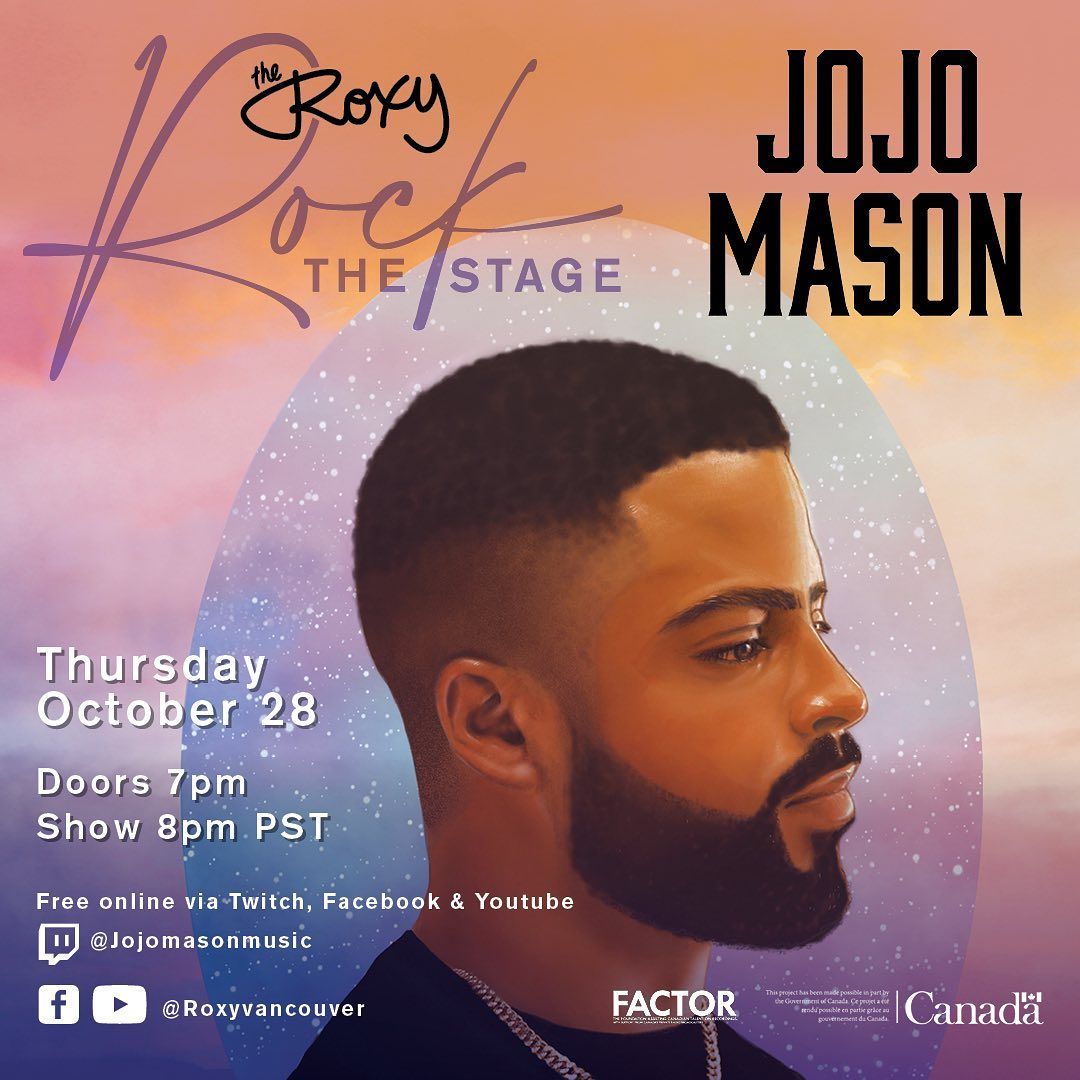 🔥⚡️HUGE NEWS!!!⚡️🔥 JoJo Mason is throwing a Live and Intimate EP Release Party at The Roxy!! Tickets are first come first serve and they are LIMITED!!
Come spend the night with JoJo Mason in person and hear his brand new EP LIVE for the very first time!!! And for those who can't make it, he will be streaming!!! So don't sweat you can still spend the night together virtually!!! DETAILS BELOW!! . . .
In-Person & Online, don't miss JoJo Mason's release party for his new EP SKY FULL OF STARS!
In-Person: $20 (limited tickets available) https://www.eventbrite.ca/.../rock-the-stage-series-ft... LIVE @ The Roxy, Vancouver, BC. 19+ Online: Available on Twitch (@jojomasonmusic), Facebook (@RoxyVancouver), and YouTube (Roxyvancouver)
Doors at 7:00 PM PST Show at 8:00 PM PST The Roxy Vancouver @604recordsinc
Music's Journey Podcast INTERVIEW w/ Country Artist ''JoJo Mason'' New EP Sky Full of Stars Feat. Hit Single 'Broken Umbrella' Listen HERE
FOLLOW JOJO MASON