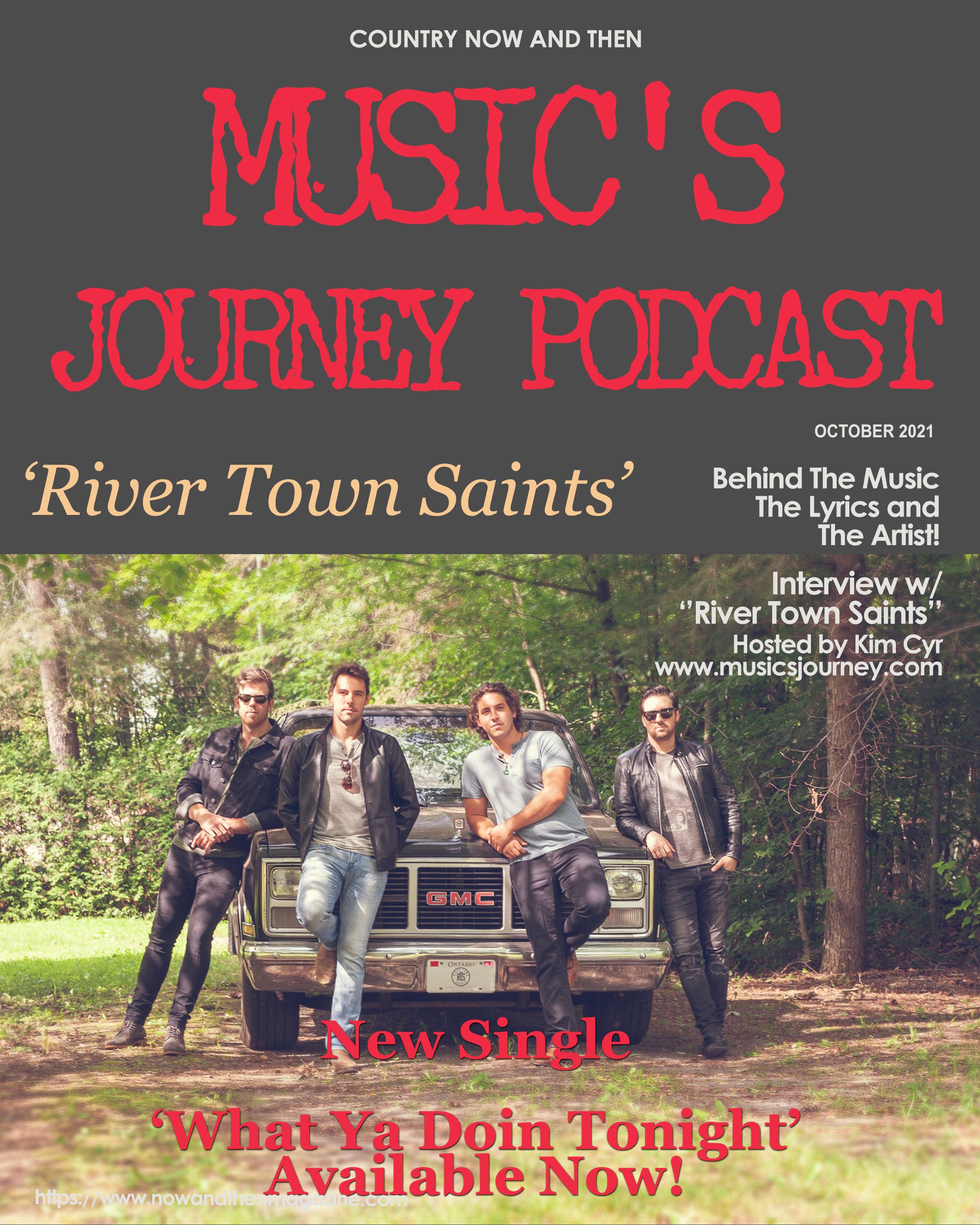 INTERVIEW # 111  
w/ Country Rock Band ''River Town Saints''  
Hosted by Kim Cyr  
Presented by NOW and THEN Magazine  
https://www.nowandthenmagazine.com  
Music's Journey Podcast INTERVIEW w/ Country Rock Band ''River Town Saints'' Brand New Single    
''WHAT YA DOIN' TONIGHT'' Listen to Full Interview HERE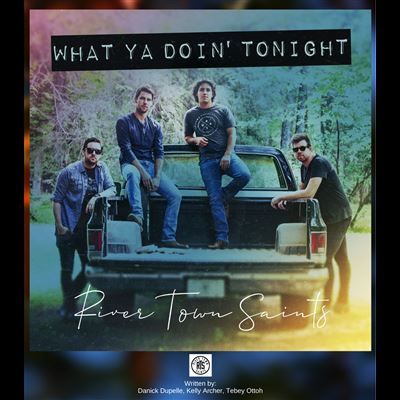 River Town Saints  
Brand New Single  
Music's Journey Podcast INTERVIEW w/ Country Rock Band ''River Town Saints'' Brand New Single     
''WHAT YA DOIN' TONIGHT'' Listen to Full Interview HERE  
It's no secret that River Town Saints have endured more than most bands could handle in a lifetime. The sudden death of one of the founding members, replacing a lead singer, and just when they had all of that figured out and were ready to introduce the world to River Town Saints 2.0, a global pandemic came along.   
River Town Saints have a lot to show for the past few years, including millions of YouTube views and Spotify streams, a top 10 hit with their single, "Bonfire", CCMA nominations, CMAO and Canadian Radio Music Awards, tours with Tim Hicks, Kip Moore and large-scale festivals, their single Long Time Coming reaching the Top 40 and the Stingray group of stations selecting the single as their Trending Track for June/July 2021.   
Known for their energetic live show, rich vocal harmonies, and good times, the Saints are just getting started. Throughout the past two years, River Town Saints have headlined or performed at a number of drive-in concerts including the City of Pembroke, Huntsville, Kirkland Lake, Crooks Rapids Country Fest, Manitoulin Island, Winding Roads Big Brothers/Big Sisters charity fundraiser in Port Perry, the Carp Fair to name a few. They have also been instrumental in assisting in raising over $50,000 for mental health and wellness in Ontario.   
"What  Ya  Doing Tonight" is the latest single from River Town Saints. It is a power-driven single that highlights the band's incredible harmonies and musicianship. It is sure to have diehard fans singing along and winning over scores of new fans.   
River Town Saints have been busy writing and recording with producer Sam Guiana (Silverstein) at Studio 21. Look for the band's full-length album in 2022.   
''River Town Saints are an absolute staple in Canadian country music,'' says Kim Cyr, Editor in Chief for NOW and THEN Magazine, host for the International Music's Journey Podcast, and radio/host on 91.3 FM Bluewater Radio. ''RTS deliver another hit song with ''What Ya Doing Tonight''.  I love the harmonies and the power behind the vocals that Chase Kasner delivers.  He has that rich tone with the gritty sound that brings a bluesy-rock feel to every track he sings.  It is a very cool song that gives you the good time feels by bringing that stadium anthem background vocals.  I absolutely love this song.  River Town Saints are riding a high with all the new music they have delivered this year.  I can't wait for the new EP in 2022.  Life is sweet when the RTS comes up on the radio waves.    
I had the pleasure of speaking with lead singer Chase Kasner.  We dive into everything RTS.  You're going to love it.  I always ask the burning questions portion at the end of every interview.  Chase has some great answers you don't want to miss, so check out the interview by clicking on the link below.  
Music's Journey Podcast INTERVIEW w/ Country Rock Band ''River Town Saints'' Brand New Single     
''WHAT YA DOIN' TONIGHT'' Listen to Full Interview HERE  
River Town Saints - Long Time Coming [Official] 
Slow Kiss 
A Little Bit Goes A Long Way - River Town Saints 
Gravity (cover) 
Music's Journey Podcast INTERVIEW w/ Country Rock Band ''River Town Saints'' Brand New Single      
''WHAT YA DOIN' TONIGHT'' Listen to Full Interview HERE  
Follow River Town Saints  
https://rivertownsaints.com/   
https://www.instagram.com/rivertownsaints/   
https://www.facebook.com/rivertownsaints   
https://twitter.com/rivertownsaints   
https://www.youtube.com/channel/UCquin0qVpUEJ8zDvQIWkJ2Q