Country NOW and THEN Kim Cyr's Interview w/Domino Talking About the Brand New Release ''Fall When You Fall'' May 15th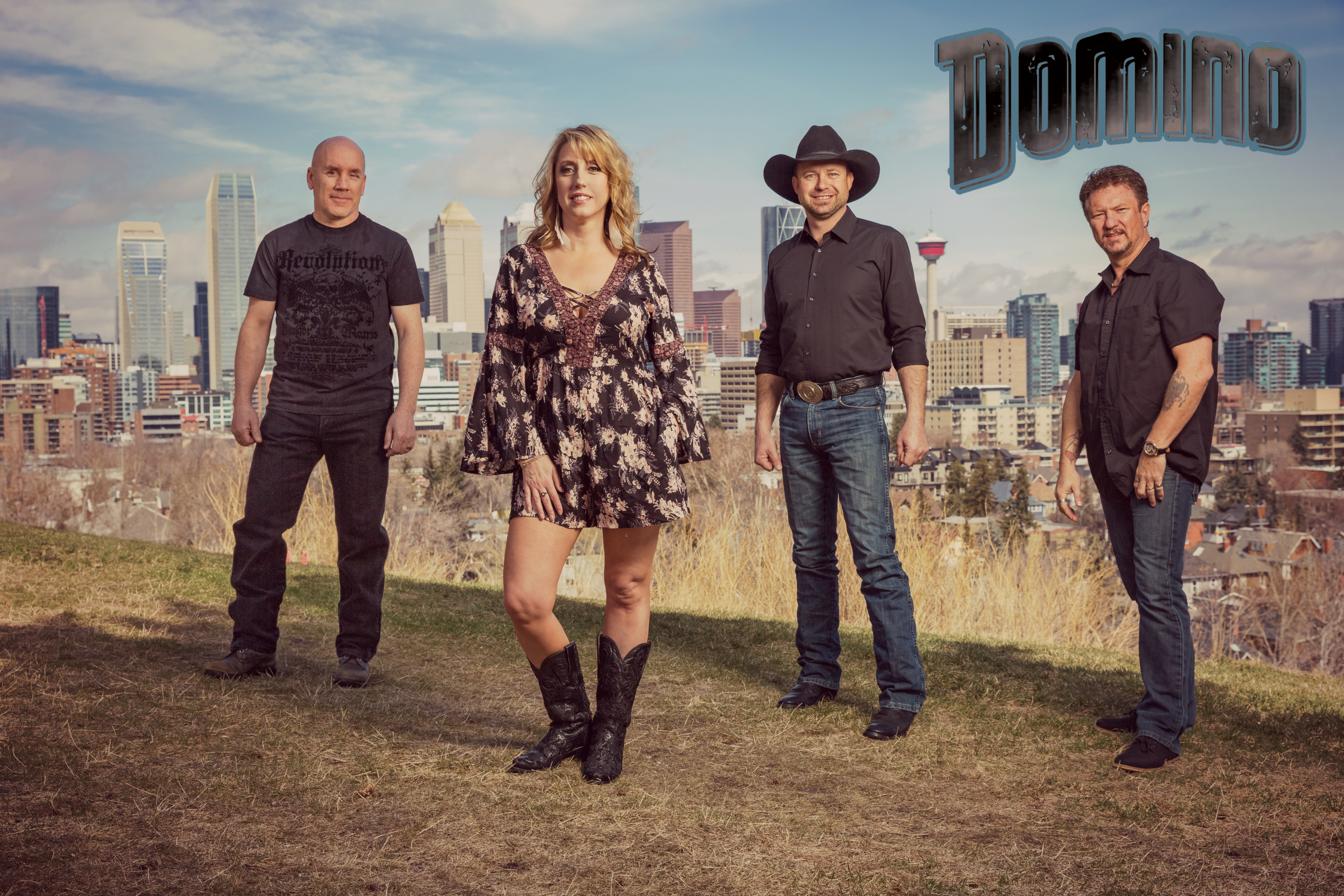 Country NOW and THEN Kim Cyr's Interview with Canadian Country Group Domino, click here


Rarely does one find four individuals, all coming from various backgrounds able to blend together to create a unique group with a harmonious sound. Together; Domino has mastered their harmonies to near perfection, which explains the melded cohesive sound projected on their new EP "Ghost". One might say it could be reminiscent of Fleetwood Mac, embellished with country flair. 
Domino recently garnered numerous ACMA (Association of Country Music in Alberta) nominations including top 5 placements in the categories: Group, Album, Song, and Fan's Choice. At the 2015 ACMA Awards the group was named "Group of the Year" and the prestige title of "Fan's Choice". "We are extremely humbled and honoured to have been chosen to receive Group of the Year and the Fans Choice awards at the ACMAs this year! From our peers to our fans…We are eternally grateful!" stated Domino after receiving the wins. 
Being selected on a CCMA (Canadian Country Music Association) ballot for their song writing on the single "2:15" was a huge milestone for the group and endorsed their song writing ability on a national level. 
Domino proved that last year's win for Group of the Year was no fluke as they picked up their second Group of the Year Award from the 2016 Association of Country Music in Alberta. "We were absolutely thrilled to be named the 2016 Group of the Year. To win this award two years in a row and being voted on by our peers is absolutely amazing! We can't thank everyone enough and we're excited to see what 2017 has in store for us." The band consists of Kent Nixon, Luanne Carl, Scott McKnight and Russ Carl, all based out of Stettler, AB. No stranger to awards, Domino won last year's prestigious ACMA Fan's Choice Award, and Luanne Carl received a CCMA nomination for Bass Player of the Year. The group has released two albums, "Scrapbook" and their most recent, "Ghost". 
Coming from various backgrounds, this establish group "Domino" consists of: 
- Kent Nixon on lead guitar and vocals – One will most likely find Kent at rodeos, having BBQ parties (mixes a mean martini) and spending time with family. He also has his sights on getting his pilot's license! 
- Luanne Carl on bass and vocals – When not song writing and performing you can find Luanne watching horror movies or in the mountains, hiking and camping with family. Luanne also received a CCMA nomination for Bass Player of the Year. 
- Scott McKnight drummer and vocals – Scott is an avid hockey player, loves to golf and travel. You might even catch him honing some guitar playing skills! 
- Russ Carl on guitar, mandolin and vocals – Russ enjoys reading, painting, and tattoos as well as camping with the family. 
All have been raised in small communities, and this mindset is reflected in their song, "In a Small Town". The single and video, shares their mutual understanding of small town camaraderie. You will see them showing their support at charitable events whenever possible. 

''Just One More Kiss''
In keeping with that "small town" heritage, the group recruited their hometown high school's video and film students to shoot the video for the single "One Day at a Time". 
With each new single release, Domino is receiving more recognition from both radio and fans. They were chosen as one of twelve finalists in Project WILD 2016 Country, a program designed to develop and launch the careers of some of Alberta's up and coming country artists. 

''We Just Did''
"It's a blessing to have the opportunity to live our dreams and share our passion of music with you, our biggest supporters… our Fans!" 

Stay tuned for the upcoming new video out soon!
Website: https://www.dominobandsite.com/home
Facebook: https://www.facebook.com/ThisisDomino
Twitter: https://twitter.com/thisisdomino
Instagram: https://www.instagram.com/thisisdomino/
YouTube: https://www.youtube.com/user/thisisDominoband