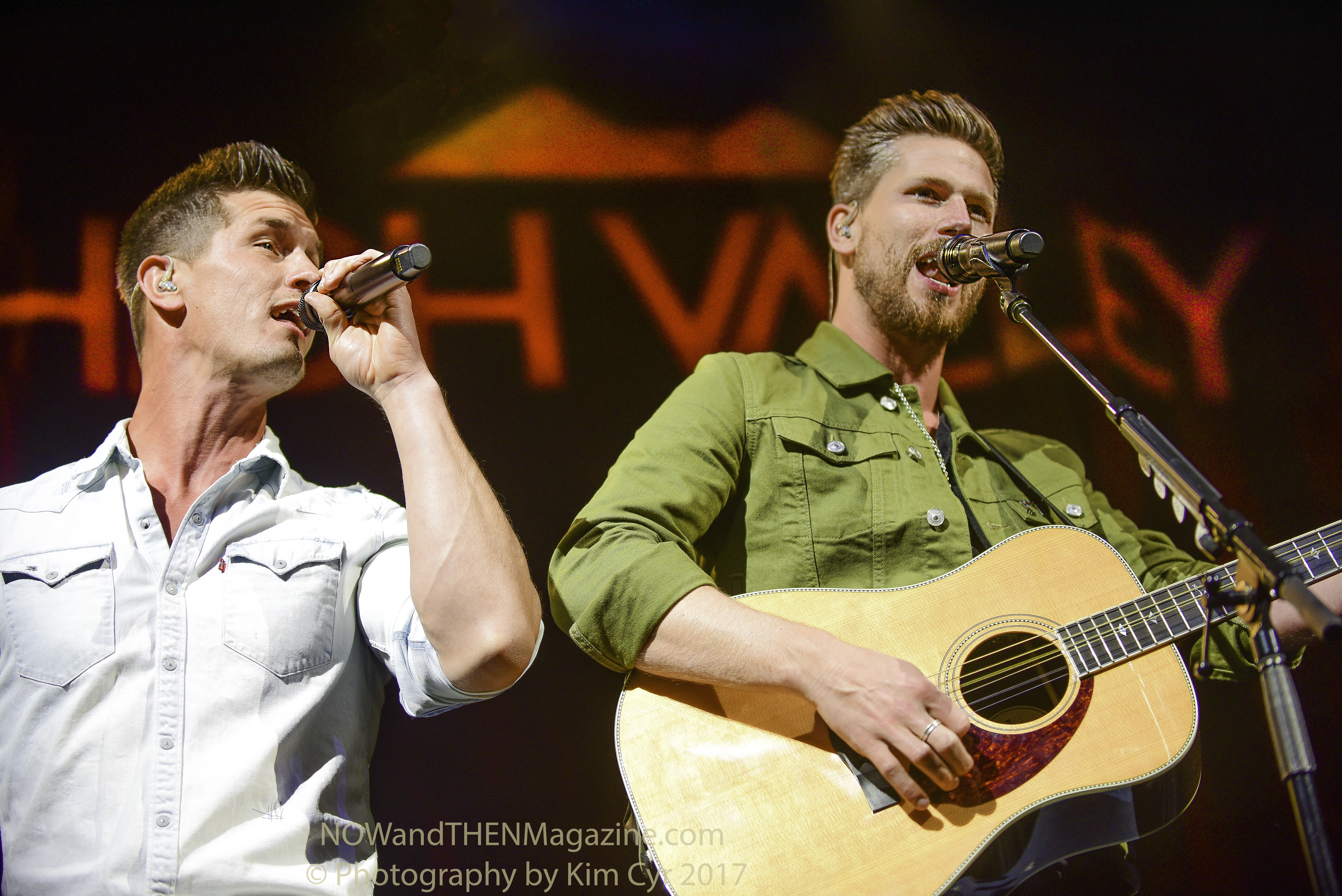 'High Valley' Photography by Kim Cyr for Country NOW and THEN Magazine
For immediate release – Tuesday, May 16, 2017 
Atlantic Records / Warner Music Nashville duo HIGH VALLEY have, this week, reached #1 on the Canadian Country radio charts with their current single "I Be U Be". This is the first chart-topping single for the band fronted by La Crete, Alberta brothers Brad and Curtis Rempel. This also marks the first time a Canadian group has reached #1 on the Country charts in the Nielsen/BDS era (since 1995) in which actual airplay in electronically monitored. 
"This past year we've been able to tour all over Europe, the USA and our home country of Canada," said Brad Rempel. "If it wasn't for Canadian country music fans and Canadian Country Radio we never would've had the encouragement and opportunity to take our music world wide. This #1 song is not just ours but we hope the entire country music community in Canada can share it with us! We will all celebrate together at many different Canadian tour dates this summer!!" 
"I Be U Be" is the follow-up single to the Top Ten country radio hit "Every Week's Got A Friday" taken from the band's latest album, Dear Life. The chart-topping single is accompanied by a dramatic video clip directed by Sam Siske. The video captures the story of a young couple and their ability to derive strength from one another to overcome the trials of life.
Watch "I Be U Be"
High Valley recently completed a tour of Southern Ontario with Dean Brody. The band are currently on tour in the U.S. and return to Canada later this summer for a number of festivals dates (see all High Valley Canadian dates below). 
While HIGH VALLEY's Brad and Curtis may have been raised in the close-knit, remote community of La Crete, Alberta — more than 2,500 miles from where they now live in Music City — the brothers' music reflects bluegrass roots with a modern pulse. Over years of relentless touring, High Valley has developed a devoted fan base that has devoured more than 43 million song streams, including 22 million for their high-energy hit "Make You Mine," songs included in EA Sports Madden NFL 17 soundtrack and ESPN's NCAA coverage plus countless European and North American concert tickets. Having performed on NBC's Today Show and been named "Artist To Watch" by Rolling Stone Country, Taste of Country, CMT, Spotify, Pandora and "Country Song of the Summer" by Billboard for "Make You Mine," High Valley is poised to breakout with their recently released major label debut album - Dear Life - on Atlantic Records/Warner Music Nashville. 
HIGH VALLEY ON TOUR: 
Ottawa Bluesfest,  Ottawa ON  on July 9 
Craven Country Jamboree Craven, SK on July 13 
Country Thunder  Calgary, AB on August 18 
For more info: High Valley's official website / join more than 250k @HighValley fans on Twitter / Facebook / Instagram.