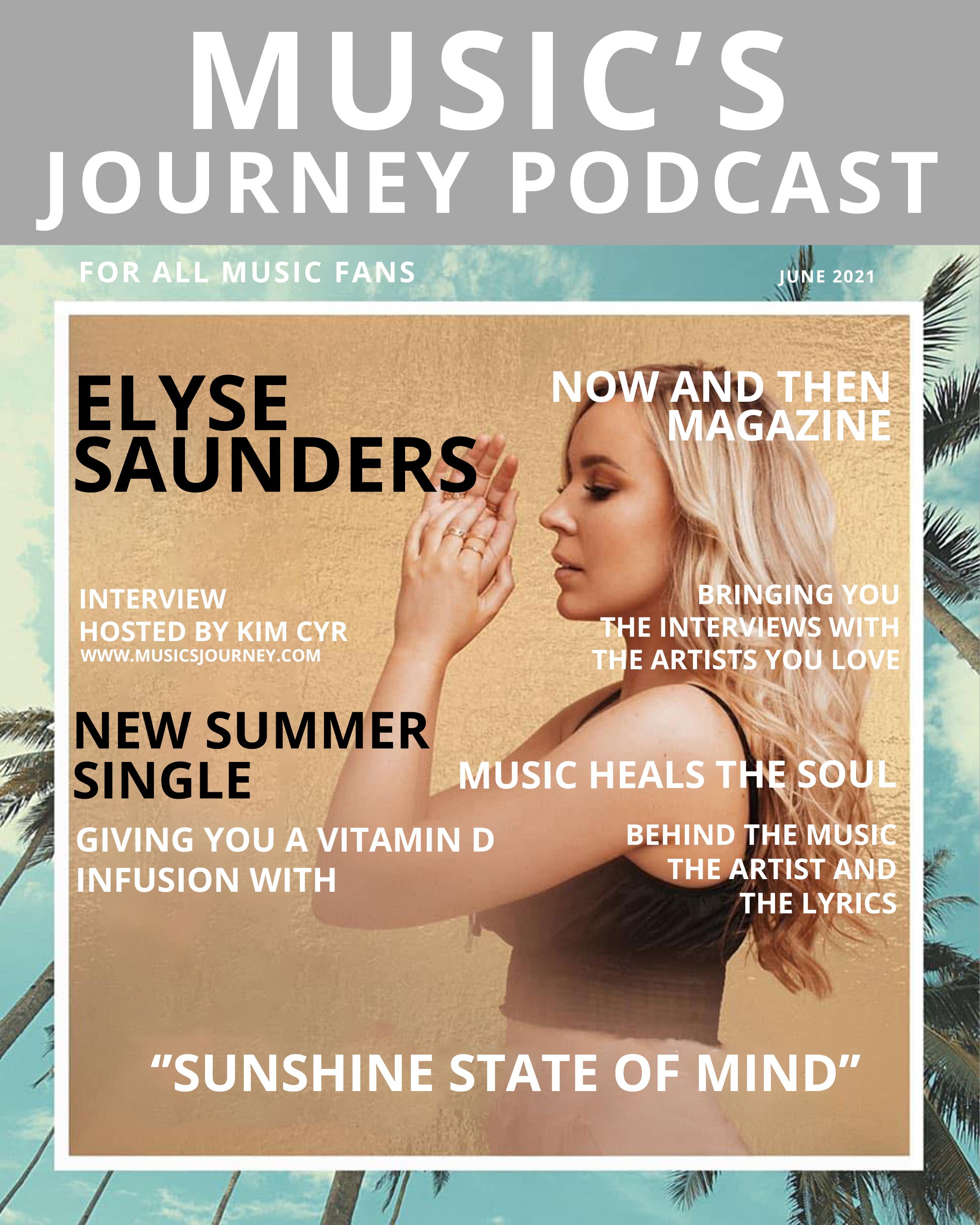 Music's Journey Podcast 
w/ Multi-Award Winner Artist 'Elyse Saunders' 
New Single 'Sunshine State of Mind' 
Hosted by Kim Cyr 
Presented by NOW and THEN Magazine
https://www.nowandthenmagazine.com
 Music's Journey Podcast INTERVIEW w/ Country's Rising Star 'Elyse Saunders' Spreading Some Sunshine With Her New Single ''Sunshine State of Mind' Listen HERE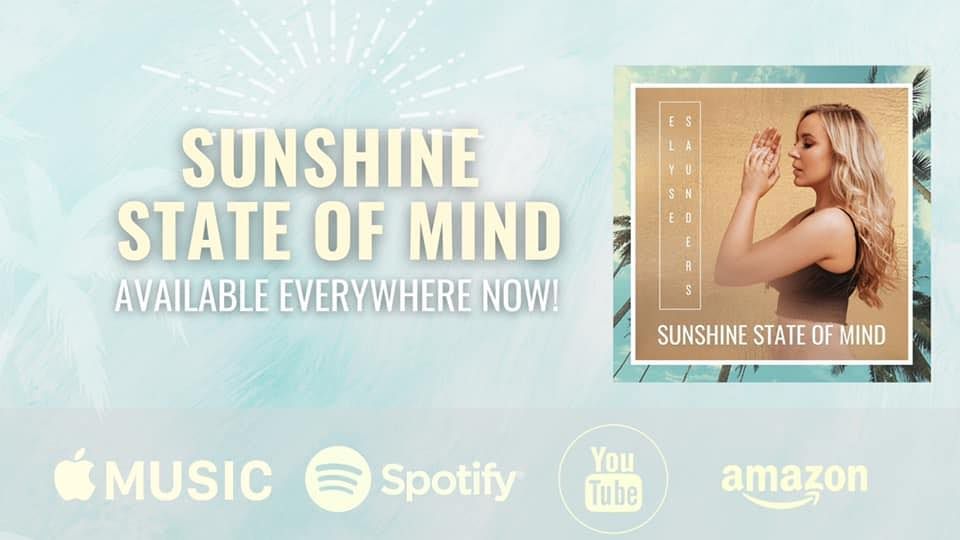 New Single ''Sunshine State of Mind'' 
Out NOW! 
Music's Journey Podcast INTERVIEW w/ Country's Rising Star 'Elyse Saunders' Spreading Some Sunshine With Her New Single ''Sunshine State of Mind' Listen HERE
Country music has always felt like home for Elyse Saunders. From the dynamic stages of Toronto to the bright lights of Nashville, the Peterborough, Ontario native has followed a path of steadfast determination and artistic inspiration – regularly captivating crowds with her powerhouse vocals, engaging live show personality, and interactive charm.  
Priding herself on being an artist who never stops, Elyse discovered a passion for music early on when she met her first mentor, producer/songwriter Cyril Rawson (Keith Urban, Gretchen Wilson). After recording her debut self-titled album with him in Nashville, she released a string of singles to Canadian radio and showcased her music during an opening spot for ACM artist Deric Ruttan in front of 10,000 attendees.  
On stage, she's performed at over 350 shows with industry showcases like Canadian Country Music Week, Indie Week, and 2019's Canadian Music Week with Nice Horse, Kira Isabella, & David James. She also rocked 2019's Powassan's Smoke 'N' Spurs ahead of Eric Ethridge and The Washboard Union, and opened for Terri Clark and Jason Aldean at Sunfest. On the release side, her 2017 single, "Rise" went Top 20 after Toronto's DJ Danny D released a dance remix of the song on Z103.5. The single continues to build momentum today with an upcoming television placement at the 2020 Summer Olympics. Her 2019 release "Feel You Leaving" was selected as a semi-finalist for the International Songwriters Competition out of 19,000 submissions globally.  
After a series of songwriting trips in Nashville and new recordings in BC with acclaimed producers Dan Swinimer, Paul Shatto, and David Wills, Elyse Saunders released "Free" in the summer of 2020, the first single and title track from her next album. "Free" (produced by CCMA nominee Dan Swinimer) marked her successful re-entry into the Canadian radio market which included CBC Country/Sirius XM and "Wild & Free Jamboree" – a Facebook live concert presented by KX Country FM. To date, the single has earned over half-a-million streams on Apple Music, over 100K YouTube views on the official music video, and it remains on regular rotation on Stingray Music's Country Music Video TV channel. The music video also garnered Elyse "Video Of The Year" award with Mississauga Music Awards and most recently, the single earned her double nominations with Country Music Association of Ontario CMA's as "Female Artist of the Year" & "Rising Star Award."  
"Wine Down" was the opening single of 2021 and was a shining light on Elyse's crafty songwriting and stunning vocals. The single had a strong release first week and reached the #1 spot on Amazon's Breakthrough Country playlist and then landed her the cover photo spot as Amazon's Music "Break-out Artist." It also became the centerpiece for the immersive "Wine Down with Elyse Saunders - The Online Concert Experience" - a fully produced concert created by Elyse for her fans and has been viewed by over 13,000 households throughout Ontario & Nashville. Make sure to check out the concert experience at Facebook.com/ElyseSaundersOnline. A Top 100 pick for AmericanSongwriter.com, "Wine Down" continues to steadily grow on Spotify with over 100K streams and thousands of monthly listeners.  
A rewarding phase of her ambitious career, Elyse Saunders sets the stakes higher with her new summer single "Sunshine State of Mind" and promises to be an engaging and impactful radio release. Available everywhere NOW! 
''Canadian country artist Elyse Saunders latest single Sunshine State of Mind is the perfect summer song to release right now,'' says Kim Cyr, Editor in Chief for NOW and THEN Magazine and host of the International Music's Journey Podcast.  ''Elyse is one of those artists that comes along once in a lifetime.  She has always been an artist that impressed me with her powerful vocals and incredible storytelling.  She oozes confidence yet she is the most humble, caring person I know.''   
''The fans love everything she puts out there.  Elyse knows exactly who she is and the kind of music she wants to release,'' says Cyr.   ''Her chemistry and connection with her fans are simply amazing both on and off the stage.  I believe she connects so well because she writes songs that are authentic and powerful in the message always spreading true-life lyrics that resonate right to your heart.  Sunshine State of Mind is one of those songs that remind the listener to remember your soul can feed you all the sunshine you need through the love and those positive things around you.  You just need to look. It's such a great summer song.  We all need that shot of vitamin D and she has delivered that in the lyrics.  I love this song and can't stop playing it all day.''    
''Elyse is a very grounded artist and always positive with her unique way of writing her lyrics and storytelling.  It's one thing to write a song but it is another to deliver it with the emotion needed to connect in the performance to the audience is what she does so well.  She is captivating leaving you hanging off her every word.  Elyse brings that magic to the stage in every performance.'' 
''I had an amazing chat with Elyse Saunders talking about the writing of this special song and how this pandemic has affected her creativity.  Elyse is up again for double CMA Ontario Awards for Female of the Year and Rising Artist of the Year on Sunday, Sept 5th, 2021 at Ancaster Fairgrounds, Hamilton ON.  You have to hear the Burning Questions portion of the show.  You're going to love it!  Check it out by clicking the link below.'' 
Music's Journey Podcast INTERVIEW w/ Country's Rising Star 'Elyse Saunders' Spreading Some Sunshine With Her New Single ''Sunshine State of Mind' Listen HERE
Sunshine State Of Mind // Elyse Saunders (Official Lyric Video) 
Music's Journey Podcast INTERVIEW w/ Country's Rising Star 'Elyse Saunders' Spreading Some Sunshine With Her New Single ''Sunshine State of Mind' Listen HERE
Follow Elyse Saunders