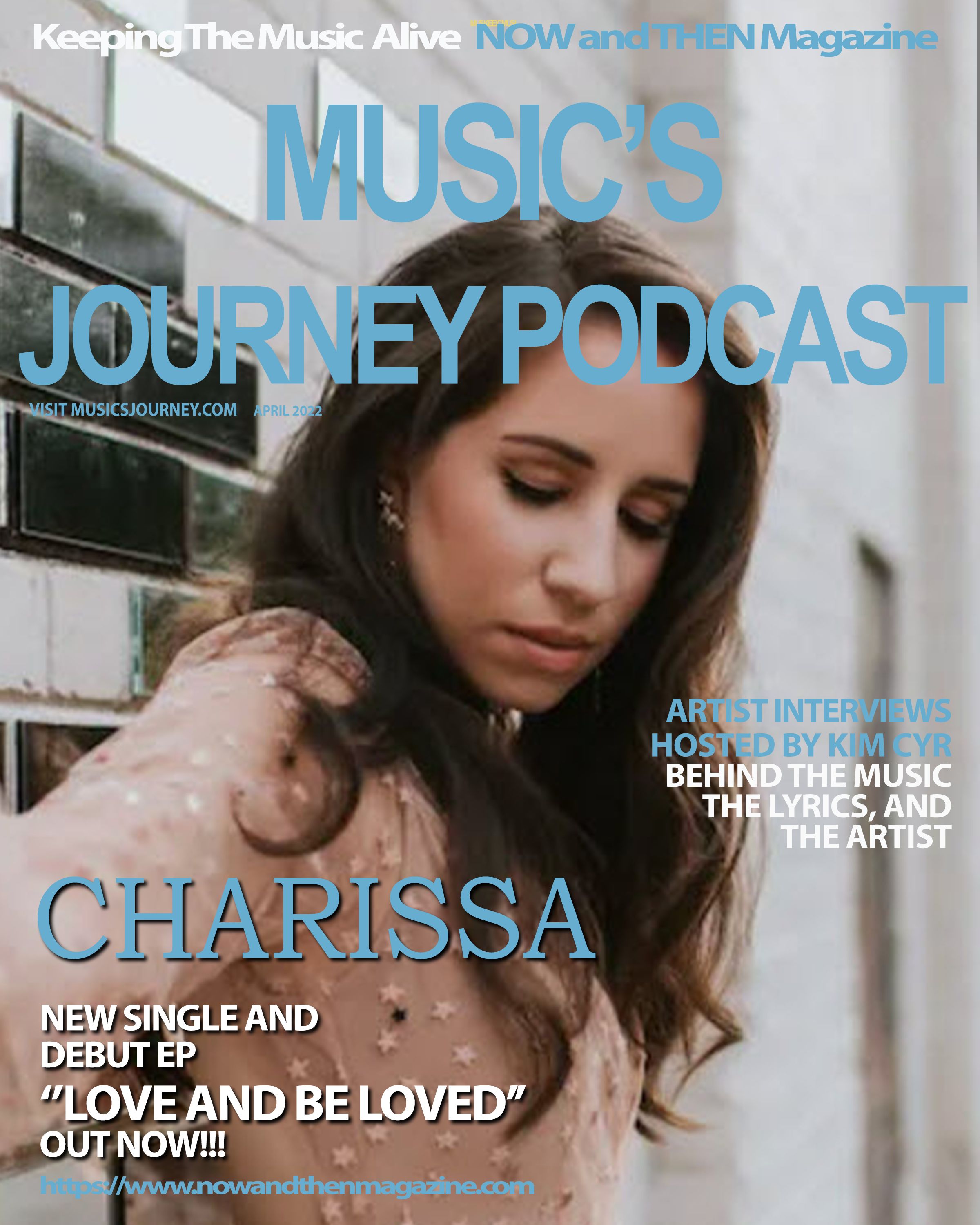 Music's Journey Podcast 
w/ Emergening Roots Artist Charissa 
Hosted by Kim Cyr 
Presented by NOW and THEN Magazine 
https://www.nowandthenmagazine.com 
Music's Journey Podcast INTERVIEW #159 w/ Emerging Roots Artist Charissa Master Storyteller With Her Debut EP ''LOVE and BE LOVED''
Debut EP 
Music's Journey Podcast INTERVIEW #159 w/ Emerging Roots Artist Charissa Master Storyteller With Her Debut EP ''LOVE and BE LOVED''
Music was a constant in Charissa's home growing up. After singing along to hits by Queen, Allison Krauss, Whitney Houston, Stevie Nicks, and Blue Rodeo, her parents decided to enroll her in vocal lessons where she further developed her passion for music and later started to learn to play the guitar. 
The Burlington, ON, native is a storyteller, and the best stories are ones that don't shy from honesty. She has been honing this thoughtful, meditative approach to songwriting since her formative years, combining lush, flowing arrangements to create a sound that is uniquely her own.
Charissa gets real about heartbreak, true love, pain, and ecstasy, with lyrics that testify to well-earned wisdom far beyond her years. That vulnerability, combined with rich, unconfined arrangements, makes her emotional debut EP, Love and Be Loved, a deeply affecting introduction to one of the most impressive new voices in roots music. 
Charissa bares her heart and soul on Love and Be Loved, produced by Colin Cripps (Blue Rodeo member, Jim Cuddy Band) and supported by an impressive list of collaborators that includes Jessica Mitchell, Tom Wilson, Jesse O'Brien, and Carrie DeMaeyer.  
The weighty, enchanting title track proves to be the record's most powerful moment, as Charissa's soulful voice rises alongside resonant piano, celebrating the magic of time spent with your person. "How wonderful it is to love and be loved," she noted. "When I thought about that more, it led me to think about not only romantic love but all kinds of love. That's a beautiful sentiment to put out into the world – to give love and feel it in return."
''It is always great to have the feeling of excitement by the talent that one artist can have and emerging roots artist Charissa delivers with her debut EP Love and Be Loved,'' says Kim Cyr, Editor in Chief for NOW and THEN Magazine, radio host, and host of the International Music's Journey Podcast.  ''Charissa has a powerful compelling vocal that to be quite honest, she could sing just about anything.  She is a true storyteller and an incredible songwriter.  Charissa's debut EP is pretty sweet with songs that will uplift you and inspire you.  It is an EP that you should hear from front to back or you will miss some amazing songs.'' 
To hear my interview with Charissa, click on the link below. 
Music's Journey Podcast INTERVIEW #159 w/ Emerging Roots Artist Charissa Master Storyteller With Her Debut EP ''LOVE and BE LOVED''
Watch the official "Love and Be Loved" 
Charissa - People Like You (Official Music Video)
Scars and All (Acoustic)
Music's Journey Podcast INTERVIEW #159 w/ Emerging Roots Artist Charissa Master Storyteller With Her Debut EP ''LOVE and BE LOVED''
Follow Charissa