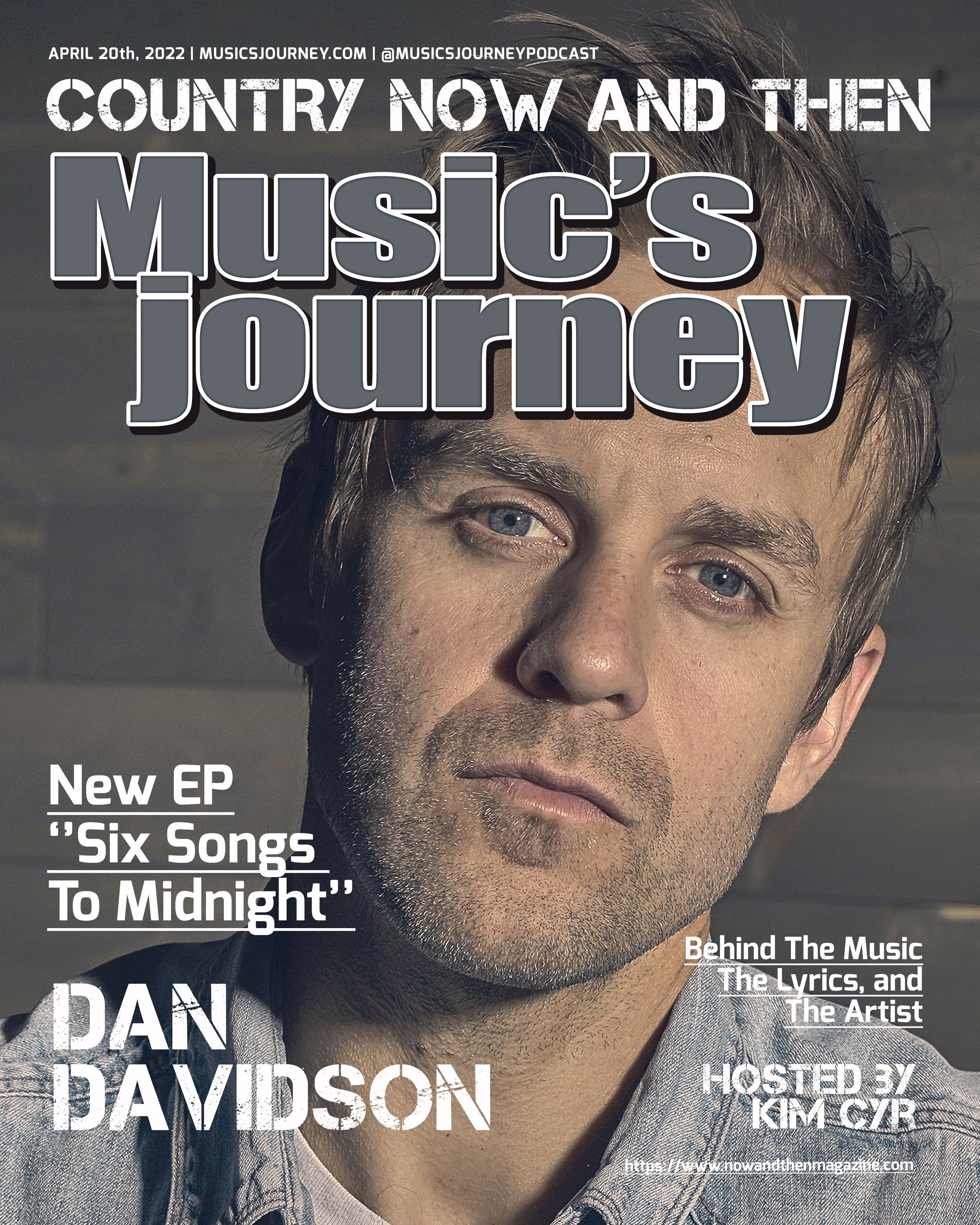 Music's Journey Podcast
w/ Multi-Award Winning Country Artist
Hosted by Kim Cyr
Presented by NOW and THEN Magazine
https://www.nowandthenmagazine.com
Music's Journey Podcast INTERVIEW #147 w/ Multi-Award Winning Country Artist Dan Davidson New Chapter with Latest EP ''Six Songs To Midnight''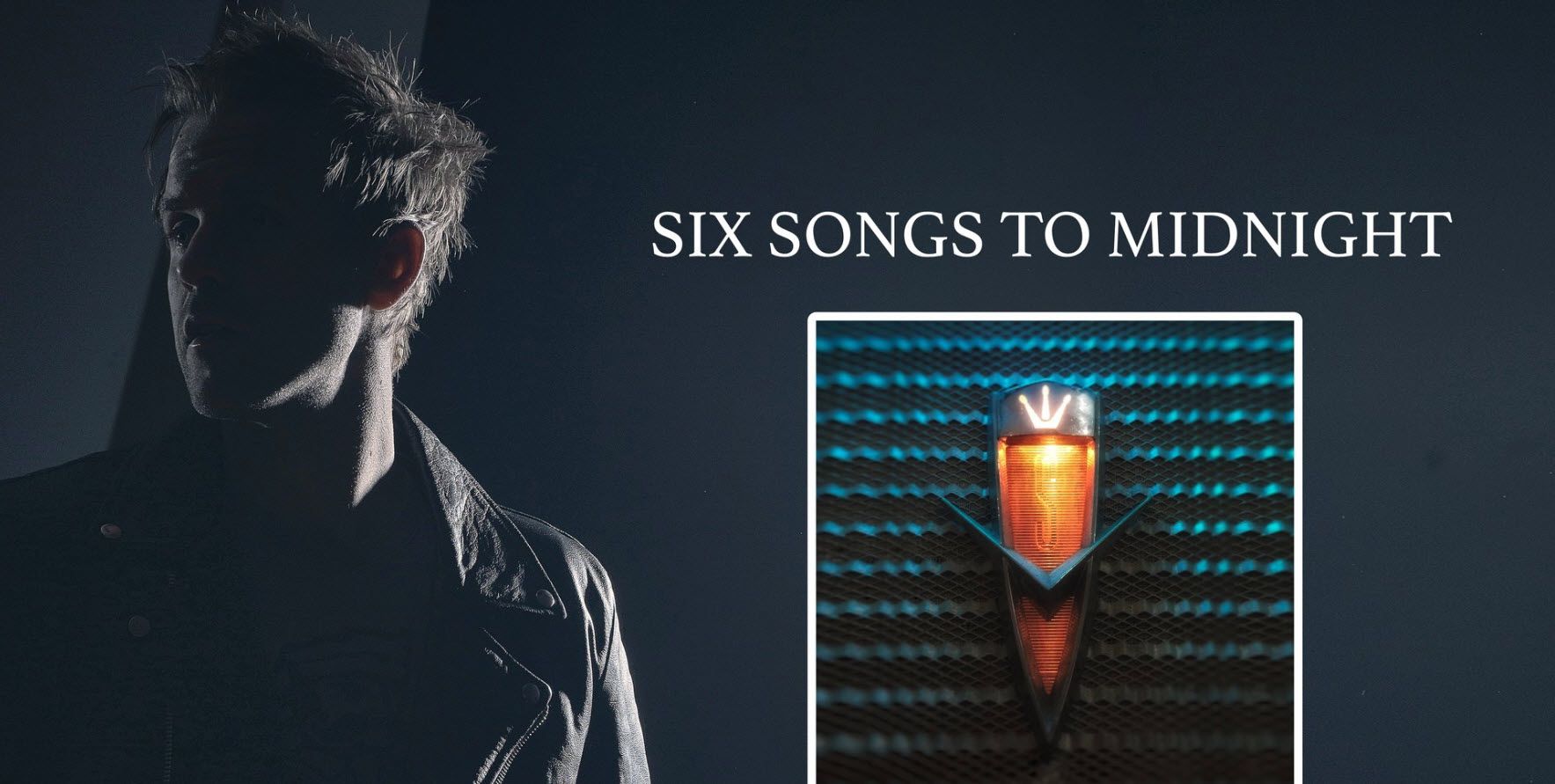 Dan Davidson
Latest EP
Music's Journey Podcast INTERVIEW #147 w/ Multi-Award Winning Country Artist Dan Davidson New Chapter with Latest EP ''Six Songs To Midnight'' 
The Alberta-born country artist Dan Davidson has created undeniable momentum in the last few years. With 6 CCMA nominations, 10 ACMA awards, a gold record, a #1 selling Canadian song and record, top 20 charting numbers, and hundreds of performances – it's easy to forget that he is still independent. Dan exploded onto the Canadian country scene in 2016 with the release of his second single "Found" (Co-written by Clayton Bellamy of The Road Hammers). Dan became arguably the indie story of 2016/2017 as his single "Found" rocketed up the charts and he became the #1 charting indie artist in Canada. It was also the #1 selling Canadian country song for several weeks and went on to become certified GOLD in Canada. He may be only 5 years into his country career, but Dan is far from "green" in the music industry. He spent over 10 years playing in the well-known Canadian indie rock band Tupelo Honey (who had several top 40 hits, top-selling iTunes records, and toured with bands like Bon Jovi). 
Canadian Country artist, songwriter, and producer Dan Davidson recently released his latest EP, Six Songs To Midnight, and for him, it represents a subtle turning point in his professional career for a few different reasons. It further cements his decision to move into country music as a songwriter and performer and it also is the product of a conscious choice to try to reach out to country music fans in a more global way, finding the elements in his music that can cross borders best.  The album debuted at #1 on iTunes country music charts.  This album is a must to listen to. 
Davidson says that this body of work "marks the beginning of a transition into more of an artist that 'lets the music do the talking.'"
"In the past, I've made my mark doing really crazy music videos and almost having a 'pop-punk of country' kind of vibe, but I decided to put these 6 songs together on this EP because I felt they really represented a very distinct era of my writing and growth as an artist," 
Kim: Congratulations on the release of your new EP "6 Songs To Midnight," debuting at #1 on iTunes country music charts, that's pretty damn cool.  What has this EP meant to you and how have you spent days building up to this release?
DD: "It's been wild! The record debuted at #1 on the Canadian iTunes country charts – so that's super validating for me. Over the last few weeks leading up to this release I've been spending a lot of time on the phone with Australian radio stations actually! 2 of the tracks on this record have been big singles down there for me – including my first top 10 song there 'Roll With It' featuring The Road Hammers. I was hard at work running contests for fans to win advanced signed physical copies and planning my release party, which is a collaboration with Ferrari of Alberta!"
Kim: You have released several of the songs on this new EP that are amazing tracks.  How did you decide what tracks made it onto this ep, and can fans expect to hear the songs that maybe didn't make it onto the project?
DD: "I decided to put these 6 songs together on this EP because I felt they really represented a very distinct era of my writing and growth as an artist. The songs have the classic Dan Davidson 'get drunk and fall in love' type song, but there also is this theme of 'keeping a smile on your face no matter what kind of hell life throws at you – which was accidentally a great message for us all during the last couple years!"
Kim: This EP marks the start of a new chapter for you in your music. Tell us about that...
DD: "Well I think this record sort of marks the beginning of my transition into more of an artist that 'lets the music do the talking.' In the past I've made my mark doing really crazy music videos and almost having a 'pop punk of country' kind of vibe. I just want to do my best to not repeat myself, challenge myself as an artist, and elevate to that international larger than life type act."
''Dan Davidson is one of my favorite songwriters in Canadian music today,'' says Kim Cyr, Editor in Chief for NOW and THEN Magazine, radio host, and host of the International Music's Journey Podcast. 
Dan wasn't always comfortable about co-writing music with other artists. 
Kim: What is the biggest difference for you in your songwriting from when you first started writing to where you are now?
DD: ''I was kinda skeptical about co-writing in my earlier days.  I always thought the collaboration made an artist lose a part of their creative stamp.  But the more I did it the more I realized that you aren't losing a percentage you are gaining a percentage.  You are unlocking perspective when you hear someone's idea of what you wrote or sing something written.  It always leads to something else.  That's the beauty of it all.  That's a real lesson I have learned over the years all my best stuff comes from being open to letting my ideas change and metamorphosis as they bounce off and through people.''  
Kim: Has your style changed and your approach to songwriting?
DD: ''Ya, I think so.  In the early days, it was very music-based.   It was all based around guitar riffs or just a feeling you know.   That was coming more from a band perspective.  As I moved into Dan Davidson, the writer, it was more about the lyrics, I suppose.   And more about clever ways to tie up choruses and interesting melodies that people haven't thought of before.  I like thinking of different ways to spin things on their head.    It was a way of looking at 30,000 feet at songwriting than looking at it from a ground-level thing which used to be my mentality.''  
Kim: Do you find it harder to write for the band than for country music?
DD: ''No, I think country is harder.  There are way more rules writing for country music.  Everything needs to be more clever, more familiar, and more digestible than indie rock or folksy stuff.  You can do whatever you want.  You can write a formulaic song but there is a level of acceptance out there and angular songwriting.  Even in rock, you can push the boundaries even more.  It's not that I don't like writing country songs.  It is that it's just more strategic when you write a country song.  And you also know right away when you have written something good.  You know this could be a hit kinda thing.''  
It is always a good time when I am chatting with Dan.  This EP is a must to listen to.  Dan has some exciting shows lined up for 2022 in France, the UK, and Australia.  Davidson has some new music coming out in May.  I can't wait and I have a feeling it is going to be his best yet.  Stay tuned...  
To hear my full interview with Dan Davidson, click on the link below.
Music's Journey Podcast INTERVIEW #147 w/ Multi-Award Winning Country Artist Dan Davidson A New Chapter with Latest EP ''Six Songs To Midnight'' 
Expanding his fan base internationally, Davidson has played shows in Beijing, China, and Tours, France. He then went on to play in Milan and Budapest to film a music video for his single "These Are My People". The idea for the music video came about when Dan discovered on YouTube that people from all over the world are line dancing to his songs. He has now played over 200 shows across 7 countries (including a record-breaking 120 show tour with Brett Kissel on the most extensive tour in Canadian history).  
Recently Davidson has been writing for/with Hailey Benedict,  Prairie States, Robert Adam, Mariya Stokes, Tim Hicks, W3apons, The Congregation, Chad Brownlee, The Standstills, and so many more. As a songwriter, he has had top 40 songs in 3 genres now and continues to keep the creative momentum rolling alongside his artist career.  Lots more to come...
Blindspot
Don't Judge a Beer by the Label (Live at the Warehouse Studio)
Role Models - Dan. Davidson (Official Video)
Roll With It (Ft. The Road Hammers) - Official Video
Really Shouldn't Drink Around You (Featuring Hayley Jensen)
I Do By Dan Davidson
Music's Journey Podcast INTERVIEW #147 w/ Multi-Award Winning Country Artist Dan Davidson A New Chapter with Latest EP ''Six Songs To Midnight'' 
Follow Dan Davidson