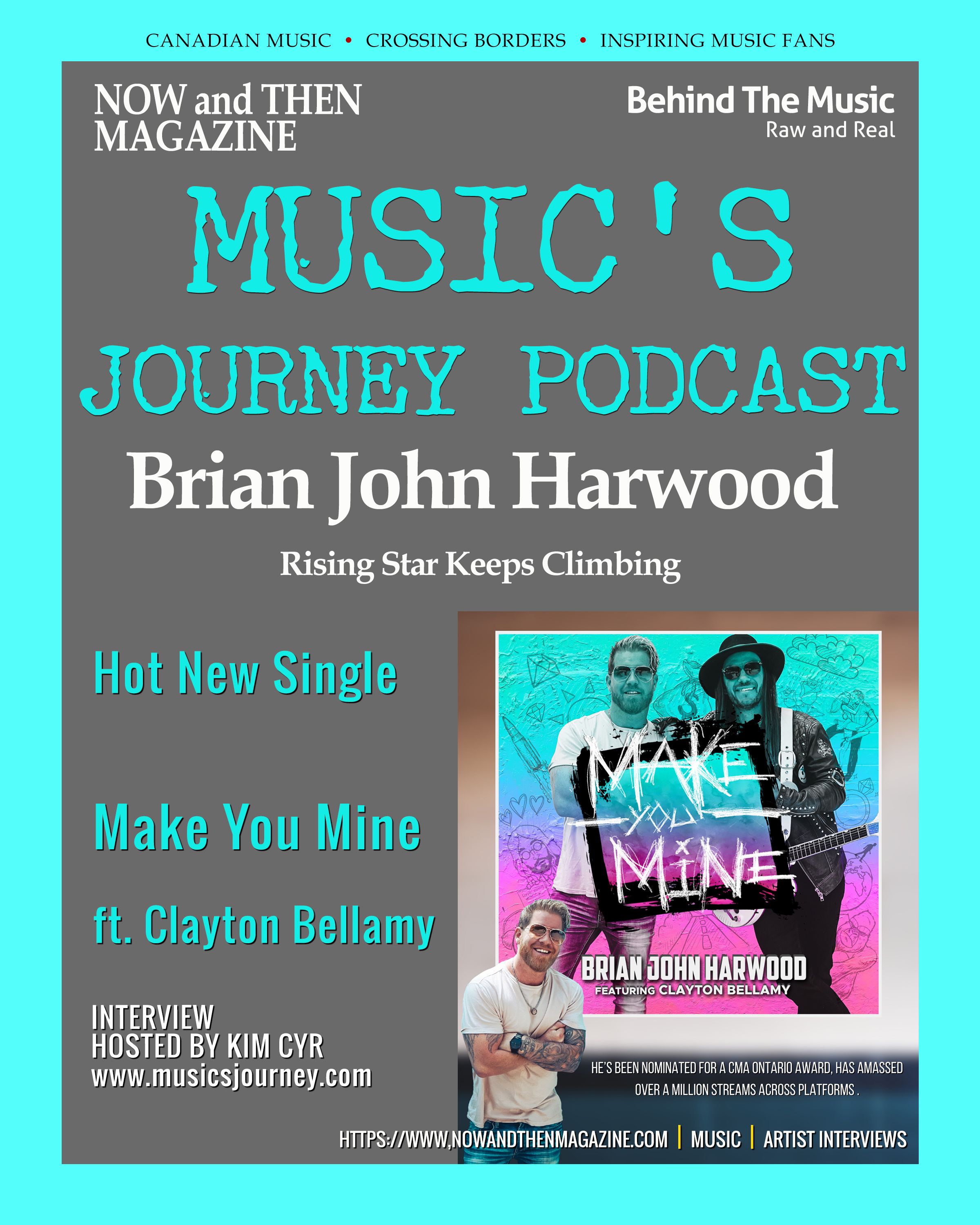 w/ Country Star 'Brian John Harwood'   
''Make You Mine''   
Feat. Clayton Bellamy  
Hosted by Kim Cyr   
Presented by NOW and THEN Magazine   
https://www.nowandthenmagazine.com  
Music's Journey Podcast INTERVIEW w/ Country Star Brian John Harwood His New Single ''Make You Mine'' ft. Clayton Bellamy Is Climbing the Charts Listen to this fun INTERVIEW HERE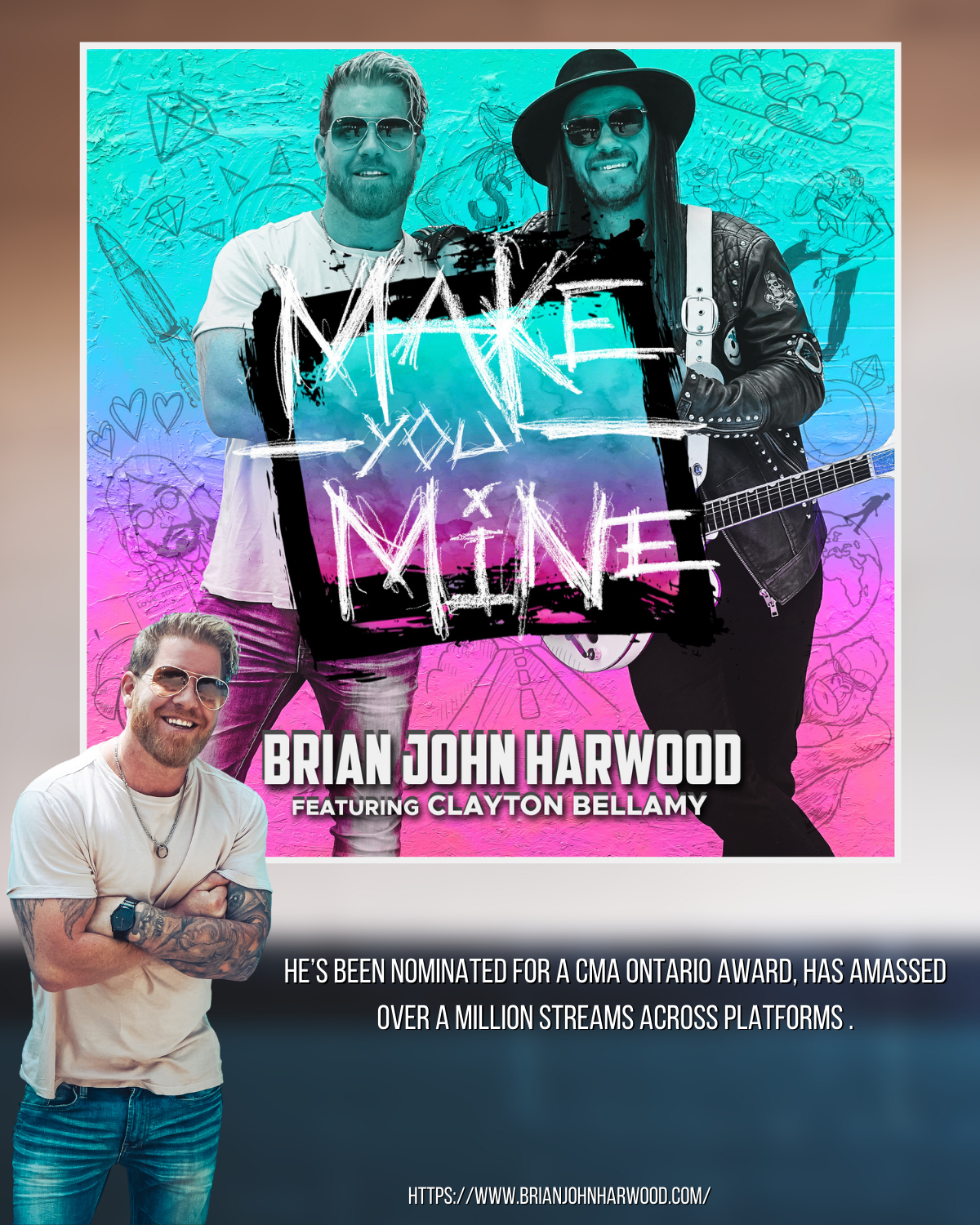 Brian John Harwood 
New Single 
''Make You Mine''  
Feat. Clayton Bellamy 
Music's Journey Podcast INTERVIEW w/ Country Star Brian John Harwood His New Single ''Make You Mine'' ft. Clayton Bellamy Is Climbing the Charts Listen to this fun INTERVIEW HERE 
Brian John Harwood is a very successful Canadian country solo artist and also one half of Chart-Topping Country Duo Kansas Stone w/ Matt Davey.  Brian's latest new single 'Make You Mine'' feat. Clayton Bellamy has been climbing the charts ever since it was released. Brian has twins on the way this November and a lot more new music coming our way.  We can't wait.    
''Brian John Harwood has had one hell of a year with his new music releases and the hits just keep on coming from this rising star,'' says Kim Cyr, Editor in Chief for NOW and THEN Magazine, host of the International Music's Journey Podcast, and radio host/personality on 91.3 FM Bluewater Radio.  ''Harwood has been busy, to say the least with the brand new single ''Make You Mine'' ft. Clayton Bellamy of The Road Hammers.  Harwood has just released new music with Kansas Stone as well with the brand new single '' Change''.  It is pretty exciting to see the brotherhood and special friendship between Harwood and Davey.  They support each other in their individual solo projects and in their band together.  It is rare and special.  There is so much new music coming, 2021 CMA OntarioAwards performance, and twins on the way.  It doesn't get any better than that.  I chat about all his success in life and in his musical journey as a stellar songwriter and artist.  The stories he shares with me are really special.  You don't want to miss this one.''  
To check out my full interview, click on the link below.  Don't forget that you can check all the interviews with the artists your love on www.musicsjourney.com.  You can also listen to all the podcast interviews on all streaming platforms under Music's Journey Podcast.
Music's Journey Podcast INTERVIEW w/ Country Star Brian John Harwood His New Single ''Make You Mine'' ft. Clayton Bellamy Is Climbing the Charts Listen to this fun INTERVIEW HERE 
Make You Mine ft. Clayton Bellamy 
Brian John Harwood - All That I Was Missing
Brian John Harwood - DAD
Brian John Harwood - Good Boy
Brian John Harwood - Getaway
Music's Journey Podcast INTERVIEW w/ Country Star Brian John Harwood His New Single ''Make You Mine'' ft. Clayton Bellamy Is Climbing the Charts Listen to this fun INTERVIEW HERE  
Follow Brian John Harwood