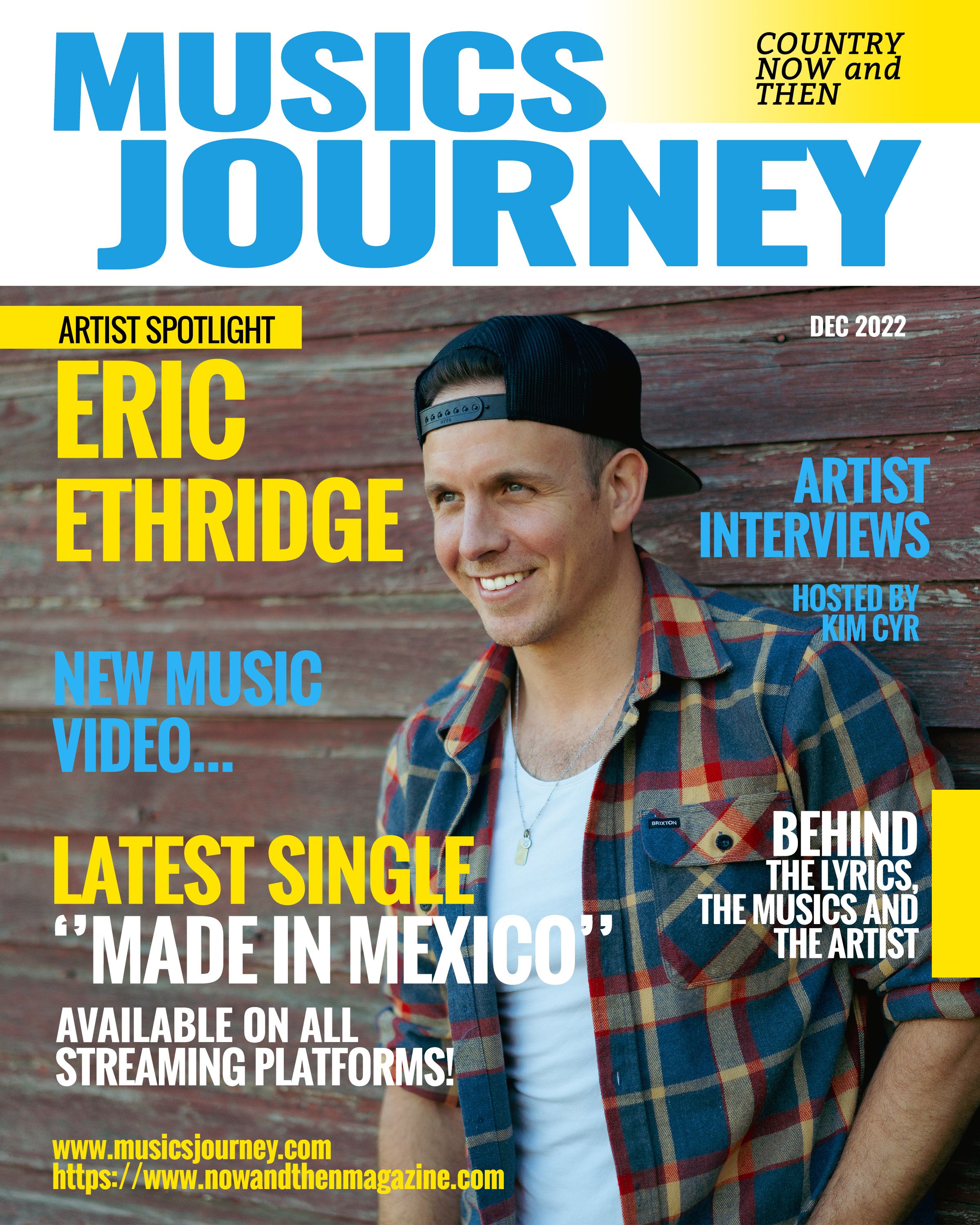 Music's Journey Podcast
INTERVIEW #190
w/ Country Star Eric Ethridge
Hosted by Kim Cyr
https://www.nowandthenmagazine.com
Music's Journey Podcast INTERVIEW #190 w/ Country Star Eric Ethridge with His Latest Single ''Made In Mexico''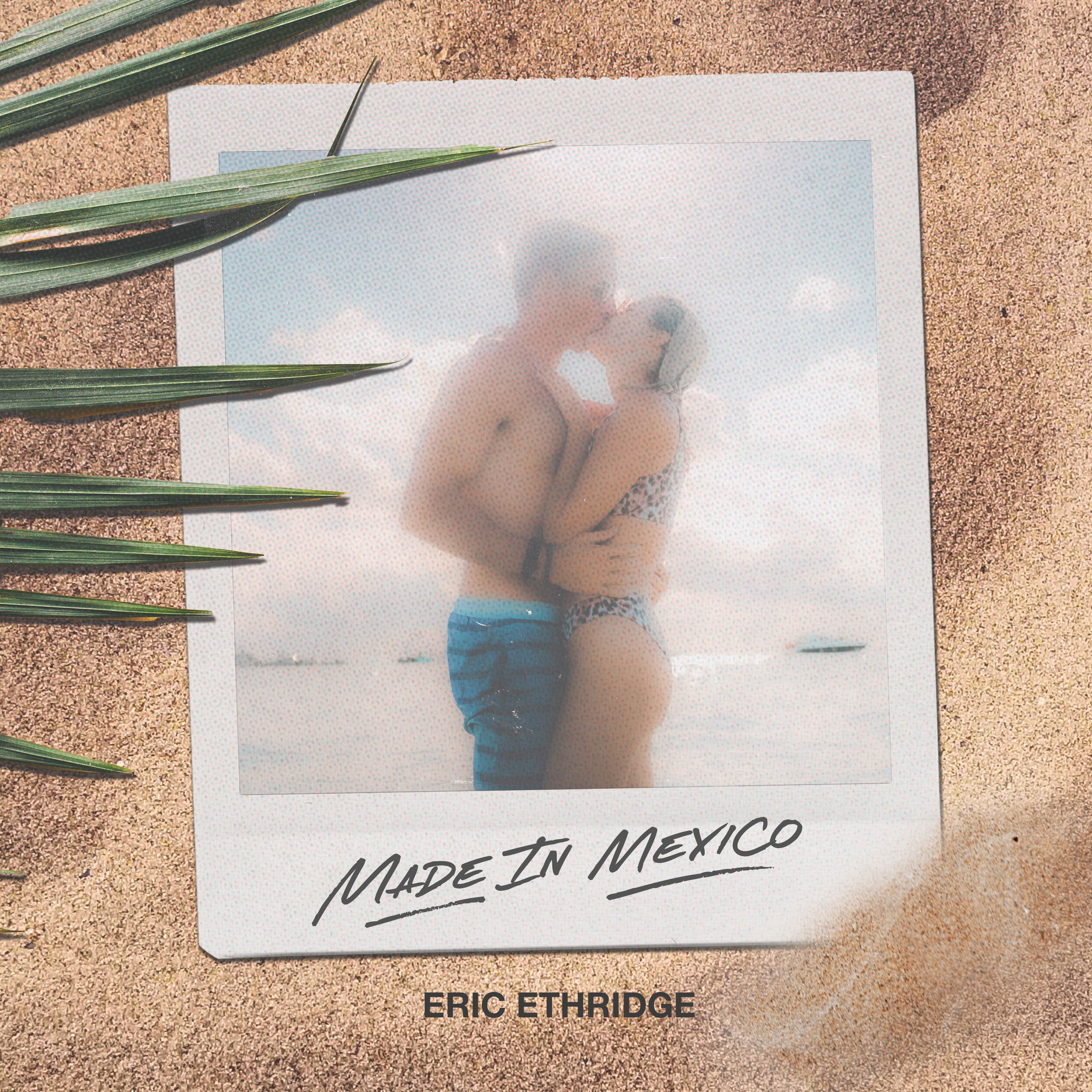 Eric Ethridge
''Made In Mexico''
Music's Journey Podcast INTERVIEW #190 w/ Country Star Eric Ethridge with His Latest Single ''Made In Mexico''
With the release of his dazzling new single, "Made in Mexico," the acclaimed Canadian country singer-songwriter and part-time Nashvillian confidently charts a new chapter in a career already stacked with accolades, awards, and a devoted fanbase of the sort some artists spend a lifetime building. 
Expertly produced by Lindsay Rimes, whose work on Kane Brown's "Heaven" and LoCash's "I Love This Life" ensured both tracks conquered North American country charts, the propulsive, sun-drenched "Made in Mexico" elevates Ethridge's crisp, emotive voice and trademark can't-resist-it melody. It's the kind of breezy anthem you fully expect to hear pouring out of car speakers at top volume. 
"Lindsay was a guest producer on my second record" — 2020's critically praised Good with Me, co-produced by JUNO Award–winning Brian Howse — "and I knew I wanted to work with him again. We met during a writing session in Nashville in 2019. It's like the guy can read my mind," Ethridge says. "We plan on doing more together." 
Ethridge's first new music in two years follows a heap of personal and career highs and lows including, in the highs column, getting hitched to long-time love, country singer Kalsey Kulyk in 2019 and the birth of their son Wilder in the summer of 2021. Yet despite its rather complex genesis, "Made in Mexico" is a clear snapshot of where Ethridge sits right now both sonically and lyrically. 
"I can't wait for people to hear 'Made in Mexico.' It's been too long, and for a bunch of reasons, not just the pandemic," Ethridge says, referencing a record and publishing deal that, despite everyone's best efforts, failed to launch. "This year is all about starting over, rebranding, and planning how to move things going forward. We are full steam ahead now." 
For an artist who admits to "fighting against a music career my whole life; I'm passionate about it but also terrified," Ethridge has made astonishing inroads in country music on both sides of the 49th parallel. 
His self-titled debut EP, issued in 2018, debuted at #1 on the iTunes country charts while producing the smash hit "If You Met Me First," its video achieving more than 10 million views on YouTube. A year later, Ethridge picked up a CCMA Rising Star nomination adding to his prestigious 2016 CCMA Discovery Award win. By the time the before mentioned Good with Me album arrived two years later, the Sarnia, ON. native was given a feature spot on country superstar Gord Bamford's "Rednek Music Fest" national tour. 
To date, Ethridge — who describes himself as a spontaneous songwriter with "about a million ideas recorded on my phone" — boasts an incredible 65 million artist streams globally. He is currently registering over 35,000 daily streams in the weeks prior to the September 30 release of "Made in Mexico," further cementing his status as an independent artist, albeit one with six Top 50 Canadian Billboard hits and over 120,000 social media followers. 
And yet, Ethridge almost didn't pursue this dream. As he explains, his original, "safe" plan was to become a chiropractor. He did, first earning a degree in kinesiology and exercise physiology at Western University in London, ON. 
"That's when I really started cutting my teeth, performing in bars all the time, around 2007, 2008," Ethridge recalls. "When I graduated in 2011, I had gotten into chiropractor school. A week before I was going to go, I decided to wait and pursue music. My family was, like, 'Uh… are you sure?' My buddy, who I also convinced to go to chiro school was like, 'Dude, really?" Ethridge howls. "I decided to give it a year and ended up really liking it." 
These days, Ethridge sometimes finds himself in the unique position of "greeting patients while a song of mine comes on the radio," he chuckles. Ethridge has proven equally dexterous at walking the enormously blurry line between country and pop. Both genres strive to grab ears and touch hearts, yet as Ethridge notes, "Pop can be catchy and fun, but country music is about storytelling. The lyrics take you somewhere. 
"Funny enough, I wasn't raised on country music. But I remember hearing 'If Tomorrow Never Comes' by Garth Brooks. I was on the bus in college, and I got super-emotional; that was a first. I was like, 'Whoa, I didn't know music could do that!'" 
Ethridge continues: "I began discovering other country artists and before I knew it, I was immersed in it. When I started playing coffee shops and bars about 15 years ago, people would come up to me and say, 'You should be a country singer.' When I started writing songs on my own, the first thing I wrote was a country song. Not that I'd ever want that song to see the light of day now," he laughs, "but the whole thing was very organic." 
Now, with a new management team in place, a full-time return to Nashville for him and Kulyk on the horizon, the whole of 2023 open to touring and recording, and "Made in Mexico" ready to soar, Ethridge is buckled in for his country music ascension. 
"After the last several years I feel like I have a better idea of who I am and how I want to present myself to the world," he confirms. "Family is number one and that definitely comes across in my new music. I took the last two years to home in on what I want to say and sing about. And I'm so excited for people to hear it."
''Eric Ethridge is one of those artists that I have such respect for,'' says Kim Cyr, Editor in Chief for NOW and THEN Magazine, host of the International Music's Journey Show, and radio host on 91.3 FM.  ''Ethridge puts his heart and soul into everything he does.  He is incredibly humble and cares so deeply about everything he releases and writes.  Music is in his bones.  I love watching him in his element on stage performing live for the audience.  He is such a gifted singer and songwriter.''
Ethridge has a very special song that he will be debuting here on The Music's Journey Show towards the end of January or February 2023.  He has written a very special song for his son, 'Wilder' and I can't wait to hear it and share it here on the show.   Ethridge and his wife, country artist Kalsey Kulyk, will be traveling to Spain to perform together in 2023.  There are so many exciting things for fans to look forward to for this upcoming year. Ethridge has picked up some New hobbies recently and shooting videos is one of them.  They will be documenting their journey to Spain for all their fans to see.  There are so many exciting things for fans to look forward to for this upcoming year. 
To hear my interview with Eric Ethridge, click on the link below.
Music's Journey Podcast INTERVIEW #190 w/ Country Star Eric Ethridge with His Latest Single ''Made In Mexico''
Eric Ethridge - Made in Mexico (Lyric Video)
Eric Ethridge - Kiss Me Goodbye (Official Audio)
Eric Ethridge - Dream Girl (Official Music Video)
Music's Journey Podcast INTERVIEW #190 w/ Country Star Eric Ethridge with His Latest Single ''Made In Mexico''
Follow Eric Ethridge