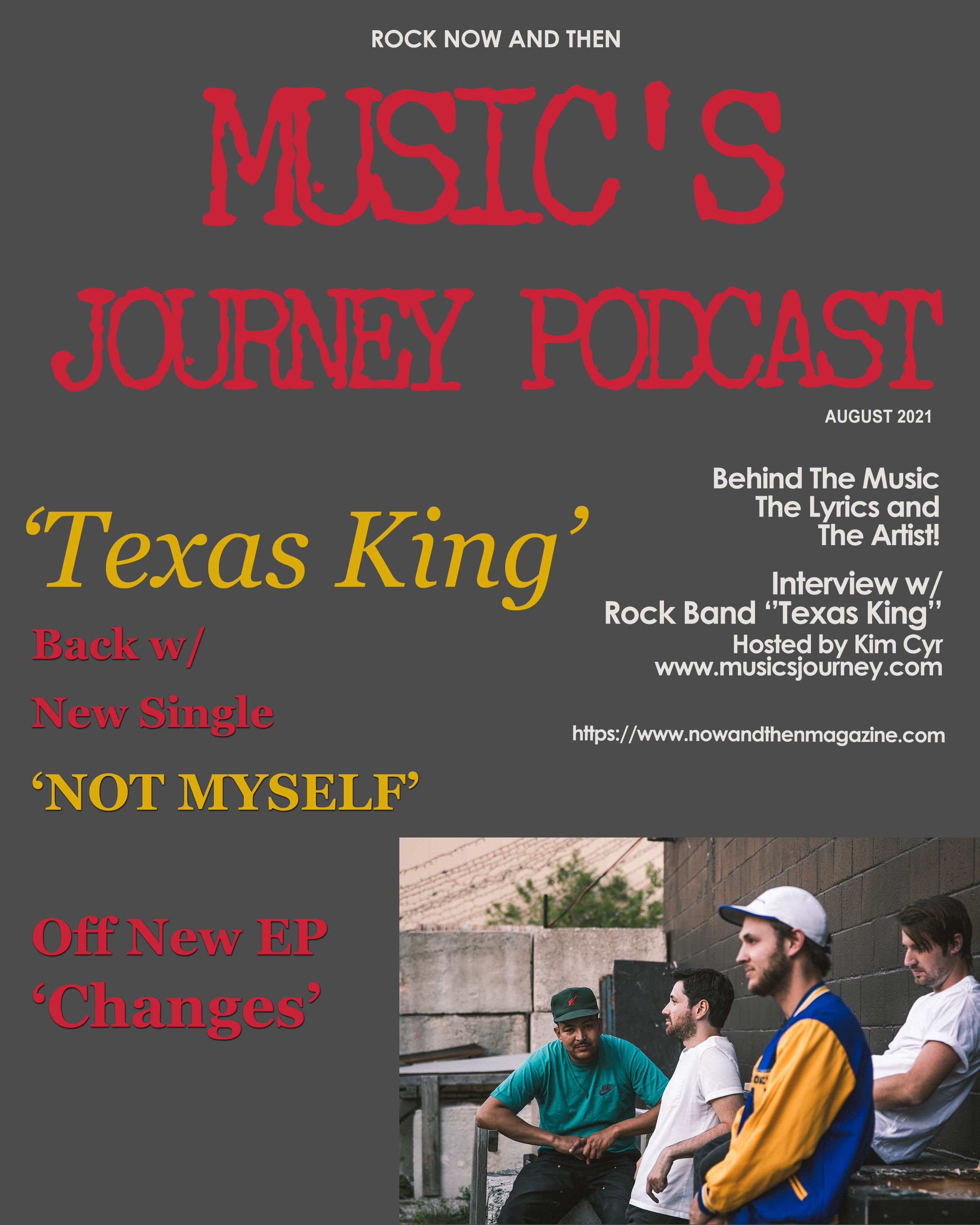 Music's Journey Podcast 
w/ Canadian Alternative Rock Band ''Texas King'' 
Hosted by Kim Cyr 
Presented by NOW and THEN Magazine 
https://www.nowandthenmagazine.com 
Music's Journey Podcast Interview w/ Canadian Rock Band ''Texas King'' Check It Out HERE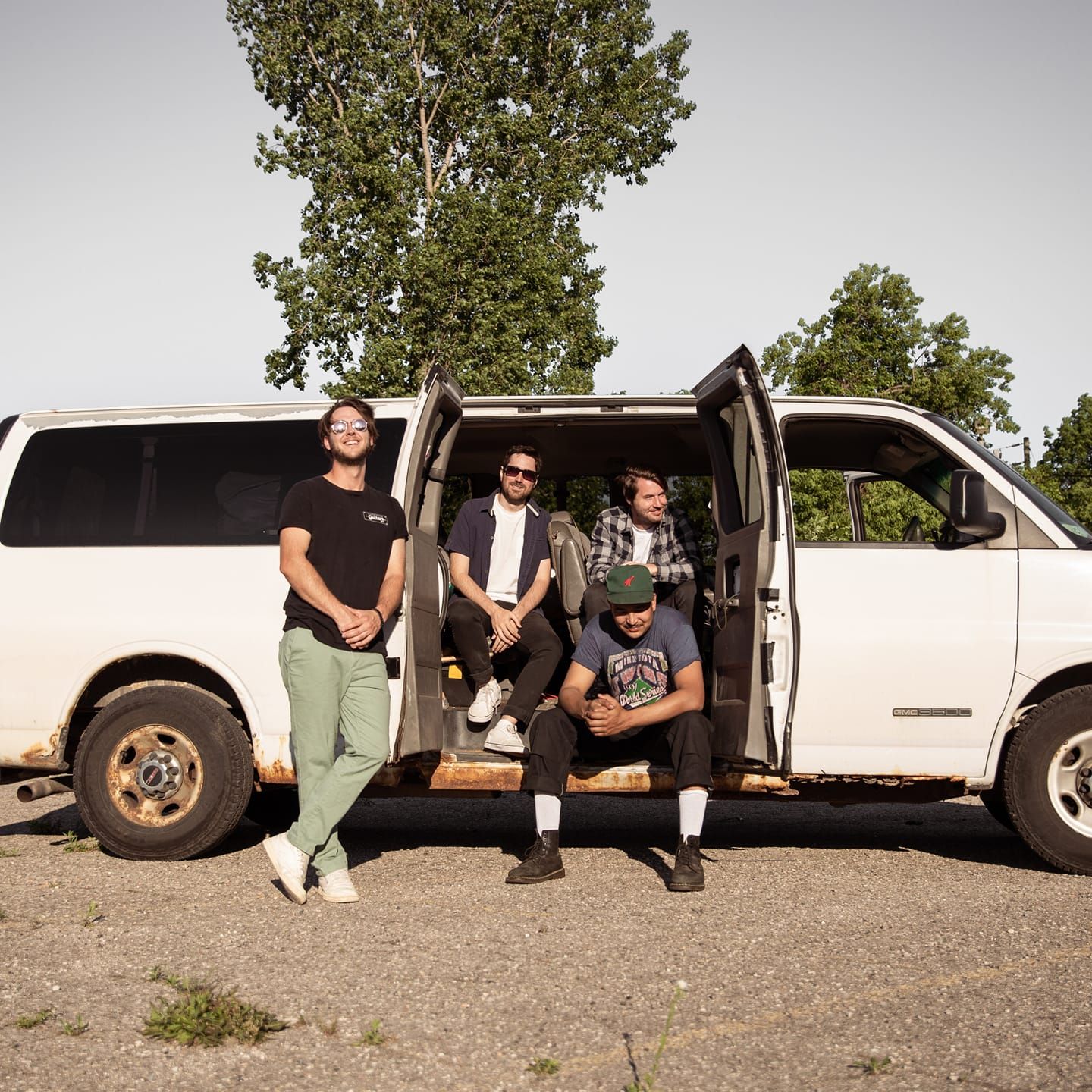 TEXAS KING  
New Single 
&
''Not Myself''
Music's Journey Podcast Interview w/ Canadian Rock Band ''Texas King'' Check It Out HERE 
Texas King is picking up where the previous Top 15 Active Rock singles Boomerang & Chandelier left off, "Not Myself" kicks off their new EP ''Changes'' coming out December 2021!  
Texas King has delivered a fantastic new single ''Strange Life'' which is my favorite song on my playlist right now,'' says Kim Cyr, Editor in Chief for NOW and THEN Magazine, host of the International Music's Journey Podcast, and radio host on 91.3 Bluewater Radio.  ''Jordan MacDonald writes the lyrics that hit hard with a vulnerability that demands respect as a songwriter.  MacDonald has such an incredible voice that carries the lyrics in this story that make you put this track on repeat all day long. 
After autumn of 2019, Texas King were poised to break out. They had all the wind in their sails; they had just come off of a 4 month North American tour supporting Big Wreck, they had just sold out their hometown holiday show (1000 tickets) and their single Chandelier was on the rock charts.  
Instead in 2020, they took shelter in a studio during a storm and re-emerged in 2021 from the other side looking to pick up right where they left off with Changes, their 6-song EP set for release in December 2021. 
"Not Myself" is the lead single intended to start the journey - a story the band wants to tell. With powerful lyrics delivered by the band's black Canadian frontman, Jordan MacDonald, as he puts it; "Sometimes you have a bad day, sometimes you have 30 in a row. This song is an alert. Everything is not ok. I've not been feeling myself. It's the first step in the process of change. Which is admitting that there's something that needs to change. I'm sure you can relate." 
The London-based band, Texas King, was formed in 2012 by frontman and lead-singer, Jordan MacDonald,  with band members Colin Gray as lead guitar and back-up vocals, Phil Spina on bass, and Rob Shipway on drums.
''I really love the band Texas King and all that they have accomplished since I have been covering them from the start of their career at Canadian Music Week (CMW),'' says Kim Cyr, Editor in Chief for NOW and THEN Magazine and the host of the International Music's Journey Podcast.  You don't want to miss their latest single ''Strangle Life''.  To hear my interview with the band, click on the link below.
Music's Journey Podcast Interview w/ Canadian Rock Band ''Texas King'' Check It Out HERE 
Texas King - Strange Life (Official Audio)
Texas King - Not Myself (Live at the Sugar Shack)
Texas King - Boomerang
Texas King - Chandelier 
Texas King - Giants (Lyric Video)
Music's Journey Podcast Interview w/ Canadian Rock Band ''Texas King'' Check It Out HERE 
Follow Texas King