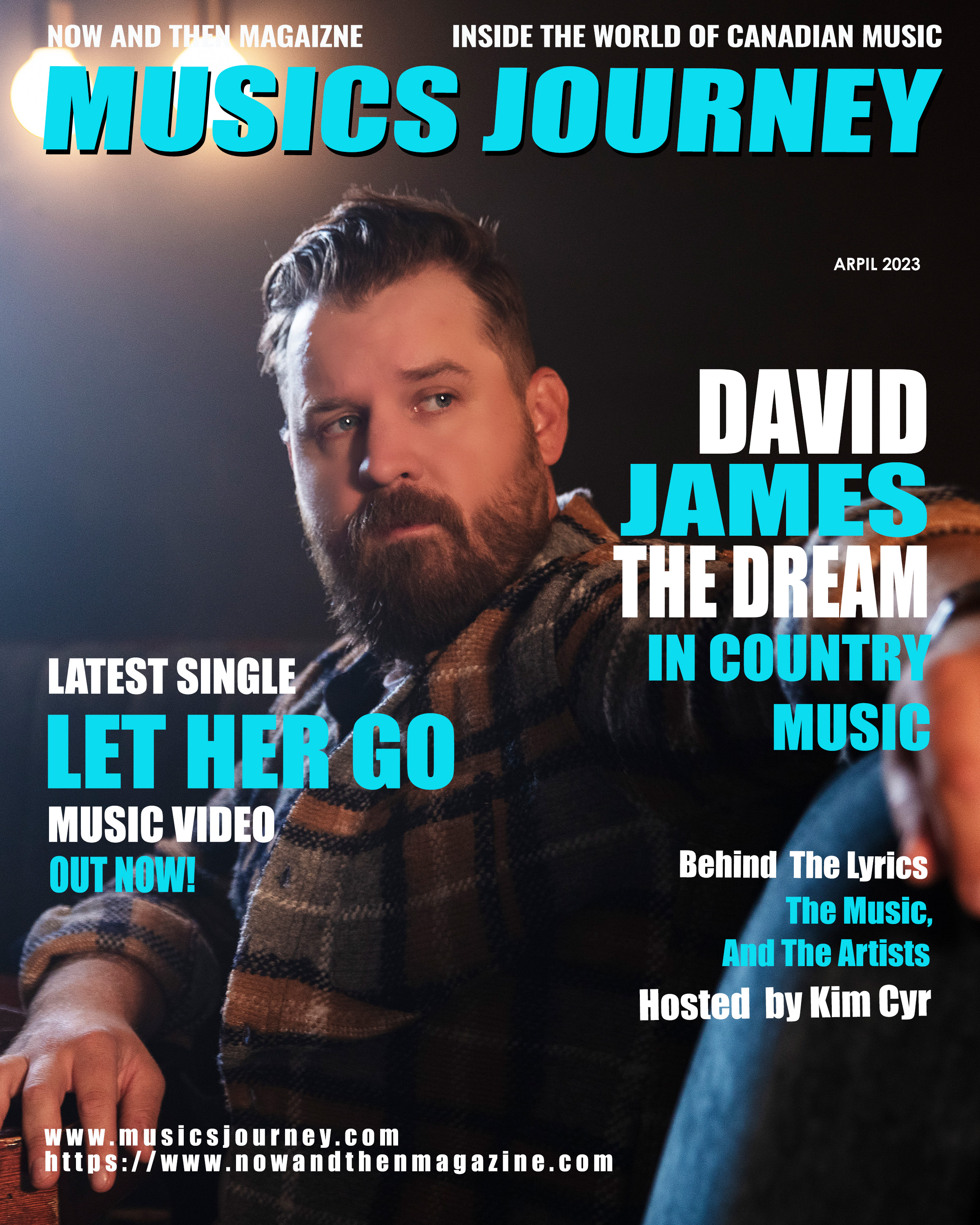 Music's Journey Podcast
w/ Country Artist David James
Hosted by Kim Cyr
Presented by NOW and THEN Magazine
https://www.nowandthenmagazine.com
Music's Journey INTERVIEW #214 w/ CCMA Nominated Country Artist David James's Latest Single ''Let Her Go'' Music Video
Latest Single
''Let Her Go''
Music's Journey INTERVIEW #214 w/ CCMA Nominated Country Artist David James's Latest Single ''Let Her Go'' Music Video
Multiple CCMA Award-nominated artist David James shares the official music video for his latest single ''Let Her Go'' (MDM Recordings Inc./Universal Music Canada).  With an impressive 19M collective streams to date across all songs, the latest track and video offer a unique perspective on what it means to hold on to the ones you love.  Directed by Ryan Nolan, the video showcases James in a third-party role panning from scenes in a bar with subtle dialogue between the country artist and a couple, to stunning scenic views where he shares his perspective on the relationship.  The single released last year, once again finds James joining forces with award-winning producer Danick Dupelle as he channels a new and evolved sound.
About the new video, James shares ''''Let Her Go' is so impactful for me.  The lyrics are powerful, the story is relatable, and visually capturing and displaying those sentiments in the right way was incredibly important to me.  When Ryan Nolan (Director) decided to drag us to a random ski town in New Mexico to film, I knew it was going to be something special.  The visuals he captured are quite simply stunning, and his direction services the song so that it brings it to life in a whole new way.  I've always thought a well-executed video has the ability to enhance the impact of a song for the listener, bringing to life in their mind the story, lyrics, and meaning in a whole new way, and Ryan has done just that.''
David James - Let Her Go (Official Music Video)
Music's Journey INTERVIEW #214 w/ CCMA Nominated Country Artist David James's Latest Single ''Let Her Go'' Music Video
ABOUT DAVID JAMES: Following his 2014 signing with MDM Recordings Inc., David James has consistently delivered. The 2016 release of his debut EP 'Songs About A Girl" garnered the Manitoba native two CCMA Award nominations including a nod in the 'Rising Star' category, his debut performance at the highly celebrated Boots and Hearts Music Festival, and a Canadian Radio Music Award nomination for 'Best New Group or Solo Artist: Country'. His 2017 sophomore album Downtown Kids, spawned James' first and second Top 15 hits and most successful singles to date with 'Sun Set On It' and the title-track earworm, and he was nominated for four Manitoba Country Music Association Awards including 'Male Artist of the Year'. In 2018, James dropped 'Cars, Girls, & The Radio' and hit the road in 2019 as the featured guest on Aaron Pritchett's "Out On The Town" tour, stopping in over 50 cities across Canada before wrapping in the fall of that same year. 'All The Time', released in the summer of 2019, became James' fastest climbing song on radio to date, boasting over 2.5 million collective streams. The companion video debuted on CMT in the U.S. as part of their 'Next Up Now Program', and later that year James was awarded 'Male Artist of the Year" at the MCMA Awards. His EP If I Were You dropped in the spring of 2020 and that September, he partnered with Genevieve Fisher to reimagine the track 'Then There's You', transforming his solo recording into a smooth duet that highlights both artists' sparkling vocals. The Top 30 bop 'Don't Mind If I Do' was James' first release in 2021 and the soundtrack of spring, and his release 'That's The Life' dropped late last year with a traditional radio version, and a unique version created in partnership with True North Sports & Entertainment and The Winnipeg Jets. Now with a combined 19M streams and climbing across all songs, David James has been working on new music with producer Danick Dupelle and showcasing an evolved sound across the single 'Wreck My Weekend' and most recent release 'Let Her Go'. 
Music's Journey INTERVIEW #214 w/ CCMA Nominated Country Artist David James's Latest Single ''Let Her Go'' Music Video
Follow David James