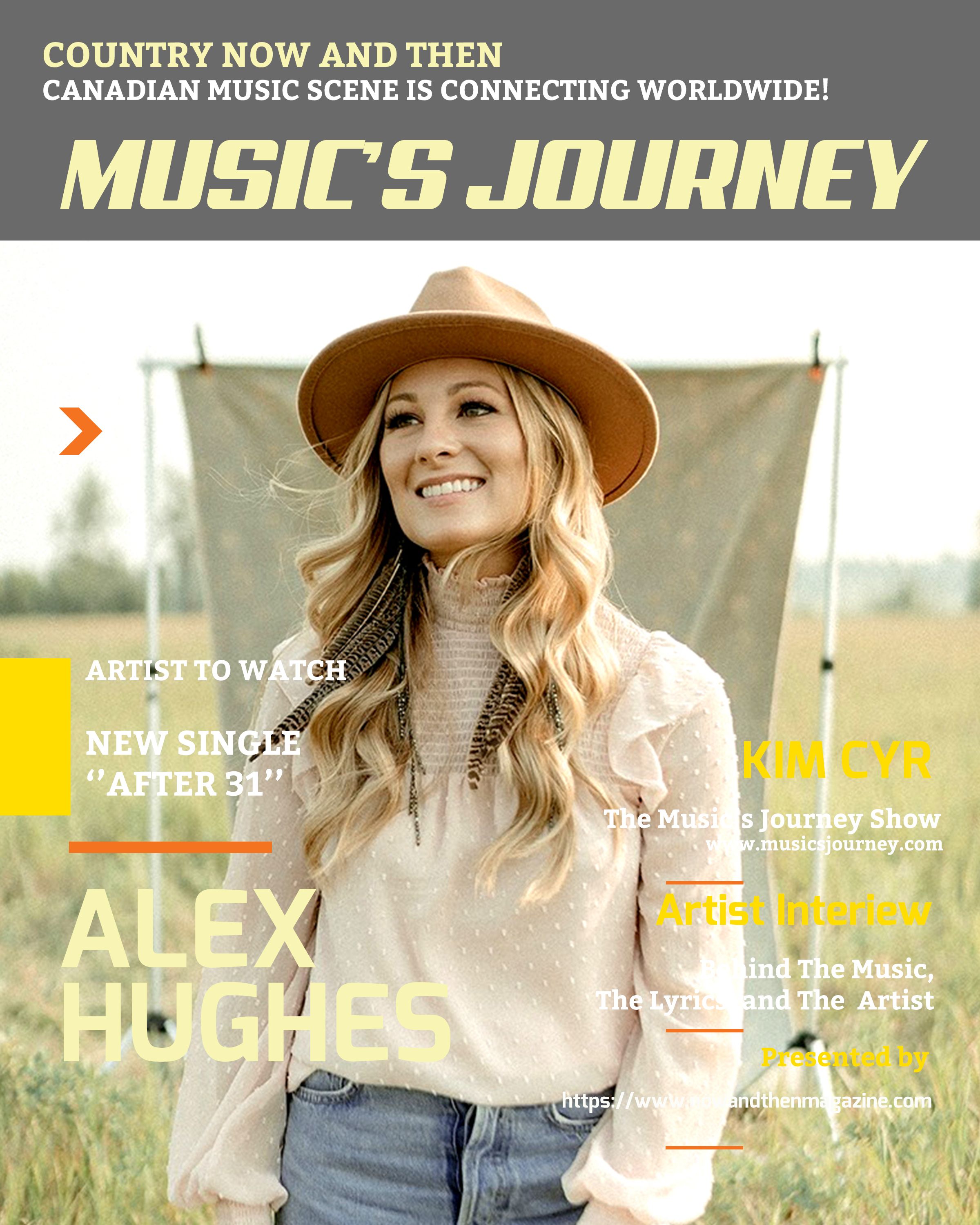 Music's Journey Podcast
w/ Pop Country Artist Alex Hughes
Hosted by Kim Cyr
Presented by NOW and THEN Magazine
https://www.nowandthenmagazine.com
Music's Journey Podcast INTERVIEW #129 w/ Pop Country Artist Alex Hughes New Single 'After 31' HERE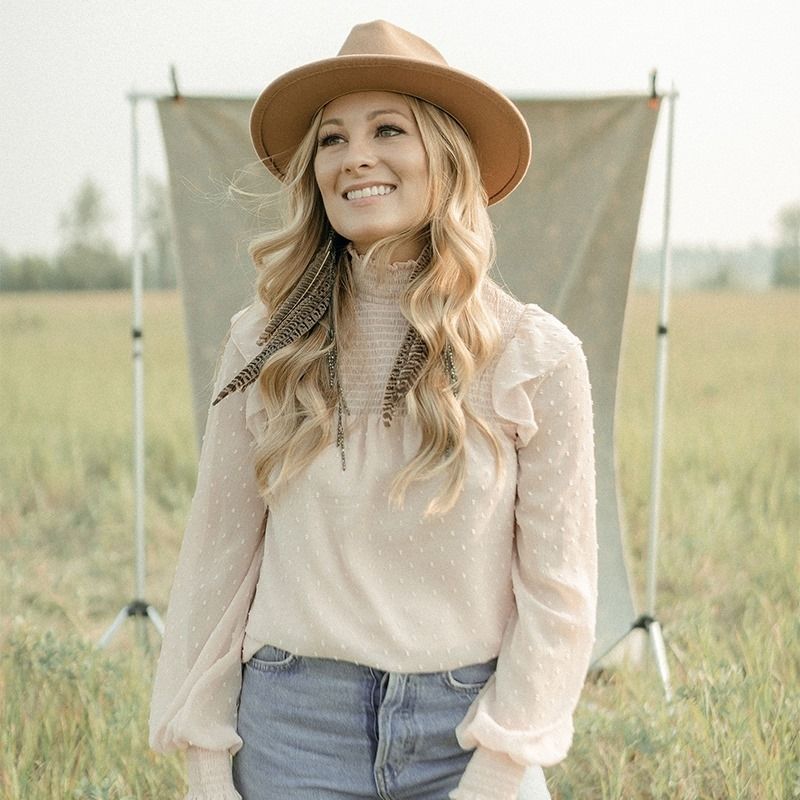 ALEX HUGHES
NEW SINGLE
'AFTER 31'
Music's Journey Podcast INTERVIEW #129 w/ Pop Country Artist Alex Hughes New Single 'After 31' HERE
''Alex Hughes is a special kind of storyteller as a pop-country artist,'' says Kim Cyr, Editor in Chief for NOW and THEN Magazine, host of the International Music's Journey Podcast, and radio host on 91.3 FM. 
''I love Alex's pop-based R&B runs she delivers in her songs.  She is such a gifted singer-songwriter with her unique perspective on her craft.   Alex personifies girl power.  Alex is an incredible role model for all young girls out there who want to follow their dreams.   The girl power theme is so important in so many ways today.''   
''To hear all about Alex's musical journey, the sacrifices made and all the hard work that has brought her to the success and place she is now both personally and professionally, check out the link below.  We talk about her life, her love of music and songwriting and I ask some burning questions to help to get to know this incredible artist a little better.  Check it my interview with Alex Hughes by clicking on the link below.'' 
Music's Journey Podcast INTERVIEW #129 w/ Pop Country Artist Alex Hughes New Single 'After 31' HERE
Canadian pop-country artist Alex Hughes is back with her beautiful new music video for "After 31", which you can watch below.
After 31- Official Music Video- Alex Hughes
Shot by Aaron Reimer in Fish Creek Provincial Park, mere steps from where Hughes grew up, the "After 31" video is simple and reflective. With the intention of connecting with the viewer, Hughes locks eyes with the camera, singing lyrics that are both raw and true to her story while still relatable to anyone at any stage of life. Shots of Hughes sitting in solitude and reminiscing over old photos from throughout her life and journey as a musician are meant to be a visual representation of the overall sentiment of this coming of age and contemplative song. 
"It meant a lot to me to sing these lyrics and share the story of "After 31". We kept the imagery simple to let the lyrics and message of the song do the talking. It was such a pleasure to work with videographer Aaron Reimer who came up with the visual concept using a backdrop to add interest to an otherwise modest scene of contemplation," said Hughes.
Fueled by an equal love for Shania Twain and Snoop Dogg, Alex Hughes take on pop-country has a bit more soul and grit than her petite 5'2" frame might suggest. With a voice described as a combination of Linda Ronstadt and LeAnn Rimes, Alex has practically been singing since before she could talk. Her distinct sound weaves R&B runs into classic country melodies with pop-driven beats that leave audiences in awe. With multiple sold-out shows in 2021, a Country Music Alberta "Horizon Female Artist of the Year" nomination, and a selection as a Project WILD - Country Artist Development Program Top 12 Finalist, Alex is making her presence undeniable in Canadian Country Music.  
After the release of her current project's debut single, "Strong As You", in 2019, Alex has been making waves in the Alberta music scene; collaborating with artists within her Country music community and beyond. Notable collaborations include a feature vocal performance on Canadian Pop artist, Fayence Dream's album, "Hang up on Me" and The Blue Jay Sessions group collaborative song, "Sitting on Top of The World". Alex is also highly commended as a songwriter with credits on Leaving Thomas' acclaimed album, "Nothing Comes for Free" as a writer on the song, "Lie to Me", as well as Ryan Lindsay's CCMA nominated album, "The Ride" as a writer on fan favourite, "Darlin' You're Classic".  
When some might've been discouraged by the cancellation of shows in 2020, Alex saw an opportunity to develop and continue to hone her craft. She kept herself busy, co-writing over 50 songs with writers from Calgary, Nashville, Chicago, and even the UK. She released her follow-up single, "Gentleman", a female-empowering song with nods to 90's girl-power country, and grew her fan base by almost double, utilizing social media and participating in multiple live streams and virtual appearances. Alex is a driven learner and used the pandemic as a chance to study vocal production, a skill she used to self-record all the vocals for her next single, "After 31", released in November of 2021. Produced by Nashville-based producer, Shannon McArthur, this special song are a true coming-of-age moment and the most honest and raw of Alex's releases to date. After finding what she believes to be her truly authentic and distinctive sound, Alex is making the music she was born to give the world.  
With plans to record and release her debut full-length album in 2022 and tour it across Canada, Alex has never been clearer in her vision and is focused and driven to see it through. With a desire to honor the classic country songs she loved to sing in her youth and inspired by the bass-heavy songs she'd playback when she learned to drive, Alex promises to deliver something that is as sincere and fun as she is. This is Country music for the modern ear that still loves to play their grandparent's records.
Music's Journey Podcast INTERVIEW #129 w/ Pop Country Artist Alex Hughes New Single 'After 31' HERE
Gentleman
Alex Hughes- Nashville North 2021 Calgary Stampede
Alex Hughes- Strong as You (Official Music Video)
Concorde Group Exclusive Sessions: Alex Hughes (featuring Devin Cooper)
Alex Hughes - Waiting On Goodbye (Official Music Video) 
Music's Journey Podcast INTERVIEW #129 w/ Pop Country Artist Alex Huges New Single 'After 31' HERE
Follow Alex Hughes