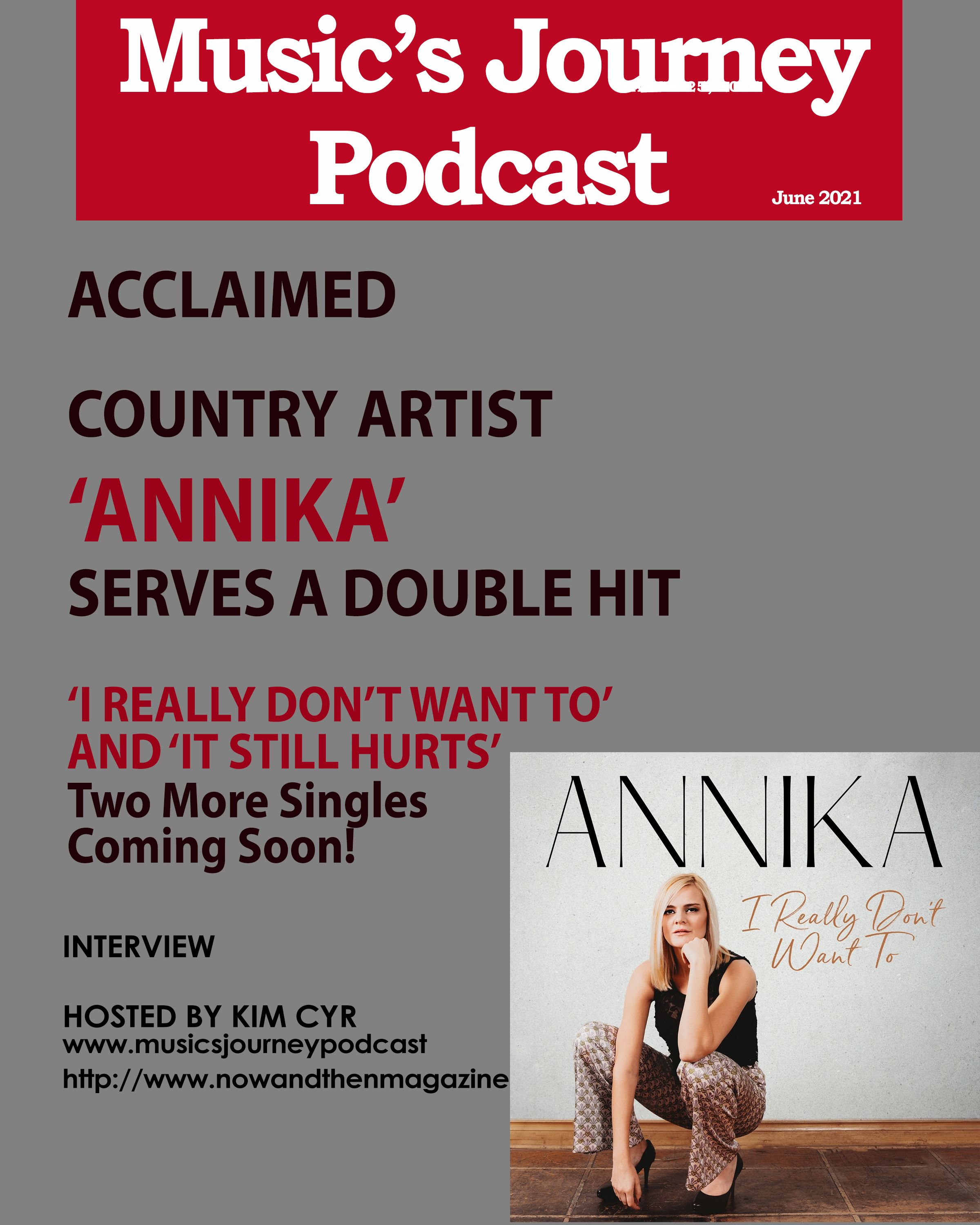 Music's Journey Podcast
w/ Acclaimed Country Artist 'ANNIKA'
Hosted by Kim Cyr
Presented by NOW and THEN Magazine
https://www.nowandthenmagazine.com
Music's Journey Podcast INTERVIEW w/ Acclaimed Country Artist 'ANNIKA' Double Single Release & Video You Don't Want To Miss! Listen HERE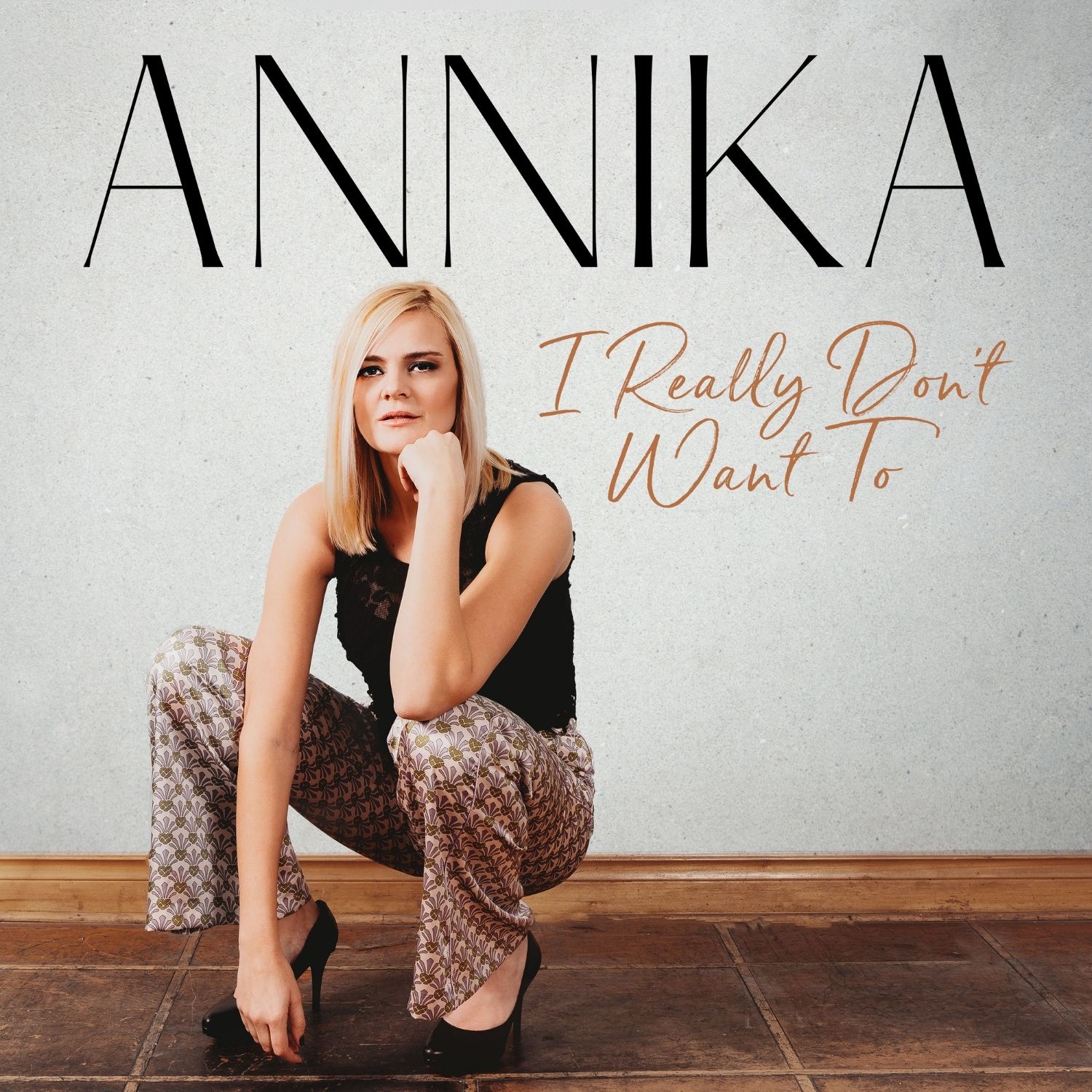 ANNIKA
DOUBLE SINGLES RELEASE
'I REALLY DON'T WANT TO' & 'IT STILL HURTS'
Music's Journey Podcast INTERVIEW w/ Acclaimed Country Artist 'ANNIKA' Double Single Release & Video You Don't Want To Miss! Listen HERE
The singer-songwriter ANNIKA is taking a new musical direction since moving on from the CCMA-nominated country-pop duo Leaving Thomas. The duo accumulated over 6 million career streams and was nominated for multiple CCMA Awards and placed top 3 in SiriusXM's Top of The Country Competition. 
'I Really Don't Want To' is a heavy-hitting musical jam with a message of empowerment while at the same time, describing the intoxicating, impossible to understand the feeling of falling in love. Lucky fans will get a double dose of music as ANNIKA will also be releasing 'It Still Hurts' as a "twingle" – two singles released on the same date. 'It Still Hurts' outlines the painful, often lengthy healing process required after love goes wrong. 
"I Really Don't Want To' has a message that hits home for me as someone that has a history of falling in love, completely unafraid and uninhibited every time even though I knew heartbreak was likely around the corner," says ANNIKA. "After so many breakups, I got used to picking myself back up and carrying on without resentment or a jaded attitude towards love. The bluesy, soulful sound of the song is uplifting in nature, making it a great tune to jam out to on the piano and I loved that while recording, I could really let loose on the vocals." 
Calgary, Alberta born and raised ANNIKA. Set to release her first full-length solo album in the coming months and, is ready to showcase a more mature, introspective side, highlighting her talents as a musician, songwriter and specifically a piano player. 
ANNIKA has co-written over 100 songs to date with Nashville heavy hitters such as Carolyn Dawn Johnson, Phil Barton, Brian White, Patricia Conroy, and most famously, Liz Rose, and has performed at incredible venues with Leaving Thomas such as Boots and Hearts, Country Thunder, Calgary Stampede, Rockin' River Fest, and many more.
ANNIKA, releases the music video for her new single "I Really Don't Want To". Directed by Oliver Banyard, the "I Really Don't Want To" music video takes listeners on a journey, demonstrating the realistic feelings of falling in love, telling the real life love story of ANNIKA and her husband, Spencer.
For ANNIKA, it's more than a project. Two more singles are coming this summer, two more after that in the fall, making up a 'Side A' collection, followed by the 'Side B' collection in early 2022 – and the plan of releasing a complete Deluxe album on vinyl after that.
''Preparing to be a first time mom in July and launching her solo career with her double releases 'I Really Don't Want To' and 'It Still Hurts', life is pretty sweet,'' says Kim Cyr, Editor in Chief of NOW and THEN Magazine and the International Music's Journey Podcast.  ''ANNIKA is such a special soul and an artist that is rare to find.  She is the dream artist that any label would kill to sign.   She is an accomplished musician, vocalist and songwriter known for her soulful vocals. Her voice transports audiences through a musical journey, filling the spaces in our hearts and souls with a rich, bluesy tone that strikes emotion each and every time.  ANNIKA is a natural born storyteller.''
''ANNIKA's ability to capture audiences comes from her refreshing authentic and often comedic personality that I just love from the moment I met her backstage at Boots and Hearts Music Festival.   She delivers such a powerful vocal that is so engaging and entertaining at the same time.  The audiences worldwide just love her as much as I do, ' says Cyr.  ''Canadian music hits it out of the park with our pool of artists in the music industry and ANNIKA is a star and one to watch.''
Her upcoming debut full-length solo album, Stand Still is a departure from her previous work and showcases a more mature, introspective ANNIKA, highlighting her talents as a musician, specifically as a piano player. 
''I Really Don't Want To' is a song that was originally inspired by a line from a movie featuring Jennifer Aniston and Mark Ruffalo called "Rumor Has It." At the end of the movie, after Jennifer Aniston has repeatedly disappointed Mark Ruffalo's character, she asks for his forgiveness, and he says to her, "You can't just walk in here and tell me that you can't live without me…" to which her response is "I'm not here to tell you I can't live without you. I can live without you. I just don't want to."
''I had such a great chat with ANNIKA talking about motherhood, the loss of her mom, her artistry and music and life,'' says Cyr.  ''Our conversation reminded me of exactly why I loved her voice and charismatic personality right from the start.'' Listen to my interview with ANNIKA HERE
Music's Journey Podcast INTERVIEW w/ Acclaimed Country Artist 'ANNIKA' Double Single Release & Video You Don't Want To Miss! Listen HERE
I Really Don't Want To - ANNIKA (Official Music Video)
ANNIKA: songwriter | vocalist | pianist
Music's Journey Podcast INTERVIEW w/ Acclaimed Country Artist 'ANNIKA' Double Single Release & Video You Don't Want To Miss! Listen HERE
Follow ANNIKA