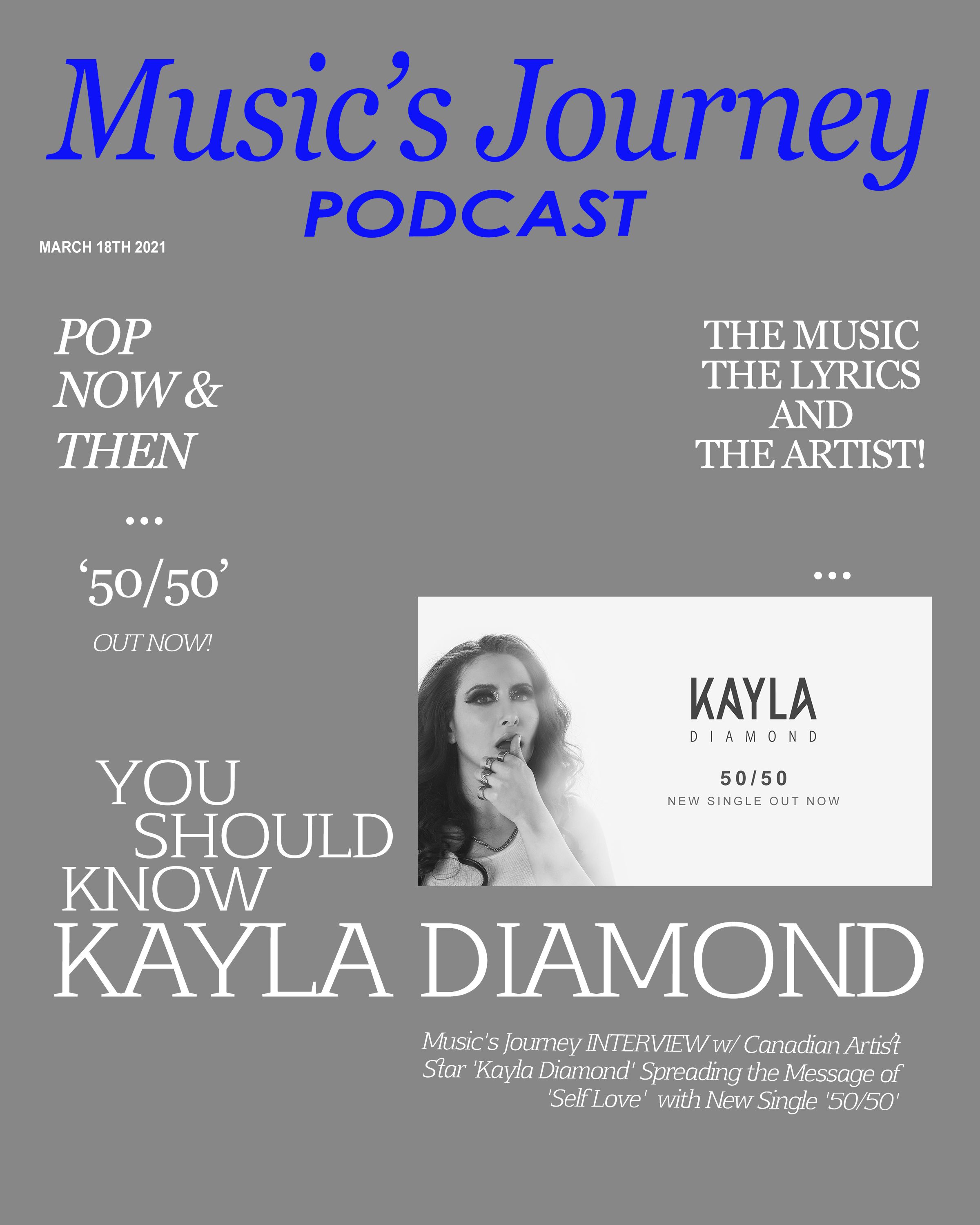 w/ Canadian Pop Star 'Kayla Diamond' 
Hosted by Kim Cyr 
Presented by NOW and THEN Magazine 
https://www.nowandthenmagazine.com 
Music's Journey INTERVIEW w/ Canadian Artist Star 'Kayla Diamond' Spreading The Message 'Self Love' 
With New Single '50/50' Here Full Interview HERE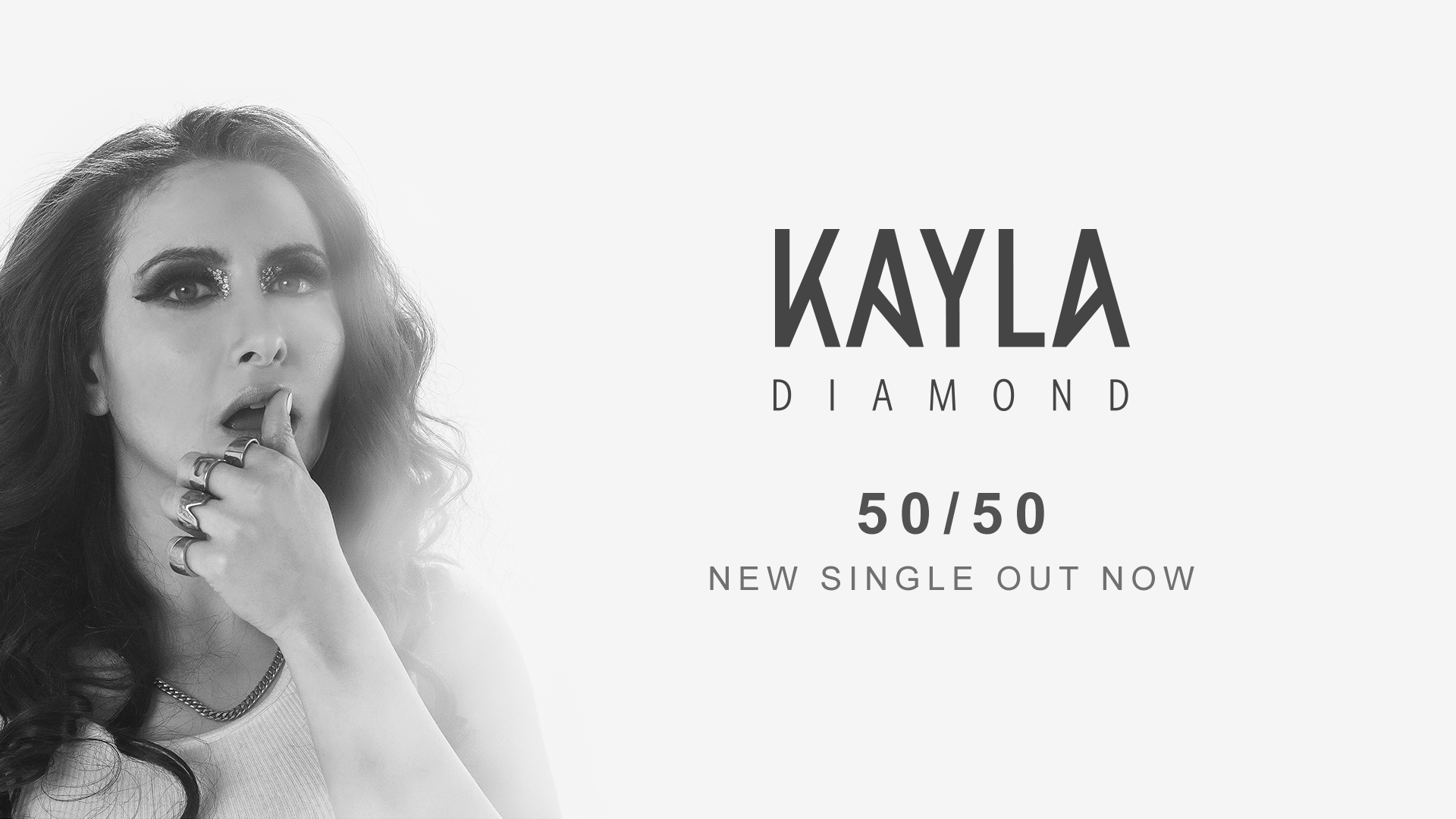 "50/50" 
Music's Journey INTERVIEW w/ Canadian Artist Star 'Kayla Diamond' Spreading the Message of 'Self Love' 
with New Single '50/50' Here Full Interview HERE
50/50 is a unique take on a love song. It's a love song about you (the listener), versus a breakup song about two people. This homage to self-esteem is timely as taking care of your own emotional needs became paramount in 2021, Kayla reflects on this on her latest track 50/50. As Kayla explains "Sometimes you need to show yourself some love, even if it means hurting someone else." 
Working with Marty Martino (Honors, Down With Webster) and her A&R team, the result is one of Kayla's strongest tracks to date and showcases her dynamic vocal range. 
Reflecting on what she wants fans to take from the song Kayla says "Lots of people will hear this song and think it's just about a spoiled relationship, but to me, it's so much more than that. It's about recognizing that you deserve better than what you're being given. It's about removing unwanted toxicity from your life." 
Since the 2017 release of her debut single "Carnival Hearts" (which went on to stream over 5 million times) and its follow up Top 10 single, the anthemic "What You're Made Of," Kayla continues to impress with her talent and determination to spread positivity with her words and music.
''Kayla Diamond has a very unique way of presenting this love story,'' says Kim Cyr, Editor in Chief of NOW and THEN Magazine and host for Music's Journey Podcast.   ''50/50 (Slaight Music/Pheromone/Cadence): The new single from the Toronto pop singer/songwriter has burst out of the gate, notching the Top Indie Add on the DMDS/Yangaroo chart this week.  This song has a powerful message that can be taken in many different life situations.  It is what I love about it.  The message to self-love, to recognize when a relationship is toxic and that instead of staying in something that just isn't good for you.  Kayla opens up about her recent marriage Talia Hershon and the special love they have for one another.  I have a chance to ask some cool questions to them both,'' says Cyr.  To hear the full interview, click on the link below.
Music's Journey INTERVIEW w/ Canadian Artist Star 'Kayla Diamond' Spreading the Message of 'Self Love' 
with New Single '50/50' Here Full Interview HERE
Kayla Diamond - 50/50
always been you - Kayla Diamond (Official Music Video)
Kayla Diamond - What You're Made Of (Official 4K Music Video)
Music's Journey INTERVIEW w/ Canadian Artist Star 'Kayla Diamond' Spreading the Message of 'Self Love' 
with New Single '50/50' Here Full Interview HERE
Follow Kayla Diamond