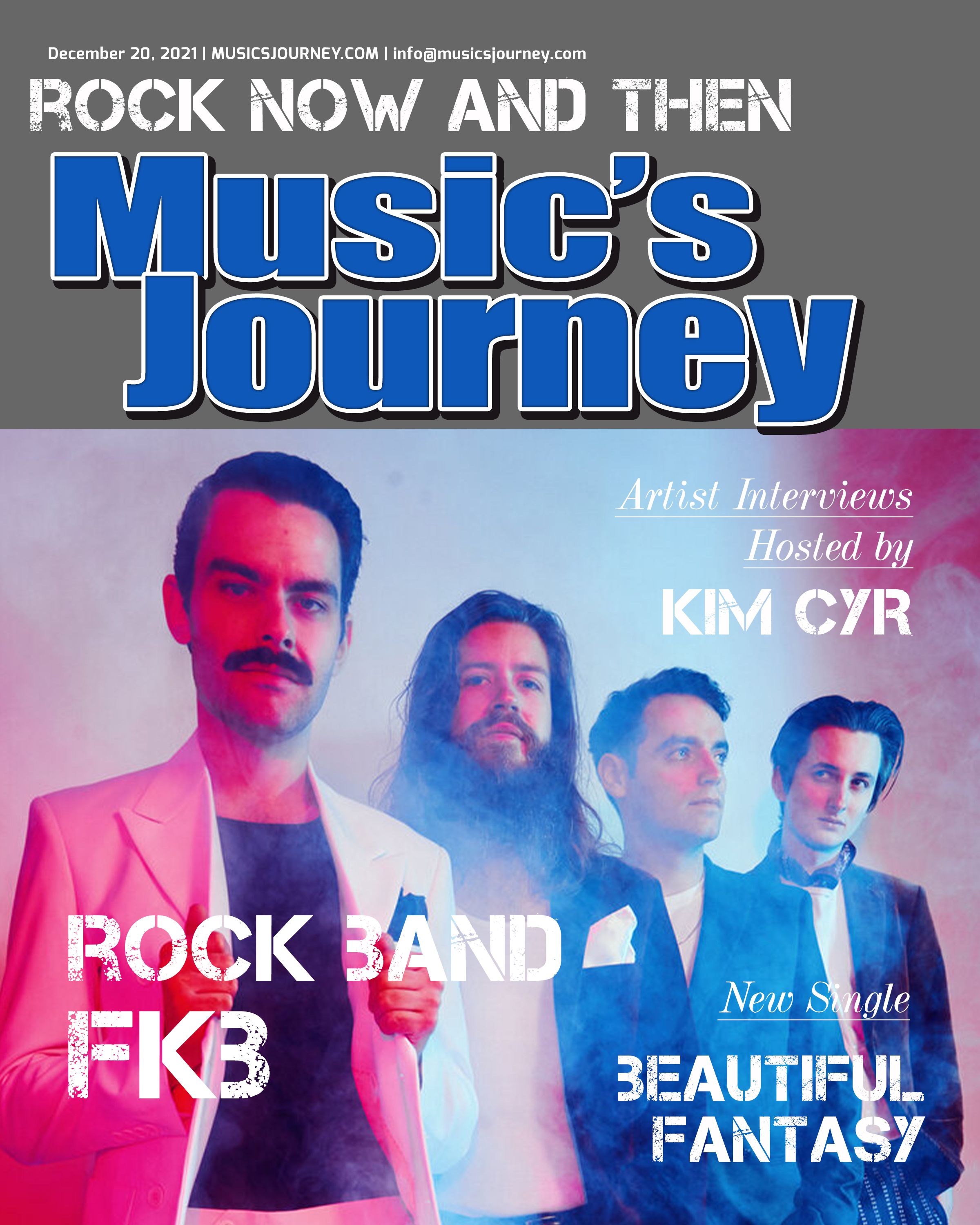 Music's Journey Podcast 
w/ Alternative Rock Band 'FKB'
Hosted by Kim Cyr
Presented by NOW and THEN Magazine
https://www.nowandthenmagazine.com
Music's Journey Podcast INTERVIEW #138 w/ Alt. Rock Band FKB New Single 'Beautiful Fantasy'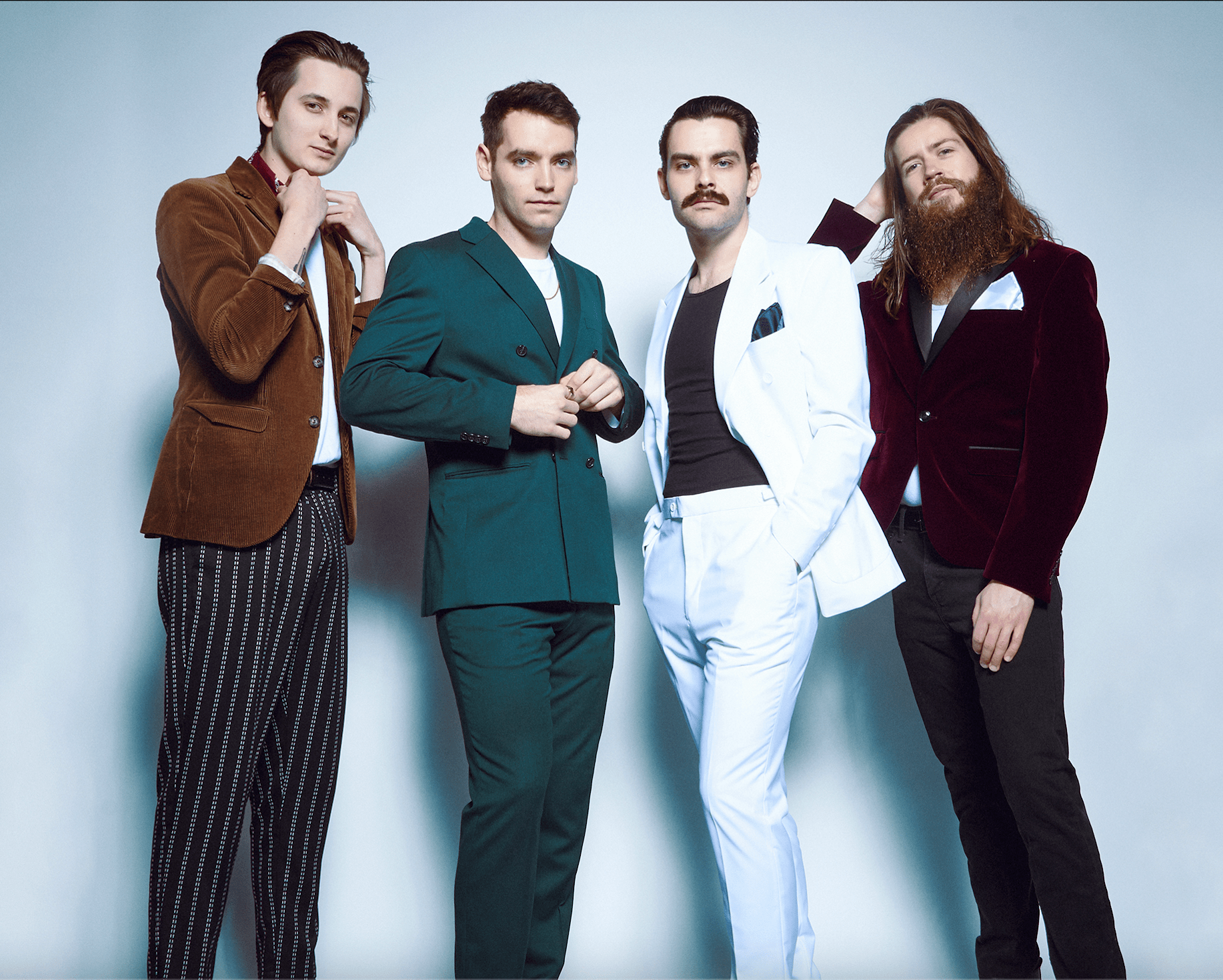 Alternative Rock Band FKB
New Single
Music's Journey Podcast INTERVIEW #138 w/ Alt. Rock Band FKB New Single 'Beautiful Fantasy'
FKB is a high-energy, four-piece, alternative rock band based in Edmonton, influenced by the mystique, glamour, and excess of the 1960s-1980s entertainment business. 
Formed in Bonnyville, Alberta, the band is fronted by JUNO Award-nominated songwriter (2019), Drew Shalka, and features Travis Topylki (lead guitar), Derek Chalut (drums), and Alex Fedorouk (rhythm guitar). 
''FKB has delivered another infectious song with 'Beautiful Fantasy' that begs you to put it on repeat to discover sounds and different frequencies that you just don't pick up on listening to it only once,'' says Kim Cyr, Editor in Chief for NOW and THEN Magazine, host for the International Music's Journey Podcast, and radio host on 91.3 FM.    ''I love the effects of the delays in the new track Beautiful Fantasy and how the delays were played in reverse and then played back and some other pretty sweet effects by Dan Davidson.  FKB brings a very unique take on an alternative pop-rock sound right now.  Their high-energy stage performance will be exciting fans for years to come.  The is amazing to see the connection the band members have with one another and their own separate influences and musicianship they all bring to the table.  FKB is a very electrifying and intoxicating band and they are constantly challenging themselves creatively and that's exciting.  I look forward to seeing what they have in store for us all in 2022.''  
FKB's infectious, falsetto-driven single, "Beautiful Fantasy" (2021) is co-produced by Dan Davidson (Tupelo Honey) and Clayton Bellamy (Road Hammers). "'Beautiful Fantasy' is us finding a way to connect our influences from the past, like The Beatles, Elvis Presley, and The Beach Boys, with the modern sounds of Foster The People, Portugal the Man, and The Weeknd," says Shalka. "We wanted to draw from the excitement of our live shows and give people something they can dance to." 
The band appears as themselves in the feature film, Moments in Spacetime (Oct 2020), performing their single, "My Bedroom" (2018). "We reconnected with our high school media arts teacher at a local TEDx event where we were both speaking. He had returned from film school in Vancouver and his recent project, Sweet Oil (2017), was featured at the Phoenix Film Festival and the Holly Shorts Film Festival (Hollywood). He had also done some work on episodes of the AMC series, Hell on Wheels," recalls Shalka. "He had a new project shooting in Cold Lake, Alberta, and asked if he could write us into the movie performing as ourselves. We even have a few lines of dialogue." The film stars John Rhys-Davies (Indiana Jones, James Bond, Lord of the Rings), Patty Srisuwan (Misfortune), and Sam Gittins (EastEnders, Call The Midwife, Await Further Instructions). 
Clayton Bellamy, a JUNO Award, multiple CCMA and SOCAN Songwriter of the Year has produced all of FKB's music including, "Glow" (2020), with Dan Davidson, "Backstreet Daydream" (2019); "My Bedroom" (2018); "Casual Love" (2018), released via KnightVision Records (Amsterdam), "Bright Lights" (2017), which was nominated for Adult Alternative Recording of the Year at the Edmonton Music Awards; and FKB's debut EP, 123 FKB, which featured the Alternative and Active Rock single, "Crystal Ball". 
FKB has performed over 200 shows across North America since 2017. In 2019, they won the Edmonton edition of the Jim Beam National Talent Search, which culminated in a showcase performance at Canadian Music Week (Toronto).
Music's Journey Podcast INTERVIEW #138 w/ Alt. Rock Band FKB New Single 'Beautiful Fantasy'
FKB - Beautiful Fantasy (OFFICIAL MUSIC VIDEO)
FKB - Glow (Official Visualizer)
FKB - Casual Love
FKB - My Bedroom (Official Music Video)
Music's Journey Podcast INTERVIEW #138 w/ Alt. Rock Band FKB New Single 'Beautiful Fantasy'
Follow FKB