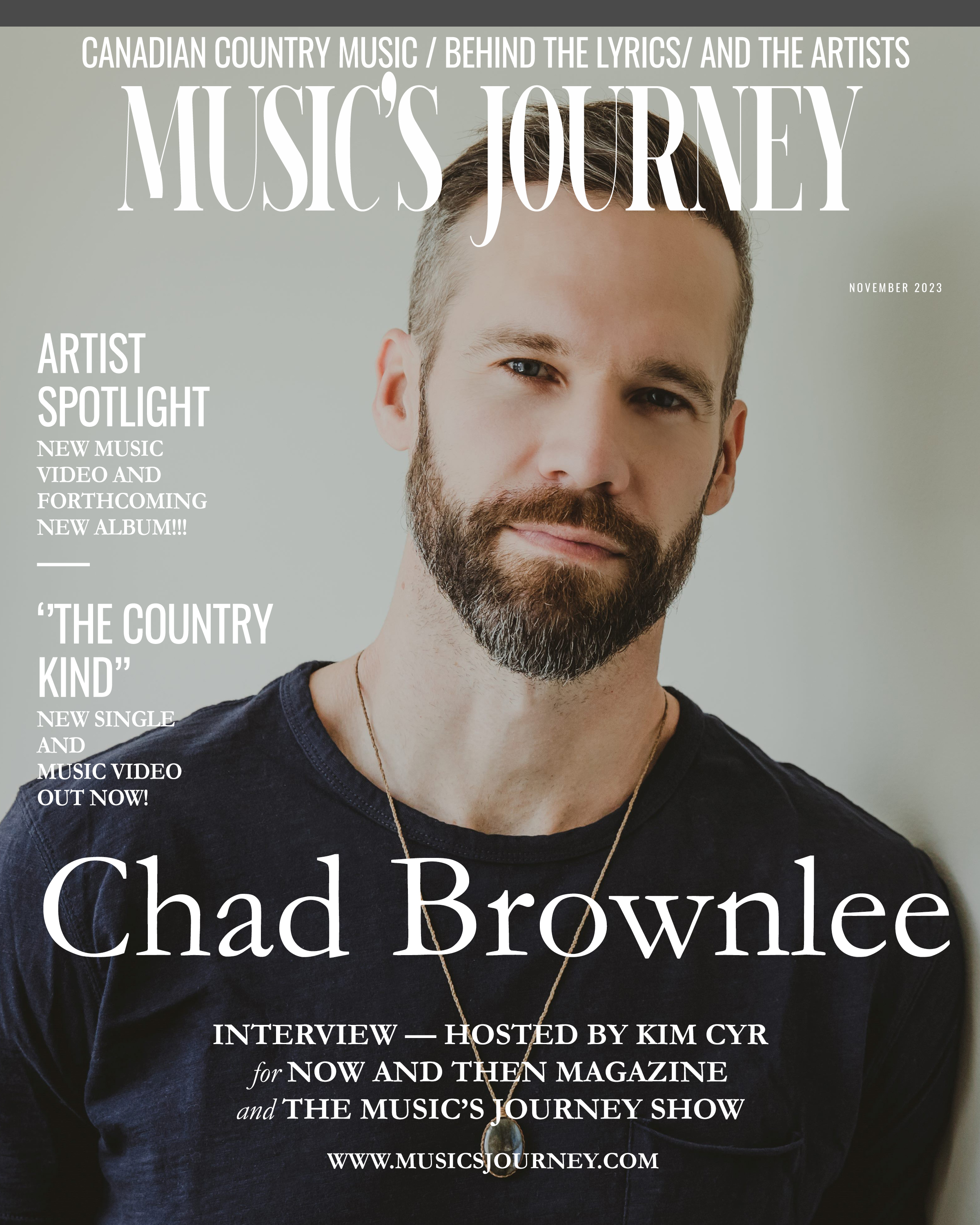 w/ Multi-Award Winning Country Artist 
Hosted by Kim Cyr
Presented by NOW and THEN Magazine
https://www.nowandthenmagazine.com
Music's Journey INTERVIEW #233 w/ Multi-Award Winning Country Artist Chad Brownlee New Single and Music Video ''The Country Kind''
New Single and Music Video
''The Country Kind''
Music's Journey INTERVIEW #233 w/ Multi-Award Winning Country Artist Chad Brownlee New Single and Music Video ''The Country Kind''
Hailing from British Columbia, critically acclaimed and multiple award-winning Canadian country artist Chad Brownlee's love of the outdoors is very much reflected in the singer-songwriter's chart-topping songs and infectious melodies. Boasting over 125 MILLION global streams and numerous gold and platinum-certified singles, he has topped the Canadian country Billboard charts multiple times and reached No.1 with his platinum-selling single, "Forever's Gotta Start Somewhere." Brownlee's signature sound blends elements of pop, country, and rock, drawing equal inspiration from the classic country sounds of the 80s and the modern pop country sounds of the 2000s.
Brownlee's new single, "The Country Kind," is the first song from his forthcoming album. The track pays homage to the timeless charm of old-school country, infused with a vibrant modern twist.
As the song unfolds, Brownlee's emotive vocals shine, delivering lyrics that explore the deep connection to one's roots. "The Country Kind" captures the essence of a simple, peaceful life in the countryside and the enduring values that define the country way of life, and is Brownlee's first release since 2020.
''Chad Brownlee is just one of those artists that I look to as a staple in country music here in Canada,'' says Kim Cyr, Editor in Chief for NOW and THEN Magazine, radio host, and host of the International Music's Journey Podcast.''
''Brownlee's new single ''The Country Kind'' has the classic country roots that represent the core of who Brownlee really is.  There is something pretty special about this song and watching the new music video expresses just that. The music video for ''The Country Kind'' captures the beauty that nature brings to one's soul.  The simplicity of being out in nature grounds you and you can feel what you are watching getting lost in the music.  It is the perfect song for Brownlee to release as the first single off the forthcoming new album.''   
''Brownlee shares a lot of himself in this interview.  I love interviews like this where we can dive a little deeper into the music and have a better look at the man behind the lyrics.  Brownlee shares the exciting news of the second single coming out in the early months of 2024.  He will be singing a duet with an incredible female country artist that we will all have to wait to see.  I had a great time catching up and there are some cool facts that Brownlee shares in the Burning Questions portion of the show.  To hear my interview with Chad Brownlee, go to www.musicsjourney.com or click on the link below.''
Music's Journey INTERVIEW #233 w/ Multi-Award Winning Country Artist Chad Brownlee New Single and Music Video ''The Country Kind''
Chad Brownlee - The Country Kind (Official Music Video)
Music's Journey INTERVIEW #233 w/ Multi-Award Winning Country Artist Chad Brownlee New Single and Music Video  ''The Country Kind''
Follow Chad Brownlee