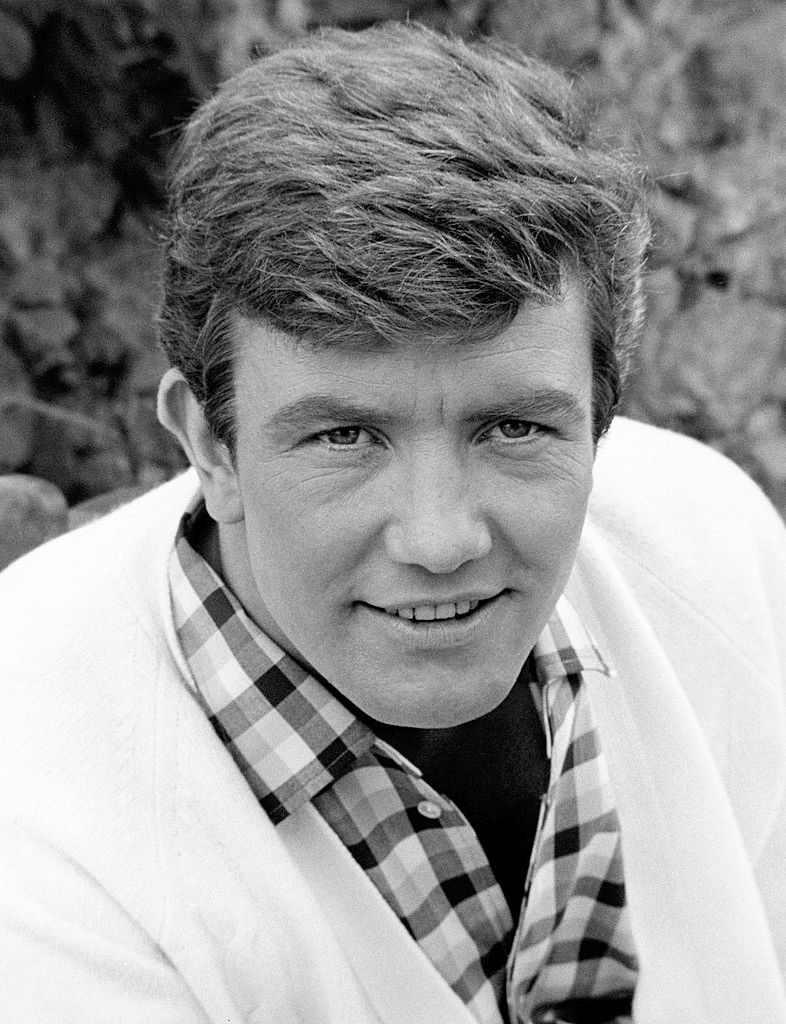 Albert Finney, Britain's legendary star of Saturday Night and Sunday Morning and Miller's Crossing, dies aged 82  
Albert Finney, who forged his reputation as one of the leading actors of Britain's early 60s new wave cinema, has died aged 82 after a short illness, his family have announced. In 2011, he disclosed he had kidney cancer.  
A publicist told NOW and THEN Magazine that Finney died on Thursday of a chest infection at the Royal Marsden hospital, which specialises in cancer treatment, just outside London. His wife, Pene, and son, Simon, were by his side.   
After graduating from RADA in 1955 Finney joined Birmingham rep, before moving on to the Shakespeare Memorial Theatre – pre-cursor of the RSC – and the Royal Court.  He made his film debut as one of Archie Rice's sons in The Entertainer (1960), and found wider stardom in Saturday Night and Sunday Morning (1960), which also brought him the first of 13 BAFTA nominations, and an award for Best British Newcomer.  
He consolidated his popularity with Tom Jones (1963), and rang the changes with a variety of projects such as  Night Must Fall (1964), Two For The Road (1967) and Charlie Bubbles (1967), the last of which he also directed.  His production company, Memorial Enterprises, produced Lindsay Anderson's iconic if... (1967).  
Always a highly watchable performer, Finney betrayed a certain restlessness in his diverse choice of roles, personal challenge and the satisfaction of his curiosity coming before more usual career considerations. He took leading roles in the musicals Scrooge (1970) and Annie (1982) and portrayed Hercule Poirot in Murder On The Orient Express (1974).  
He was back to his best in the stage adaptation The Dresser (1983) alongside Tom Courtenay, reunited with Annie director John Huston for Under The Volcano (1984) and played a Chicago mobster for the Coen Brothers in Miller's Crossing (1990).  Always a leading man with a character actor's tastes, he starred in The Playboys (1992), The Browning Version (1994) and A Man of No Importance (1994).   
On television he headlined Dennis Potter's Karaoke (1996) and Cold Lazarus (1996) and drew widespread acclaim for his performance as Winston Churchill in The Gathering Storm (2002).  Other films of this period that benefited from his presence in supporting roles include Erin Brockovich (2000), Ocean's Twelve (2004), The Bourne Ultimatum (2007) and Skyfall (2012).  Albert Finney was awarded the BAFTA Fellowship in 2001.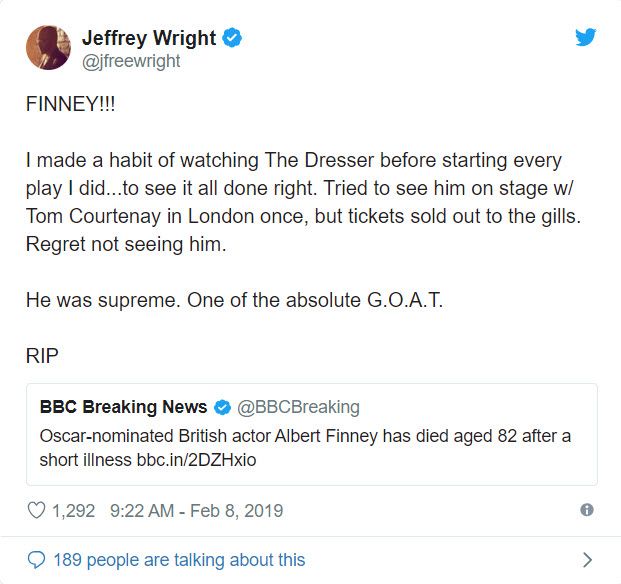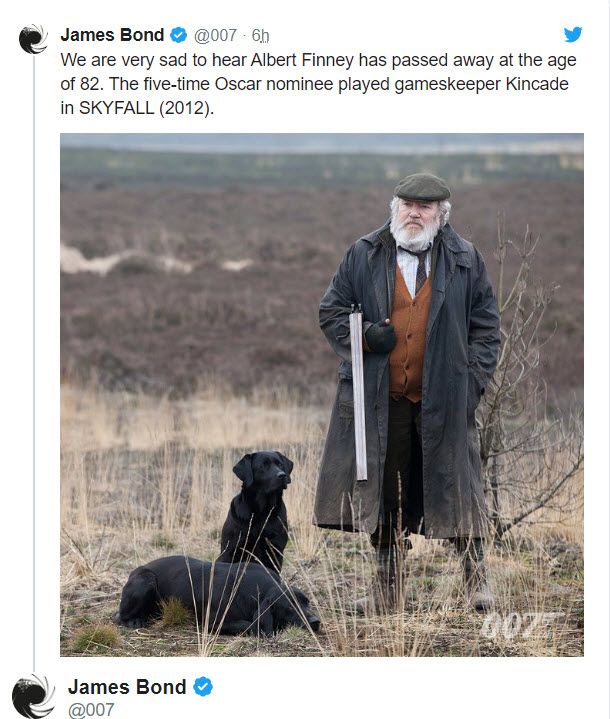 Others paying tribute included Bernadette Peters, who starred alongside Finney in the 1982 film version of musical "Annie"; "The Wire" creator David Simon; "Mission: Impossible" filmmaker Christopher McQuarrie; "The Late Show" host Stephen Colbert; U.S. actress Rosanna Arquette; and British actor, writer, and comedian David Walliams.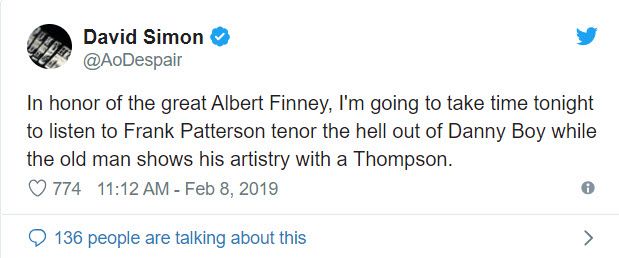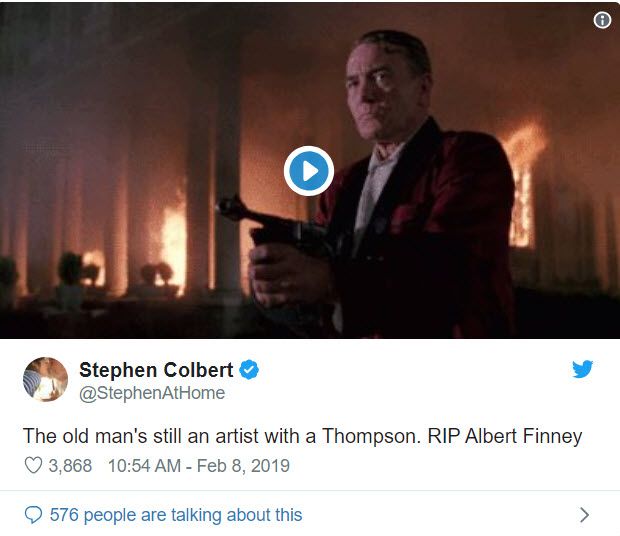 Having shot to fame as the star of Saturday Night and Sunday Morning, Finney received five Oscar nominations, but never won, and refused a knighthood.  
Daniel Craig – who starred in Skyfall, Finney's final film, in which he played a gamekeeper from James Bond's childhood – said:  
"I'm deeply saddened by the news of Albert Finney's passing. The world has lost a giant. Wherever Albert is now, I hope there are horses and good company."  
The director of that film, Sam Mendes, added: "It is desperately sad news that Albert Finney has gone. He really was one of the greats - a brilliant, beautiful, big-hearted, life loving delight of a man. He will be terribly missed."  
Paul Greengrass, who directed Finney in The Bourne Ultimatum, said: "Albert was an actor of rare power and humanity with an astonishing body of work over the decades. Off screen he brought his infectious sense of humour to work every morning. He loved every aspect of the business and we in turn loved and revered him. I shall miss him enormously."  
Elsewhere, stars have been sharing memories and paying tribute to the actor on Twitter.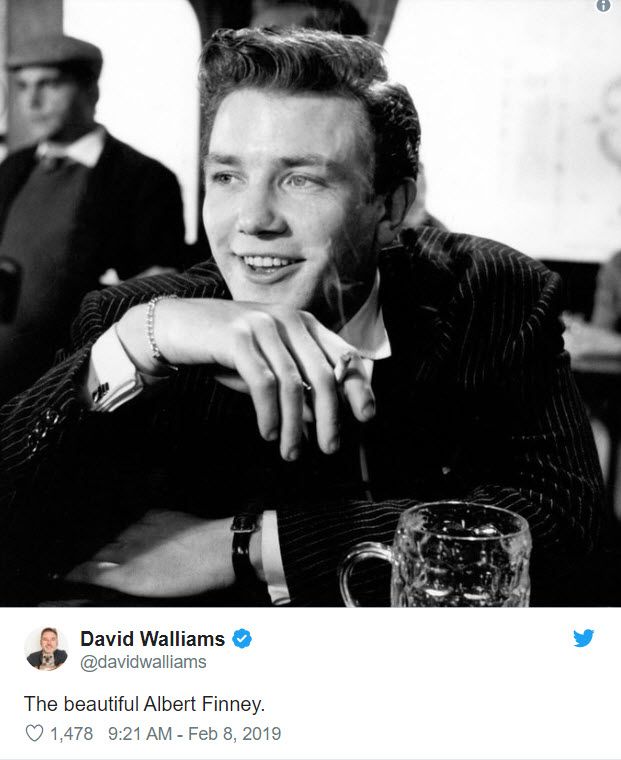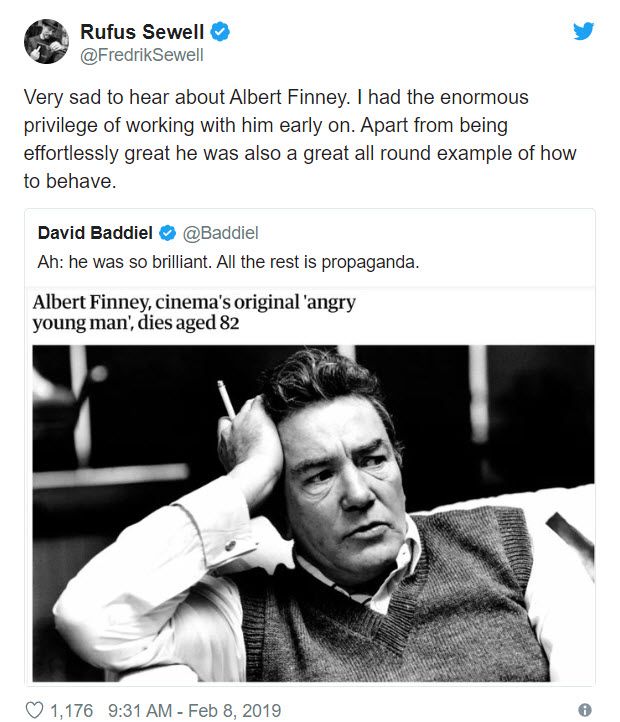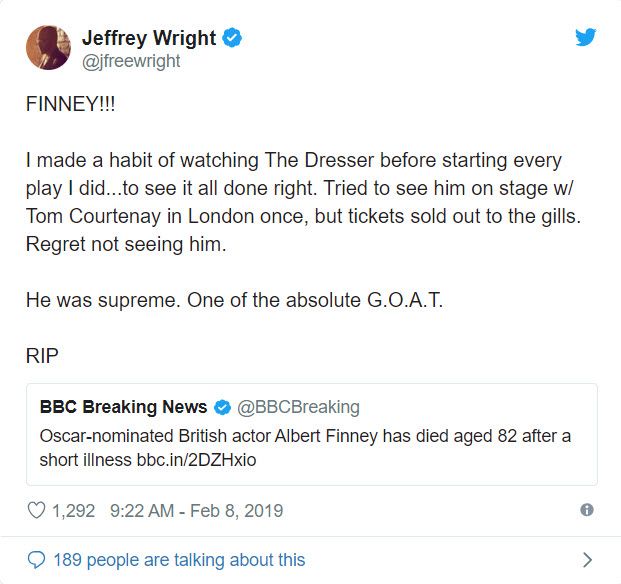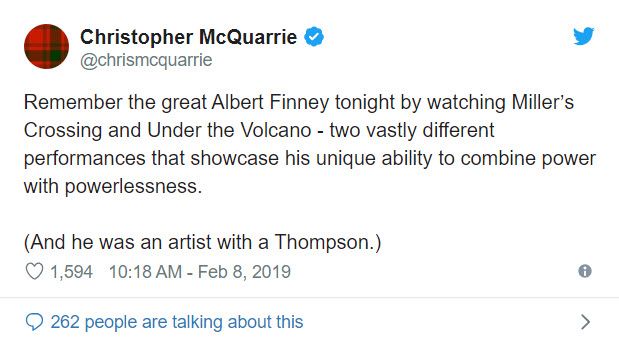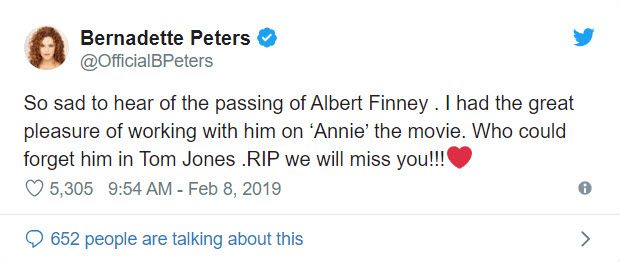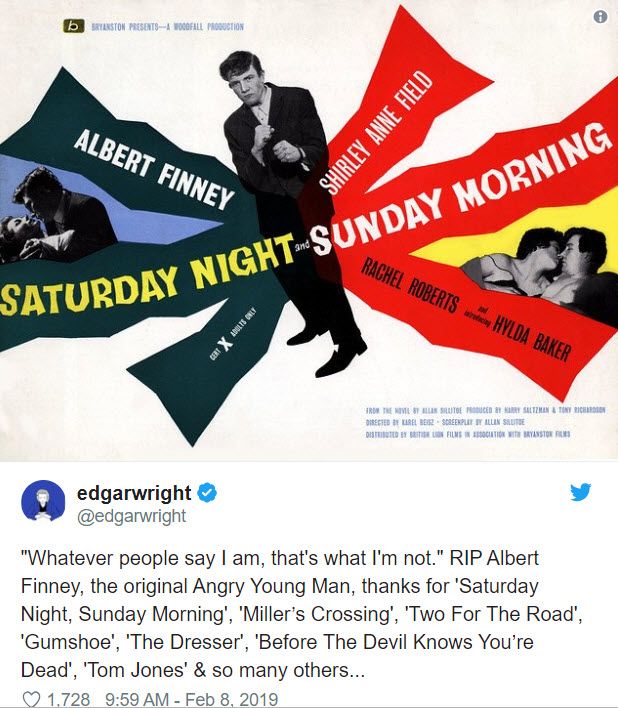 R.I.P. ALBERT FINNEY