''The Lighthouse''
starring Robert Pattinson and Willem Dafoe
Kim Cyr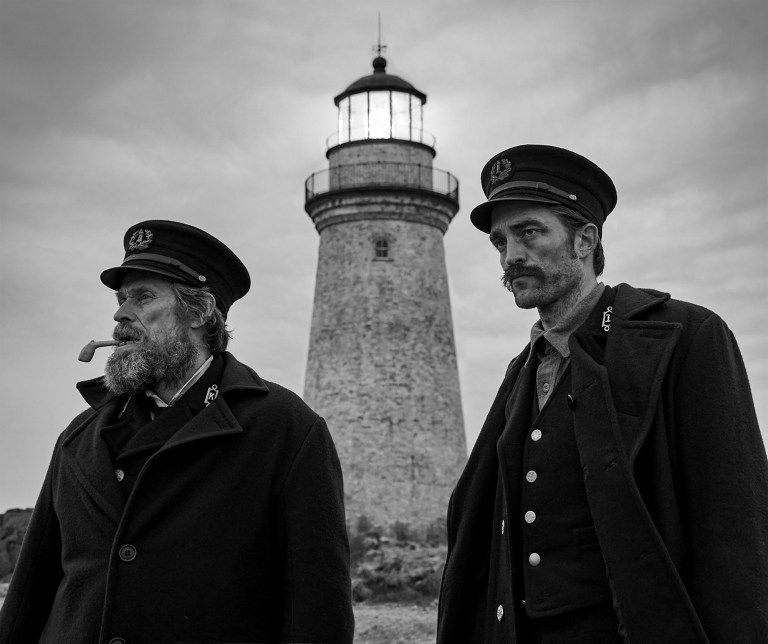 Willem Dafoe and Robert Pattinson in The Lighthouse. 
The Lighthouse is, I can safely say, one of the most over-the-top movies you will ever have the good fortune to see. Robert Eggers — whose last film, the wild 2015 horror movie The Witch, lit Sundance on fire when it premiered — has clearly established himself as a no-holds-barred auteur of dread, madness, and mannered period dialogue.  
Also gallows comedy. Also horror. What I'm trying to say is, The Lighthouse is a blast.  
Rating: 4.5 out of 5  
The Lighthouse strands Willem Dafoe and Robert Pattinson on an island with a lighthouse and some devious seagulls, surrounded by a fierce sea. It's somehow a whacked-out period comedy populated by saltily bearded sea dogs, a psychosexual drama about dramatically fractured psyches, a Beckett-style dive into guilt and shame, and, at moments, kind of a takeoff on Aquaman.  
What The Lighthouse is not is boring. But its pyrotechnics aren't designed to mask below-par filmmaking. Shot in grainy black and white and in Academy ratio (which appears square to most audiences), it's like a movie made by a director who knows just what he's going for and just how to get there. Like The Witch, it's a real shot in the arm and a riot, to boot. 
An eerie, gross, and frequently hilarious tale of madness and misery, Robert Eggers' The Lighthouse – the follow-up to his break-out indie horror success The Witch – is too weird for words but highly entertaining for anyone willing to get on side with its nasty, misanthropic wavelength.  
Set in the late 19th century, The Lighthouse is the story of Ephraim Winslow (Robert Pattinson), a former lumberjack with a haunted past who makes a career switch and heads off to help man a lighthouse on a secluded island off the Atlantic coast. Ephraim's boss is Thomas Wake (Willem Dafoe), an unhinged veteran wickie with seawater in his veins who makes his new underling do all the heavy lifting while he mans the light. The withdrawn, not particularly talkative, teetotaling Ephraim desperately wants to man the light, but the chatty, frequently drunk, and flatulent Thomas refuses. Thomas' previous assistant thought there was an enchantment to be found in the light, and Ephraim seems to think the same. Gradually, things start to get strange, Ephraim starts to give in to temptations, and both men descend into outright insanity.  
Shot in gorgeous, full-frame 35mm black and white, The Lighthouse is sufficiently chilly and misty looking. Eggers, who mounts every passing sequence to be bigger and grander than the last, pulls plenty of tricks from the Kubrick, Hitchcock, Bergman, Bresson, and Powell and Pressburger playbooks with glee, making a high minded B-movie that's richly steeped in classical mythology and literature. If one is savvy to The Lighthouse's cultural and literary signposts, it's a surprisingly thoughtful experience. If not, The Lighthouse is still an entertaining look at two men who either can't stand or secretly love each other doing everything in their power to destroy themselves.  
There's plenty of gore, vomit, excrement, sweat, grime, sirens, and tentacles to be found in The Lighthouse, but the main attraction here is the off-the-charts comedic and dramatic chemistry shared between Pattinson and Dafoe, with the former giving a career-best performance. Some of the things Eggers asks them to do would be a tough ask of any actor, but Pattinson and Dafoe look like they're having an absolute blast getting their hands (and assorted other body parts) dirty. 
Showtimes
                                                                          Sat, Sep 07                                                               Sun, Sep 08  
                                                                     Ryerson Theatre                                                      Scotiabank Theatre​​​​​​​
                                                                            9:00 pm                                                                       7:45 pm ​​​​​​​
Director  
Robert Eggers  
Cast  
Willem Dafoe, Robert Pattinson  
Cinematography  
Jarin Blaschke  
Editing  
Louise Ford  
Executive Producers  
Arnon Milchan, Yariv Milchan, Michael Schaefer, Josh Peters, Isaac Ericson, Sophie Mas, Caito Ortiz, Rodrigo Gutierrez, Chris Columbus, Eleanor Columbus  
Producers  
Rodrigo Teixeira, Jay Van Hoy, Robert Eggers, Lourenço Sant' Anna, Youree Henley