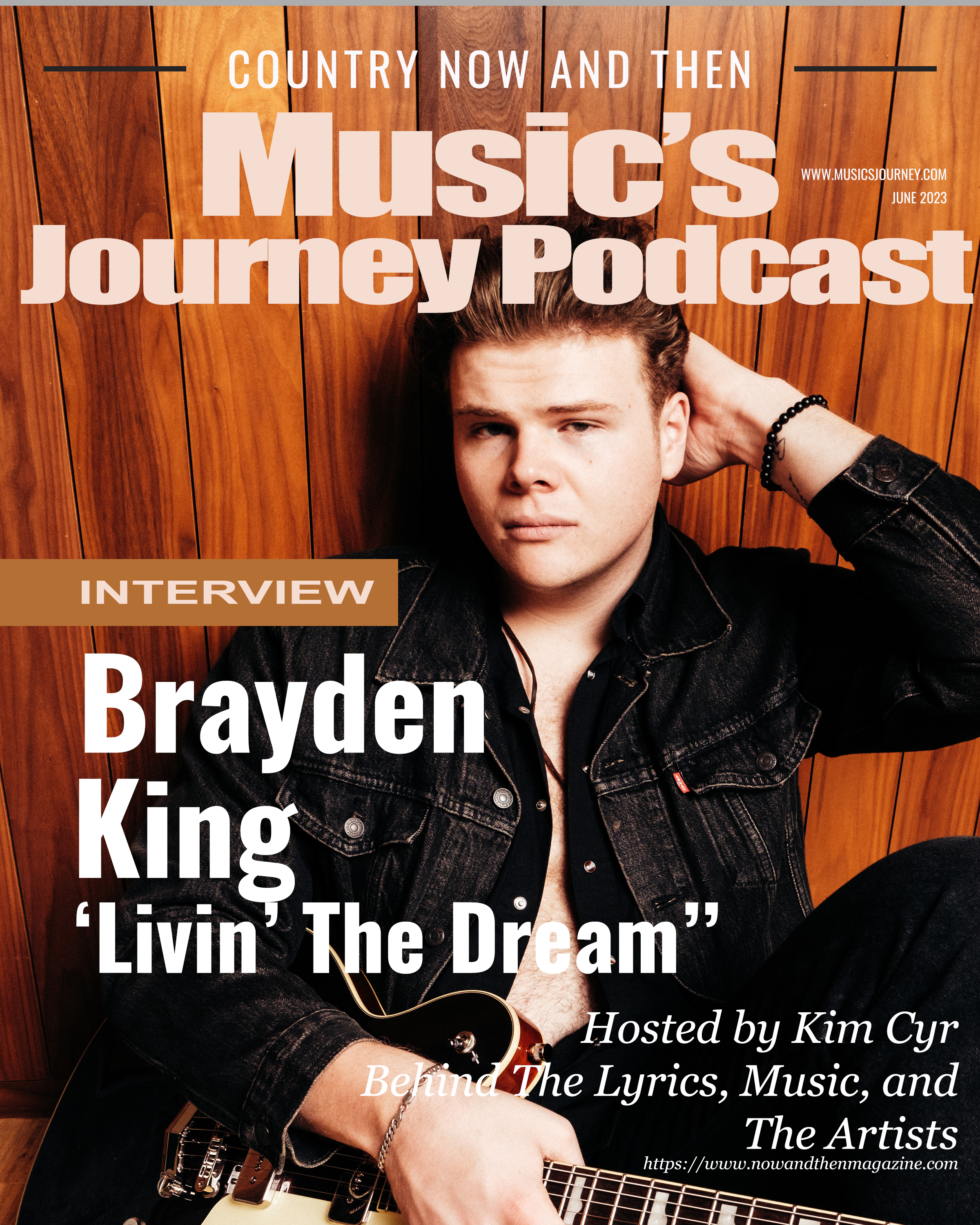 w/ Country Artist Brayden King
Hosted by Kim Cyr
Presented by NOW and THEN Magazine
https://www.nowandthenmagazine.com
Music's Journey INTERVIEW #224 w/ Country Artist Brayden King Latest Single ''Livin' The Dream''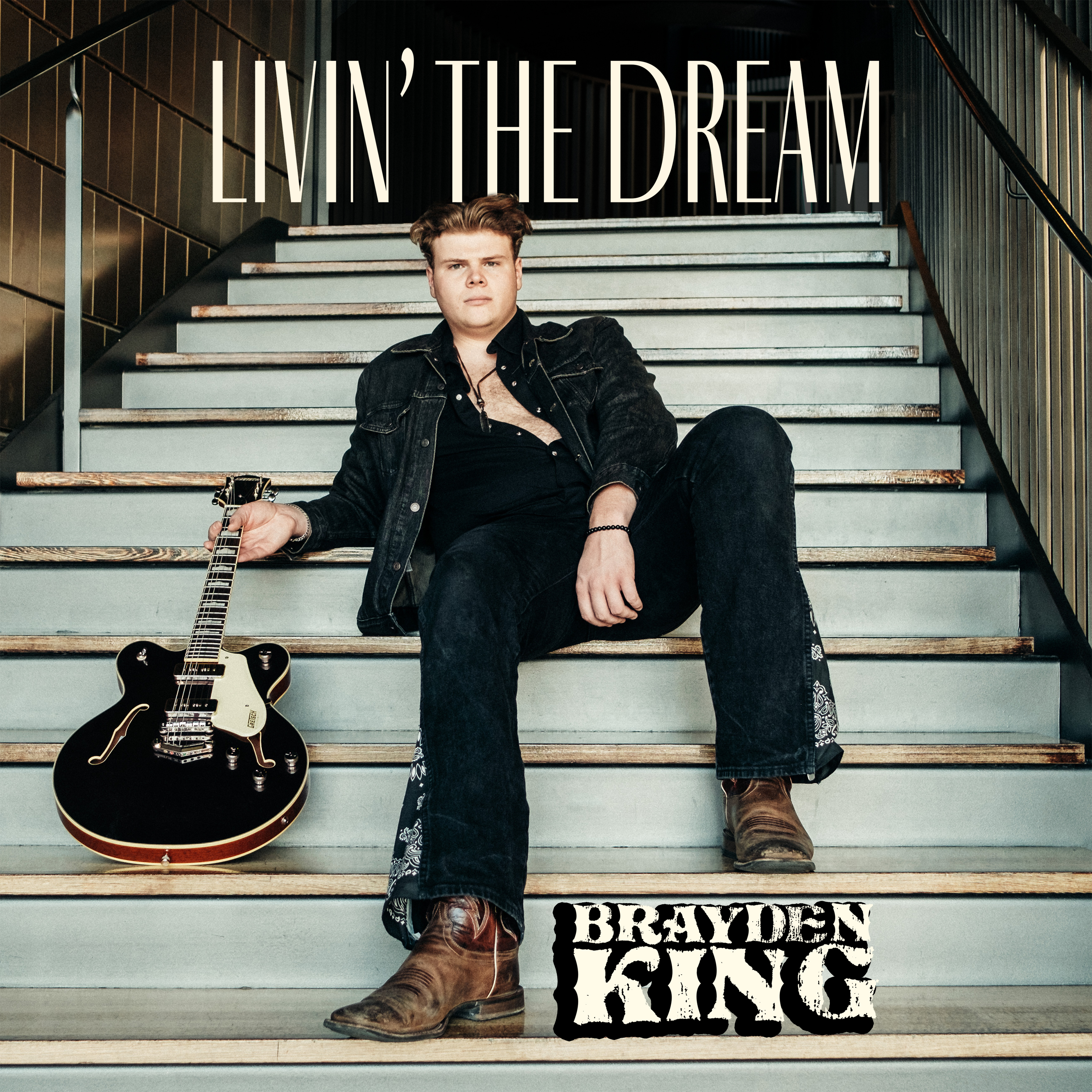 New Single
''Livin' The Dream''
Music's Journey INTERVIEW #224 w/ Country Artist Brayden King Latest Single ''Livin' The Dream''

Rising country artist Brayden King is "living the dream' after placing 55th on American Idol this year.  
The 22-year-old musician, originally from Weyburn, Saskatchewan, hangs his hat in Lethbridge.
Brayden has been out on tour since May 16th to open a western Canadian tour, which goes all over Alberta and B.C. and ends in Regina on June 3rd with his good friend, country artist Beamer Wigley.
''I had the chance to catch up with Brayden to talk about his new music, tour, and being on American Idol,'' says Kim Cyr, Editor In Chief for NOW and THEN Magazine.  
"I made a TikTok a few years ago talking about how I would never do this," King admitted.
"One day I woke up to a DM (direct message) on Instagram from an American Idol casting producer. She's like, 'Hey Brayden, I've seen your videos on TikTok and I really like your voice. Would you like to potentially audition for American Idol?' "
King said he has spoken about how he felt the shows are possibly scripted after friends of his had negative experiences with them, he said without getting into details he was against shows like American Idol for a long time.
However, after being approached by American Idol who saw his singing videos on TikTok, King said he realized there was nothing to lose in accepting an invitation to try out for the show.
"When they approached me and said they'd fly me down and pay for everything, I realized I had nothing to lose and I might as well go and try it," he said.
Before performing for the three celebrity judges, King said he first had to make it past two virtual auditions with executive producers.
After two successful virtual auditions, King said he was then given the opportunity to perform in front of the three celebrity judges at a hotel in Las Vegas.
"I went in and they [the judges] were very kind and we talked for quite a while and then I sang an original song of mine called 'Down That Road' and I honestly wasn't very nervous in the moment," King said.
"I definitely didn't prepare in a similar way as I do for a show. When we go to play a show it's like the boys and I all together smack each other on the backs and we go. Here I didn't have the boys and there wasn't a crowd, it's a totally different performing experience," King said.
After the audition, King said Bryan, Perry, and Richie got him to bring his father into the room and broke the news that they had unanimously agreed to put him through to the Hollywood round.
"It has been a very cool experience for me and I'm very thankful," King said. "The coolest part for me has been meeting all the other artists from all these different places in America that I got to meet; it's been a crazy experience."
"Katy said, 'Well Greg, Lionel gave Brayden a yes, and I want to give you a yes,' and then Luke said, 'I'm going to give him his third yes.' " King recounted. "And then they all screamed together, 'You're going to Hollywood.' "
He advanced through the first two rounds of "Hollywood Week", and finished in the Top 55.
''All I would say is I don't think I'll ever be that nervous again in my life. So for any upcoming performances. I don't normally get nervous but I don't know if there will ever be a high-pressure situation quite like that. So it just set me up for I don't think there will be anything to be scared of going on any stage or doing anything in my career because that was freaky. And I met so many like-minded artists and took away a lot of friends from that whole scenario. it was pretty cool," he said.
''So pretty cool," he said adding he said he enjoyed the experience.
''Brayden King released his new single ''Livin' The Dream'' in March of this year.''
"'It is one of the coolest things in the world, honestly. I never expected this song to do anything like it has been. So It's a real blessing and I'm very thankful," he said.
"Livin' the Dream was written about a hangover and it's kind of funny how it comes out with a positive-sounding feel with but a bit of darker undertones in the lyrics. But it is definitely an anthemic sing-a-long song and people have been loving it. I wrote it with a couple of buddies of mine, Drew Shalka and Mark Maclure out of Edmonton just super stoked with how it turned out and people have been loving this one, so it's a real blessing they have had such a great response" he said.
King gives each crowd a high-energy, hard-hitting performance, and leaves them wanting more. "If you're looking for a party, I'll bring it every single time," says King. 
His next single "Bad Night to Be A Beer" is also the name of his new tour.
"I am touring with a full band. We're having a blast.  We started off in Lethbridge on May 16th and headed out to Red Deer, Calgary, Edmonton, Grand Prairie, and then into B.C. doing Sicamous, Kamloops, Penticton, Kelowna, and Vancouver. And then we hopped back to my home province. We are doing three shows in Saskatchewan in Saskatoon, Weyburn, and Regina to end it off. It's been a lot of fun," he said.
His band for this tour includes guitarist Roman Koslowski, drummer Cody Mack and bassist Cam Dougall and co-headliner, B.C. musician Beamer Wigley with whom he will be sharing the band.
King is planning to release a new single every eight weeks probably for the next two years.  
''Brayden opens up about losing his mother and what this journey has been like without her,'' says Cyr.
To hear my interview with Brayden King, go to www.musicsjourney.com or click on the link below.
Music's Journey INTERVIEW #224 w/ Country Artist Brayden King Latest Single ''Livin' The Dream''
Brayden King - Livin the Dream (Live Acoustic)Brayden King - Livin' The Dream (Live Acoustic)
Brayden King - Bad Night To Be A Beer
Music's Journey INTERVIEW #224 w/ Country Artist Brayden King Latest Single ''Livin' The Dream''
Follow Brayden King