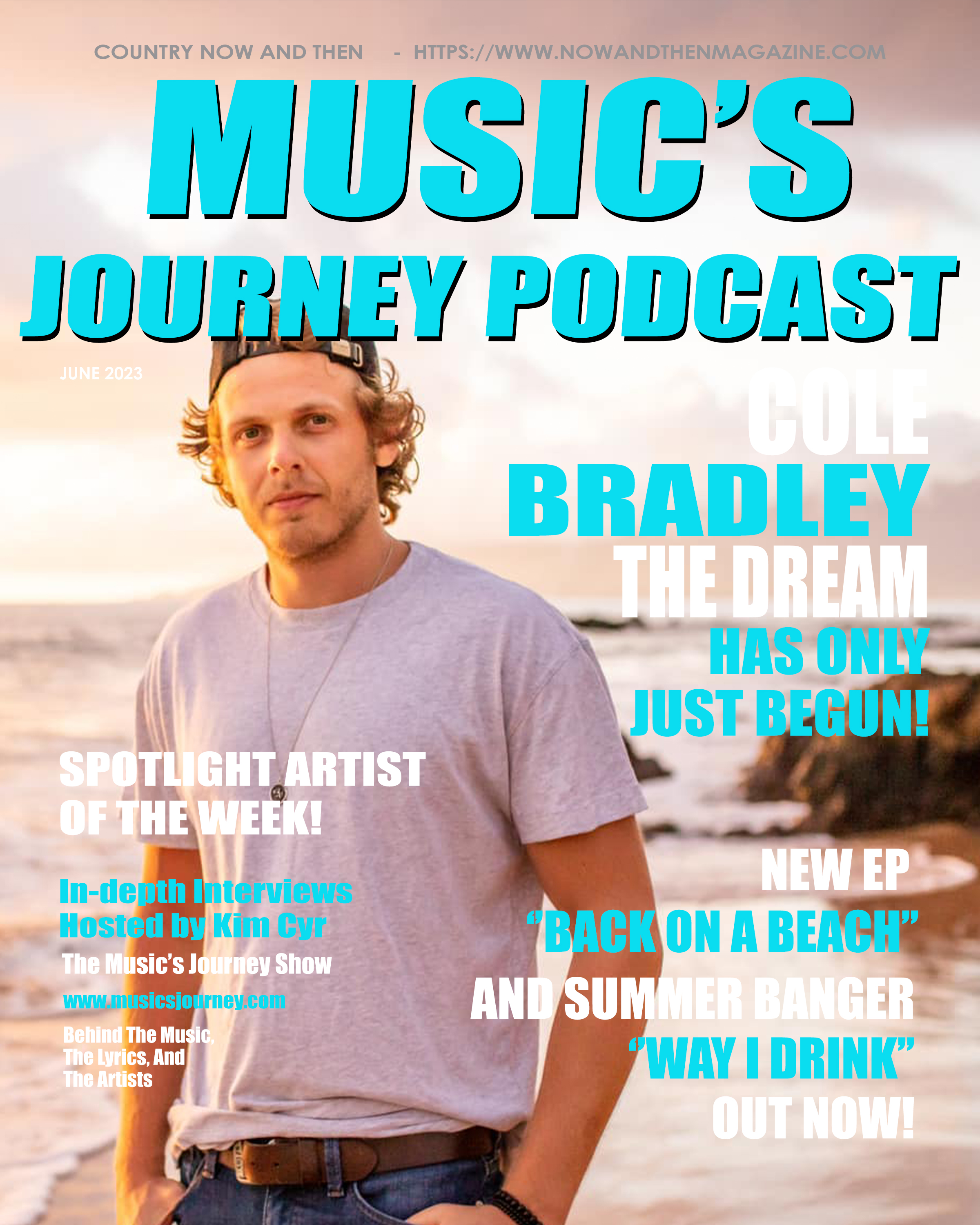 w/ Country Artist Cole Bradley
Hosted by Kim Cyr
Presented by NOW and THEN Magazine
https://www.nowandthenmagazine.com
Music's Journey INTERVIEW #229 w/ Country Artist Cole Bradley Unveils His New EP ''Back On A Beach'' and His Summer Banger ''Way I Drink''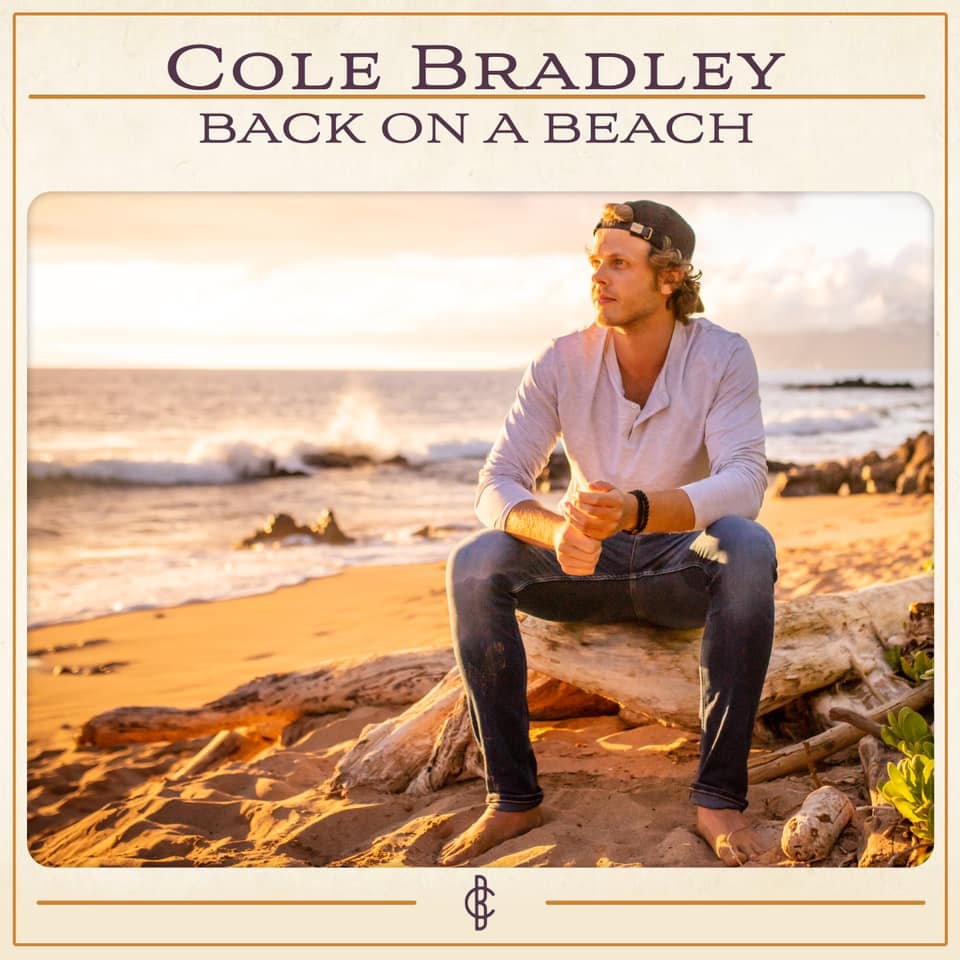 New EP and Single
''Back On A Beach'' and "Way I Drink''
Music's Journey INTERVIEW #229 w/ Country Artist Cole Bradley Unveils His New EP ''Back On A Beach'' and His Summer Banger ''Way I Drink''
For Canadian-born, country, singer-songwriter Cole Bradley, life's always been about summer. Today, he invites you to celebrate the sun in style with the release of his new EP Back On A Beach, and focus track "Way I Drink", out today via Kala Records. Produced by Grammy winner Noah Gordon (Keith Urban, Billy Ray Cyrus, Darius Rucker), and Sandy Chila (Britney Spears, Christina Aguilera), the EP is reminiscent of country stars like Jake Owen, Sam Hunt, and Brett Kissel. "Way I Drink" is currently on Spotify's New Music Friday Country playlist. 

Bradley's greatest summer memories have been over one too many Jamesons in the backyard and cruising down the middle of the lake with speakers blaring. It's where he's had his first brush with true love and his toughest of heartbreaks. His summer anthems like, 'Way I Drink", "Back On A Beach", and "Headed Home", tell the stories of lived experiences and rowdy nights out with best friends that stick with you forever. These attributes along with Bradley's signature vocal style are what make his new five-track EP, Back On A Beach, an anthem-filled banger. Written between Nashville, and L.A., it's a piece of work that embodies how far Bradley's songwriting has grown since his debut album, My Boots, in 2016. The EP is hooky, positive, and upbeat with an infectious energy not all artists can create. His passion for performing and edgy country sound puts him a step above his peers. 

The EP's second track and radio single, "Way I Drink", is exactly the fun-filled knockout one thinks of when one hears the name, Cole Bradley. Its up-tempo rhythm, fun melodies, and crazy lyrics mean business when it comes to getting the party started. It highlights all the stupid things you find yourself getting into on a wild night out. It's an ode to those who are the life of the party. Whether you're hearing it at an unruly Cole Bradley concert or you hear it blasting on country radio, "Way I Drink" is about to be your new obsession. 

Showing no signs of slowing down, this summer Bradley will be bringing the party on the road. He is set to take the stage in Canada and parts of the USA, including a stint at National Saloon in Calgary, Alberta in July. Tickets are available HERE.  All tour dates are below.
TOUR DATES
June 25 – Nashville, TN
July 7 – Calgary - National Saloon 
July 15 – Sarasota, FL  
July 21 – Vernon – Kalamalka Lake 
July 22 – Pentiction  - 97 South Song Sessions 
August 4 – Pine Lake, AB  
August 11 – Coldstream, BC – The Mackie House 
August 18 – Scottsdale, AZ
August 25 – Seattle, WA 
''Cole Bradley is a force and his new EP ''Back On The Beach'' and summer banger ''Way I Drink'' proves why,'' says Kim Cyr, Editor in Chief for NOW and THEN Magazine, radio host, and host of the International Music's Journey Podcast.  ''I had the chance to catch up with Bradley to talk about his new project in an in-depth interview digging behind the lyrics and the music.   Bradley shares a lot about his personal musical journey and he answers some fun questions for all his fans. I play the entire EP with the stories behind each song plus two bonus songs at the end of the interview.  You are going to love it!''
To hear my interview with Bradley, go to www.musicsjourney.com or click on the link below.
Music's Journey INTERVIEW #229 w/ Country Artist Cole Bradley Unveils His New EP ''Back On A Beach'' and His Summer Banger ''Way I Drink''
Cole Bradley - Intro Back On The Beach
Cole Bradley - Way I Drink
In addition to the exciting live shows, Cole Bradley is a big fan of all things hockey! On June 25th he organized, co-hosted, and performed at "Hockey Tonk" - The Unofficial NHL Awards and Draft Week Kick-Off event alongside Sirius XM The Highway producer Nick Coulson, presented by Two Rivers Ford. This premier sport and music event will take place in Nashville, TN, and will be headlined by Voice season 4 winner and Big Machine recording star Danielle Bradbery. JT Hodges and Anthony Billups will also be performing. 
Music's Journey INTERVIEW #229 w/ Country Artist Cole Bradley Unveils His New EP ''Back On A Beach'' and His Summer Banger ''Way I Drink''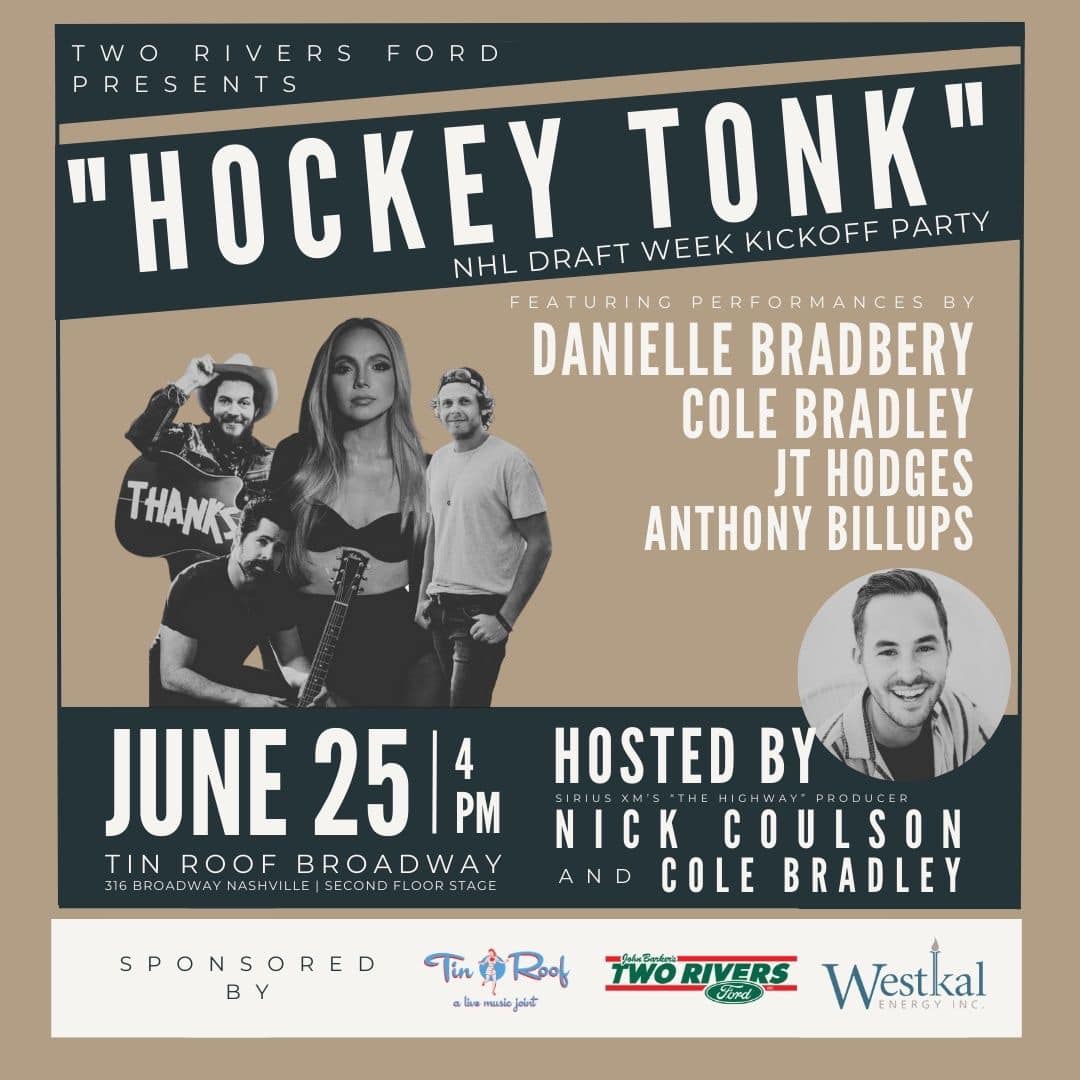 MORE ON COLE BRADLEY:
Growing up listening to the likes of Kenny Chesney and Garth Brooks, Bradley first graced the stage at the young age of five. Since then, he has fostered a passion for performing and sharing his music with others. Having worked with world-class writers and opening for iconic country acts like Thomas Rhett and High Valley among others, Bradley is just getting started. Since his move to Nashville in 2016, he has continued to work on his craft while playing at local venues including the historic Bluebird Cafe where he made his debut in September 2017. Bradley has also played other prominent venues since his move to Tennessee including the Bridgestone Arena, Whiskey Jam, and the Listening Room Café.  In 2020, Bradley collaborated with his friends in the NHL to sing along to a previous single, "Party Don't Start" and the video landed him on the NHL Network. In 2023, Bradley will be rocking the Calgary Stampede stages and other venues in Canada and has plans to tour various parts of the country, and the United States including TN, WA, NC, AZ, and FL.
Music's Journey INTERVIEW #229 w/ Country Artist Cole Bradley Unveils His New EP ''Back On A Beach'' and His Summer Banger ''Way I Drink''
Follow Cole Bradley
Website/Facebook/Twitter/Instagram/YouTube/Spotify/Apple/TikTok