"NOTHING STANDING IN HIS WAY" INTERVIEW WITH TIM HICKS 2014
"NOTHING STANDING IN HIS WAY" Interview with Tim Hicks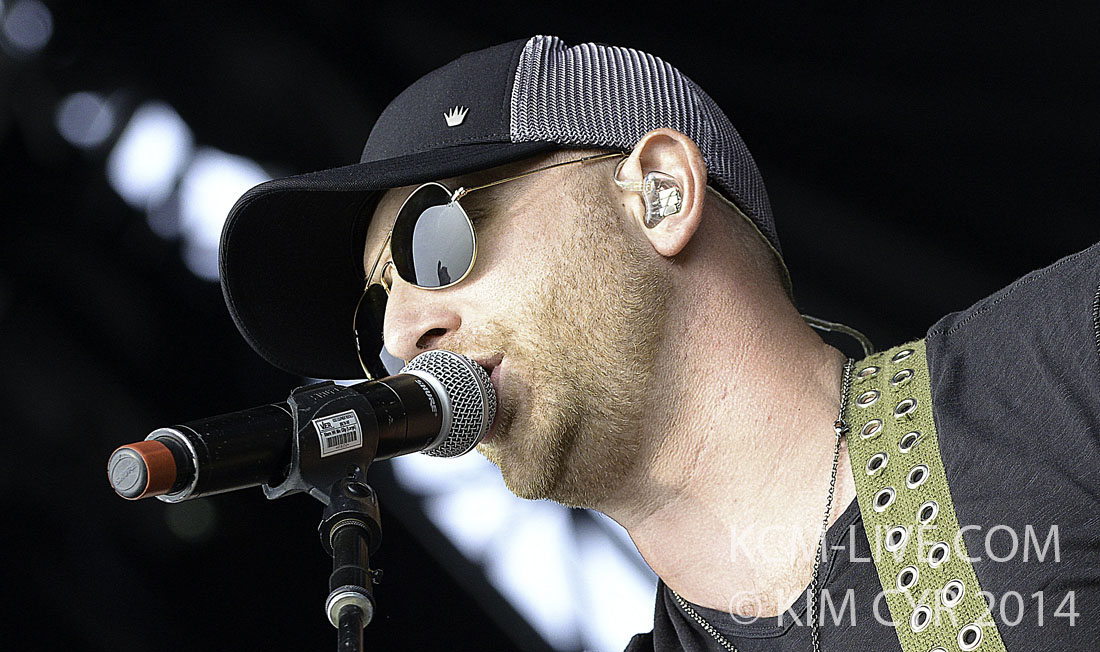 It was just over a year ago when I interviewed Tim Hicks at Boots and Heart Country Music Festival in 2013.  Tim Hicks had just released his hugely successful award-winning debut album, "Throw Down" which had climbed the country charts so rapidly.  In 2013, after 200,000-plus downloads, Hicks became the #1 highest selling digital Canadian Country Artist of the Year as well as the Most Played Debut Artist overall at Country radio. Since, Hicks has been honoured with a 2013 CCMA Award nomination for Rising Star, 2014 JUNO nominations for Breakthrough Artist and Country Album of the Year, a 2014 Canadian Radio Music Award for Breakthrough Artist of the Year and a Country Music Association of Ontario Award for Male Artist of the Year.
I had seen this St. Catherine's native perform in Hamilton, at some of the local country bars and I knew then he had something special.  Hicks could deliver the goods in his high energy performances as well as in his writing.
This country star is a natural and the best part is that he is as humble as they come.  A real true artist can connect with his audience and Hicks can do just that in such a personal way that it just feels like home.  What you see Hicks do well and naturally is his ability to perform and write from his heart.  Hick's work ethics were instilled at a very young age with his stepfather saying, "If you want success in what you do then you work really hard, and real luck will follow."  You get that in every performance that you will see from Hicks.
Hicks has the perfect combination of rock and country fused together to make this star the next big name in Country music today with his newly released album, '5:01" (Open Road Recordings/Universal Music Canada),  already tearing it up across the country.  "Here Comes the Thunder," kicks this album right up into third gear which is exactly what the fans have come to expect from this country star.   "It's like AC/DC meets Eric Church, says Hicks."  "My parents are big fans of classic rock and it seems natural to me to play that rock into my performances and bring it into my writing." 
Nowhere does that come across more clearly than on 'A Little Drinkalong' (featuring returning producer Jeff Coplan's band Blackjack Billy and The Road Hammers' Clayton Bellamy), the stomping, swamp rock story tune, 'My Baby' and 'So Do I' – a howling good time party track that's already a live staple for Hicks. "And that's why I picked it, because it says to the crowd, 'you guys are here for a good time. So are we. You like to pop a couple tops. We like to pop a couple of tops.'"
Already 'Here Comes the Thunder' has cracked the Top 5 on the iTunes Canada Country chart, become the #1 most added song at Canadian radio and is now gaining traction on SiriusXM's The Highway channel in the United States. This summer Hicks also received a SOCAN Country Music Award for 'Get By' and nominations for four 2014 CCMA Awards including the coveted CCMA Fans' Choice Award.
I asked Hicks, "what do you think about your success now, since I interviewed you last year?"
"I don't want to even think about it, I am just riding the waves," Hicks says.
"We talked about your writing process that you had before going to Nashville and how weird it all seemed picking your titles before writing the songs and the whole process."   "You talked about sitting down with all these different artists that already had established themselves as great songwriters and how humbled you were."  "What is the best part for you right now going from working musician to artist?"
"Well I still consider myself as a working musician, the only difference is now that I am an artist who can write and sing my own songs which is really cool and the best part," says Hicks.
"How is it balancing your home life and this amazing success that has taken off like a rocket?"  "You had just become a dad for the second time weeks before I interviewed you."  "How has it all changed for you?"
"It's a struggle, my son is two and my daughter is one."  "It's something that I struggle with every day and I haven't figured it all out yet but I hope each day I get a little better at it. "  "Sometimes my wife has to prompt me to put my phone away, that kind of thing so it's a real balance that I am working at." "You get so caught up in the charts and the itunes man, tour dates and media and that sort of thing."   "You can't just clock out like a regular job." "So it's something that I am learning but I am just so grateful for this opportunity and that I get the chance to give this all a go."
"With the success happening so quickly off the first album, you have very little time to write and produce the second album."  "What was that like?"
"Yes, it's like 6 weeks really."  "I had the family down in Nashville with me and I went to work writing a ton of material with great songwriters but we had a lot of amazing songs sent in to us as well."  "It makes you become a better writer when you look at the material that is sent in to you and it's incredible."  "You look at your songs and say, "God they're stuff is amazing."  "You really step it up and learn so much with this experience."  "It doesn't matter who wrote it, it's the best song that wins in the end."  "We hope that we picked the best 12 songs for the album 5:01 and just hope the fans like it as much as we do."
"If "Here Comes the Thunder", "'A Little Drinkalong' (featuring returning producer Jeff Coplan's band Blackjack Billy and The Road Hammers' Clayton Bellamy), the stomping, swamp rock story tune, 'My Baby' and 'So Do I', I really don't think you have any problem there."
"How does it feel having been nominated for 4 awards at CCMA's 2014, all so incredible for you in just one year where most artist hope to have that kind of recognition in a decade."
"It's so wonderful to be recognized for nominations like that." 'That being said, I still feel like I am a tortured song writer.'  "It's so hard to write a song, I can't explain it especially because I come from a live music background.'  "I have been blessed to be able to write with some number one hit song writer's from down in Nashville like Jeff Coplan(Songwriter/Producer Blackjack Billy), Bryan White(Nashville Songwriter), Bruce Wallace(Nashville Songwriter) and Phil Barton(Nashville Songwriter).   "The night before a big write, I get really anxious. " "I start wracking my brain saying, "what am I going to bring to the table that is going to impress these guys." "These guys are the real deal living this every day.' "As much as I am enjoying this ride, part of me still says, 'this is so bizarre that I have this opportunity, that I have just won the lottery.'  'It doesn't feel real yet, says Hicks."
"Tell us about making this video for "Got a Feeling."
"What's funny about the "Video of the Year" when we got together to do "Got a Feeling" feat. Blackjack Billy, (http://youtube/PJnztph2mBO) we told our record label, 'we want to make a Motley Crew video."  "That's all we did, we went into a warehouse danced and sang." "People would comment and say, "It looked like you guys were having a real good time making that video and we did." (As he laughs)
"It was amazing to see when you took the stage at Boots and Heart, there were some empty spaces, now let me define empty spaces, this park holds 35,000 people so when I say, "empty spaces" I mean some gaps in a hugh crowd.   It was early evening when you took the stage, those empty spots filled to capacity within 10 mins...it was insane…"
"It was amazing, says Hicks.  "I know I have probably said this to you before but I owe this whole thing to the Canadian country fans."  "I was just a working musician playing bars doing my thing when all of a sudden they decided, "I like this guy, it's his turn now."  "I owe a hundred percent to the fans out there and I am having such a good time."
"Well, I am sure all the fans out there will agree, you have earned all that has come your way and what we all know IS COMING your way…it takes a lot of work and dedication to perform and write the songs the way that you do and reach the fans so naturally."
"Thank you so much, says Hicks."  "It has taken me 20 years so I am just happy they like my music, says Hick."
"Tell us about the new album; you had a special release party here at Boots and Heart which is a few days before the street date of your new release which is now available on iTunes and amazon."
"Ya, we felt we were so close to home and it seemed like the right thing to do to have a little release party here at the festival."  "It was great." "I am really excited about the new record as it shows a little different side of me from the debut album which was more of a party album."  "It would have been real easy to write "Throw Down 2."  "There are still the elements of "Throw Down" in this record but there is some different stuff on there that I am excited about."
"I really loved the song, "She don't Drink Whiskey" from the new album so I hope the fans like it too." "It was one of my favorites from your set so I know the fans will love it."  "Again, there are so many hits on this release and we look forward to seeing you take that stage at CCMA's and walk off with some more of that hardware we are used to you carrying."  "Congratulations on all your success Tim."
Featured by Kim Cyr
NEW ALBUM "5:01" AVAILABLE NOW! BUY NOW ON ITUNES! #FIVE01 BUY PHYSICAL CD NOW ON AMAZON

http://timhicksmusic.com