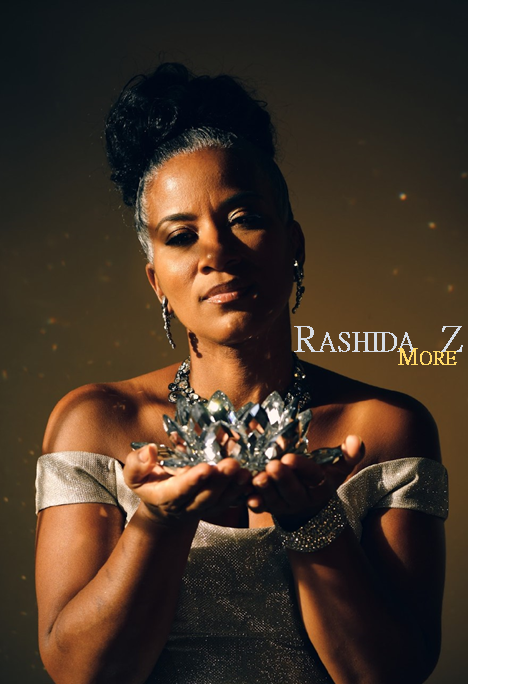 Rashida Z  
''More'' 
     Rashida, the name meaning righteous; wise; knows her own way is the true description and introduction of the great independent artist Rashida Z. Emit Radio describes Rashida Z's sound as a mix of the late, great Whitney Houston merged with Alicia Keys in the R&B category of Adult Contemporary with a hint of pop.  Prolific songwriting is her claim to fame and it is evident the moment you hear her thought provoking, unapologetically honest lyrics intertwined with her original, hitmaker style that makes her melodies so memorable and will have you singing along right away.  
     Rashida Z's new song "Colorblind" has been described by music industry professionals as a "Hit and a Half". With its racially inclusive lyrics, Colorblind is a stunner reminiscent of music that is fit for the big screen. Colorblind is Produced by Branden Burch who also Produced India Arie's "There's Hope" and her latest "He's Got That Magic". As if that was not enough Colorblind is topped off with a hint of music royalty with Andrew Debarge from the beloved Debarge family on guitar.  
     Rashida Z's songs receives daily radio airplay and  have been played on major broadcast radio stations within the United States, with Beasley Media Group's WPEG Power 98 in Charlotte NC being the first to play her song Colorblind that is truly fit for these racially unstable times. The DJ at Power 98 described Colorblind as "Dope" and a song that "caught him off guard". He played it on air within a few days of receiving it. Recently making the Hot Adult Contemporary Charts Spotify Playlist, this song is becoming a favorite of many listeners.  Communique Magazine of the Washington DC, Maryland and Virginia Area featured Rashida Z and the lyrics to her song Colorblind in their latest August 2020 Special Youth Edition Issue as a tool to help bring understanding in the discussion with kids aged 8-18 about the complexities of racial tension in our world. Her song "Ask Me Again" is an R&B smasher and her latest ballad "More" is an honest and vulnerable "tell all" about a relationship that although everything seems right, marriage does not seem like it will happen, which relates to the statistics of so many couples in relationships but not married today.  
Taking nothing for granted, her focus with her music is to touch hearts, change minds, tell the truth through song with the intention that her music relates to every person who is experiencing life and all of its complexities and to put life changing music to our everyday experiences. Rashida Z says, "We're all going through similar situations in one way or another and I want my music to be an outlet that people can use to make this grand gift of life a little more understandable and meaningful."  
Watch Colorblind
Watch More Here
You can check out Rashida Z's latest releases anywhere digital music is streamed, downloaded and sold.  
Also, find out more about her and her music at www.borntowritesongs.com