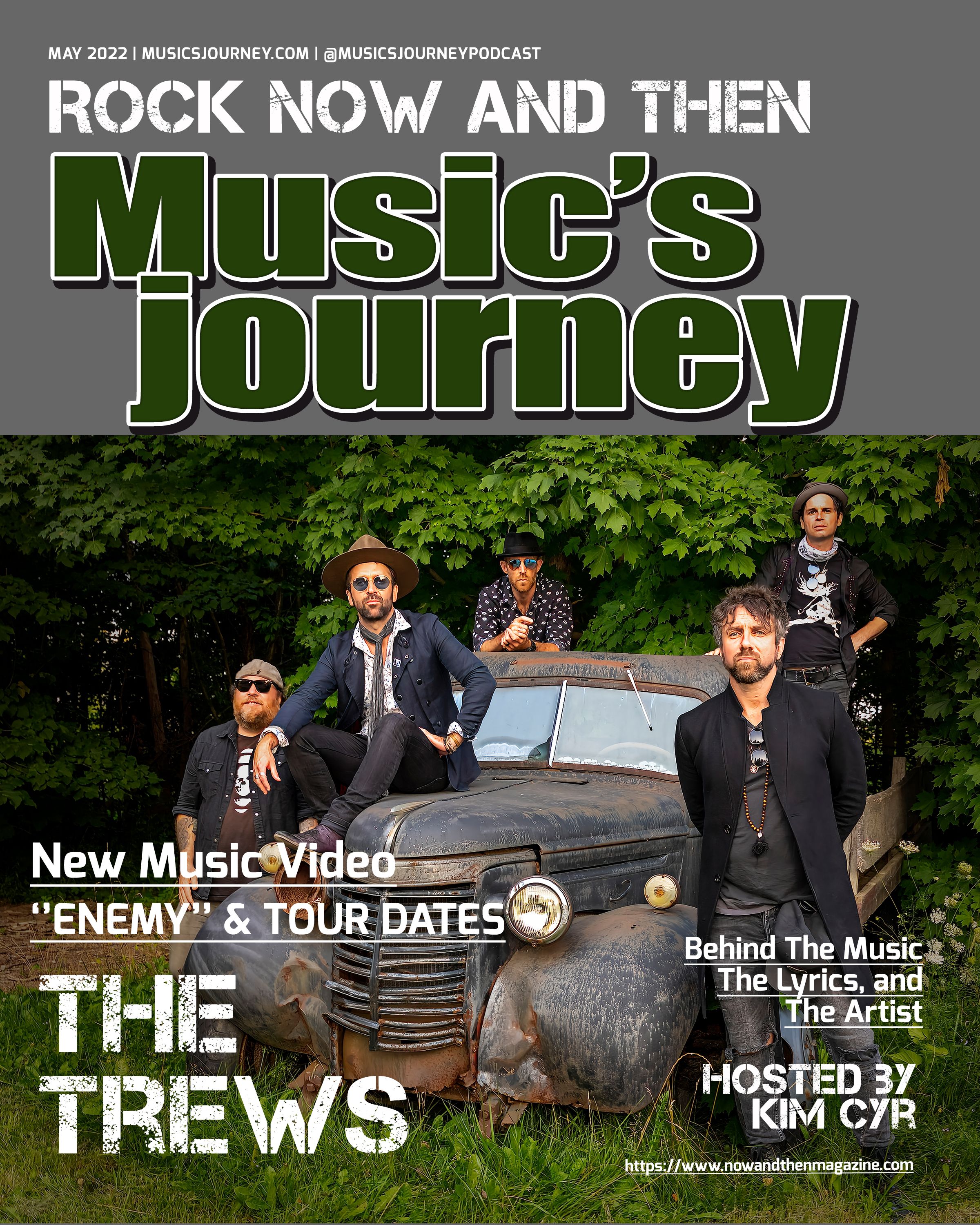 Music's Journey Podcast 
w/ Rock N' Roll Heavyweights The Trews Lead Vocalist Colin MacDonald 
Hosted by Kim Cyr 
Presented by NOW and THEN Magazine 
https://www.nowandthenmagazine.com 
Music's Journey Podcast INTERVIEW #154 w/ Rock Heavyweights The Trews Gearing Up For The We Wanna Play Tour And Their New Music Video Single ''Enemy''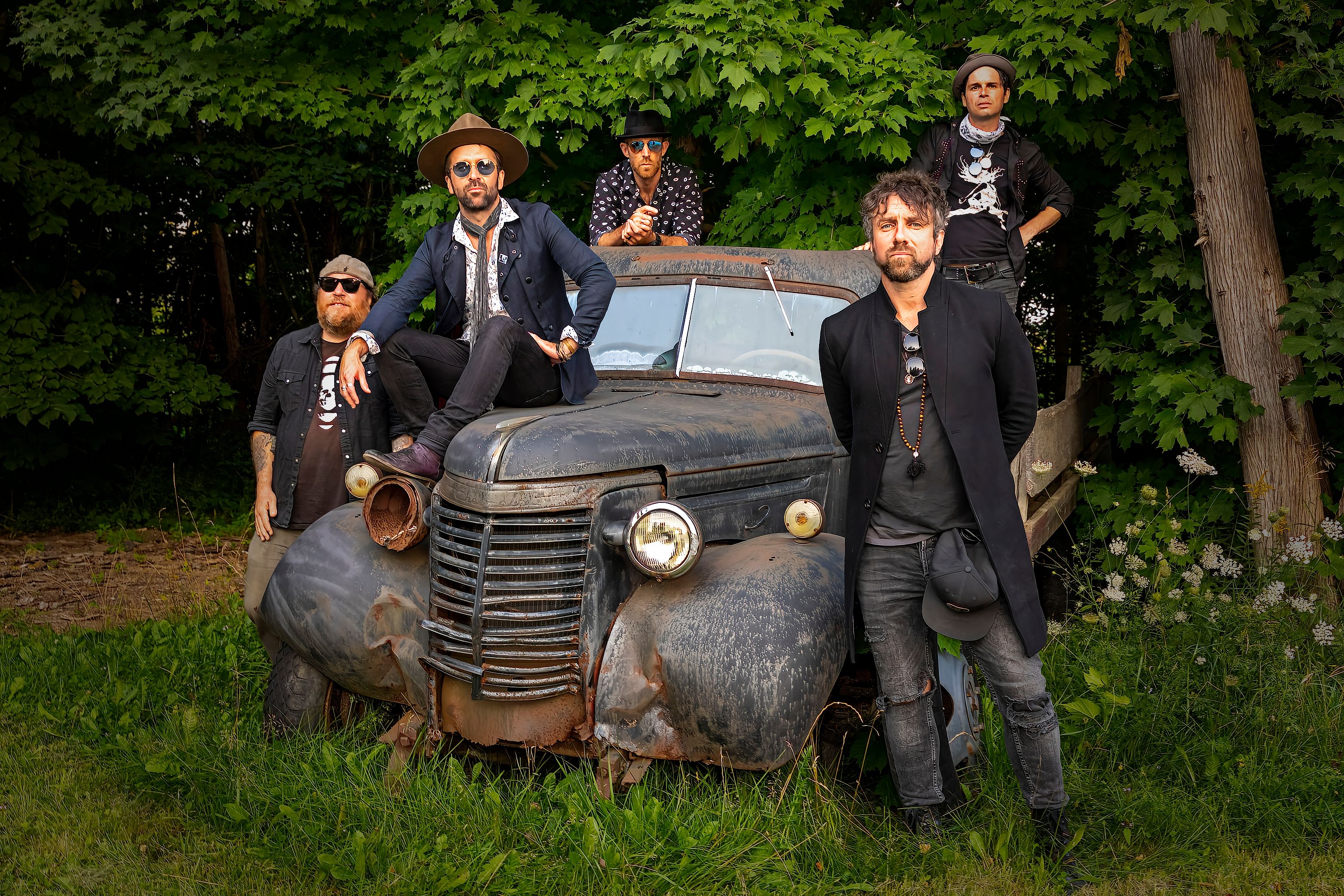 Photo Credit Matthew Perry
New Music Video 
Latest Single ''Enemy'' 
Music's Journey Podcast INTERVIEW #154 w/ Rock Heavyweights The Trews Gearing Up For The We Wanna Play Tour And Their New Music Video Single ''Enemy''  
The Trews are getting back to what they do best – hitting the road and playing live. The band have lined up several headlining dates across Canada this spring and summer, alongside support slots in Toronto for Black Crowes, and St. John's, NL for the unrivaled Stone Temple Pilots. Excited about hitting the road, guitarist John-Angus MacDonald says, "We can't wait to bring the songs from Wanderer to stages across Canada this spring & summer. The album is full of great live material that we haven't had a chance to fully air out yet and it all fits in great with the rest of our catalogue. We said it before and we'll say it again – we wanna play! " For tickets visit HERE. 
After hitting their previously announced dates in Estevan, SK, and in between festival appearances and supporting slots for the Black Crowes, the band will play new headlining slots in Manitoba, Alberta, Saskatchewan, BC, Ontario, Newfoundland, New Brunswick, and Nova Scotia. The trek begins next month with a show in Winnipeg on the 24th and ends in Antigonish on August 19. 
The Trews are keeping their live show going with plans for a bunch of new Canadian concerts this summer. To celebrate their expanded tour schedule, they've also shared a video for "Enemy." 
The single changes things up for the band with lead-guitarist John-Angus writing and singing lead vocals for this one. An interesting story of how this one came to be, John-Angus explains, "My then 5 year old son Elliott had a hand in inspiring this track. Alone time to work on new material when you're raising two small children is almost non-existent so I find myself playing music with them, or at least with them in the room, often. One day Elliott suggested that I write a song called "I know what it's like to be the Enemy". The melody he came up with was more akin to an Iron Maiden song, or some other heavy metal band, then a Trews song. When I asked him why that lyric he said he wanted to hear a song from the perspective of one of the bad guys in a Marvel movie. Anyway, the lyric brought that chord progression and melody out of me almost instantaneously – they seemed married to each other from the very start. A day or two later I penned the verse and kept with that theme of it being from the perspective of the enemy but more the universal enemy, the one within. " 
Plenty of grand boasts can be made about Wanderer, the blazing seventh studio album from rock 'n' roll heavyweights The Trews and easily their fiercest and most accomplished, garlanded as it is with enough marquee credits and potential smash-hits to spin even jaded heads.  
But the Wanderer's most striking claim may be this: it could not have achieved its acrobatic feats of sonic power had it not been for the lamentable, awful but also weirdly inspiring and motivational global pandemic which made touring impossible and writing and recording the only games in town.  
Talk about a silver lining. At least in retrospect.  
"This is a really strong rock record from start to finish. Every song was mulled over extensively," guitarist John-Angus MacDonald says. "The pandemic bought us more time which you always need with songwriting. There are songs that would not be on this record had it happened another way."  
Adds singer/guitarist Colin MacDonald, "We accidentally honed our recording skills because there was no live show to get to."  
Really, who could have predicted that electrifying recording sessions begun in Nashville in December 2019 with Black Crowes guitarist and long-time Trews friend Rich Robinson would be curtailed by an unprecedented Canada/U.S. border closure, resulting in just three songs being completed?  
Or predicted that that maddening roadblock and an ensuing lockdown would fortuitously lead, nine months later, to sessions at Jukasa Studios in Caledonia, Ontario opposite Derek Hoffman, yielding three more songs with the fast-rising producer who brilliantly helmed Civilianaires, The Trews' widely acclaimed forerunner to The Wanderer. And the story didn't end there.  
With the Robinson/Hoffman sessions banked, six additional songs — including blistering COVID-themed corker and lead single "I Wanna Play" and the barn-burning title track — demanded additional studio time in Toronto in late 2020 with producer Eric Ratz. Yes, he of the Gargantuan Rock Sound as evidenced by his much-lauded work with Monster Truck, Arkells, Big Wreck… and now The Trews, whose playing throughout The Wanderer sounds positively atomic.  
"This is very much a guitar record. I mean, all our records have had guitars, but we really put the focus on, forgive the cliché, getting back to our roots with stand-out riffs and solos," John-Angus MacDonald confirms. "Rich is a walking riff, and Eric is a big guitar guy, so that's just the way it happened."  
In the end, those three disparate, COVID-dictated sessions forced the chart-topping, globe-trotting crew, which includes bassist Jack Syperek, drummer Chris Gormley, and keyboardist Jeff Heisholt, to cohere as a band as never before. The results speak for themselves.  
Indeed, even veteran fans of The Trews will be flattened by the gale force of the before-mentioned single and storming album opener "Where Do You Go," both cut with Ratz and featuring unabashedly dweedly (but oh-so-cool and air guitar–worthy) guitar solos.  
"I love 'Where Do You Go,' which is so out-there for us with its weird time changes. And 'I Wanna Play' is perfectly indicative of the times: funny, sad, passionate, and it rocks," says Colin MacDonald, who test- drove the single with fans during Friday night Instagram Live sessions while in lockdown at home.  
No new way of working was off the table during sessions for The Wanderer. For example, the three songs recorded with Robinson in Nashville ("Faith and Fumes," "Permission," "Hidden Gem") were cut without a click track, standard studio procedure and the easiest way of tracking changes but also something of a production safety net.  
"The songs with Rich were all about committing to the moment," John-Angus MacDonald says, "and they sound freer as a result."  
"Our paths had been crossing with Rich's for years," Colin MacDonald explains of the genesis of the collaboration. "We opened for his side project, the Magpie Salute in the States in 2017, and he opened for us solo acoustic in Canada in 2016. Plus, the Black Crowes are one of our favourite bands."  
Further underscoring their cohesion, The Trews cut the songs on Wanderer together as a band rather than piecemeal which, like the click track, is de rigueur — and very much the way Civilianaires was constructed. But that method did not reflect the band's headspace in 2020 even if trading audio files from home-studio safe havens would have been much easier.  
"We toured for two years with Civilianaires and we wanted to capture that well-oiled band in studio," John-Angus MacDonald says. "The older I get, the more I realize strengths like that are not a dime a dozen. We wanted to leverage that chemistry."  
Attentive listeners might also notice that the buoyant, pealing "Enemy" features not Colin MacDonald on lead vocals but John-Angus, a Trews first. "Plus, that song is technically a co-write with my then-five- year-old son Elliott because he's a killer drummer," he laughs. "He just bashes away with glee, and he came up with some of the lyrics."  
At the other end of the sonic spectrum is the downcast, mournful "Another Year Zero," a song Colin MacDonald delivers with such furrowed resignation you can practically smell the bourbon on his breath.  
"That song is about things taken for granted because something else seems just around the corner," the singer says. "Other shows to do, other people to meet… but we didn't factor in a global pandemic.  
"It's a reminder that you can't take anything for granted, and it's a reflection of what happens when you're forced to sit at home alone with yourself.  
"This is a transitional album," Colin MacDonald continues, "and it encapsulates these twin realms of possibility and impossibility. It's trying to find light during these massively dark times through music. This record was our safe place. We hope it helps others, too."  
"And we cannot wait to tour in May 2022," John-Angus MacDonald says. "We just want to play again."  
''There is nothing sweeter than when you hear that Rock icons The Trews are heading out on tour,'' says Kim Cyr, Editor in Chief for NOW and THEN Magazine, radio host, and host of the International Music's Journey Podcast.  ''The Trews have been rocking stages around the world for over 20 years now they are finally heading out on the I Wanna Play Tour in May with rock band W3APONS.   I had a fantastic time talking with lead singer Colin MacDonald.  This interview has loads of behind the lyrics and the music chat and lots of music from their new album Wanderer that you don't want to miss.''
To hear my interview with Colin MacDonald, click on the link below. 
Music's Journey Podcast INTERVIEW #154 w/ Rock Heavyweights The Trews Gearing Up For The We Wanna Play Tour And Their New Music Video Single ''Enemy''  
The Trews - Enemy (Official Music Video) 
TOUR DATES 
05/24 – Winnipeg, MB – Burton Cummings Theatre  
05/25 – Regina, SK – Casina Regina  
05/27 – Saskatoon, SK – The Roxy  
05/29 – Red Deer, AB – Bo's  
05/30 – Edmonton AB – Midway Music  
05/31 – Calgary, AB – The Palace Theatre  
06/02 – Vancouver, BC – Commodore  
06/05 – Medicine Hat, AB – Esplanade  
06/08 – Thunder Bay, ON – NV Music Hall  
06/10 – Sarnia, ON – Black Party  
06/16 – Sudbury, ON – Caruso Club  
06/17 – Burlington, ON – Spencer Smith Park  
06/20 – St. John's, NL – Iceberg Alley  
07/05 – Windsor, ON – The Colosseum at Caesars  
07/06 – Toronto, ON – The Budweiser Stage *Black Crowes  
07/14 – London, ON – Harris Park  
07/16 – Bala, ON – Kee to Bala  
07/23 – Mattawa, ON – Mattawa Voyageur Days  
07/30 – Saint John, NB – Area 506 Concert Series  
08/06 – Youngstown, NY – Youngstown Village Music Festival  
08/14 – Grand Prairie, AB – Bear Creek Folk Festival  
08/19 – Antigonish, NS – Nova Scotia Summerfest 
Music's Journey Podcast INTERVIEW #154 w/ Rock Heavyweights The Trews Gearing Up For The We Wanna Play Tour And Their New Music Video Single ''Enemy''  
Follow The Trews