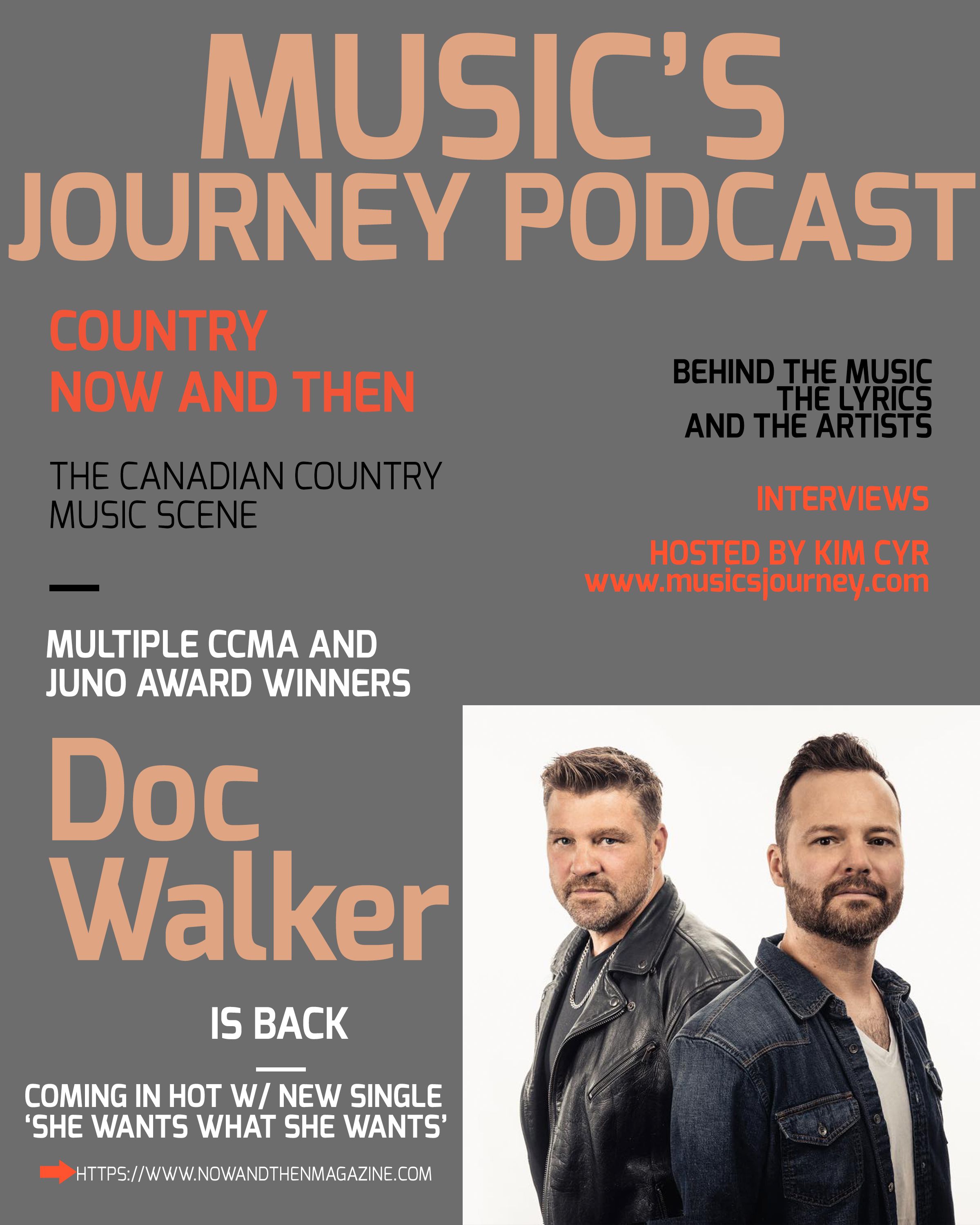 w/ Multiple CCMA and JUNO Award-Winning
Country Duo ''Doc Walker'' 
Hosted by Kim Cyr 
Presented by NOW and THEN Magazine 
https://www.nowandthenmagazine.com 
Music's Journey Podcast INTERVIEW #112 w/ Multiple CCMA and Juno Award Winning Duo 
'Doc Walker' So Much Fun, Listen HERE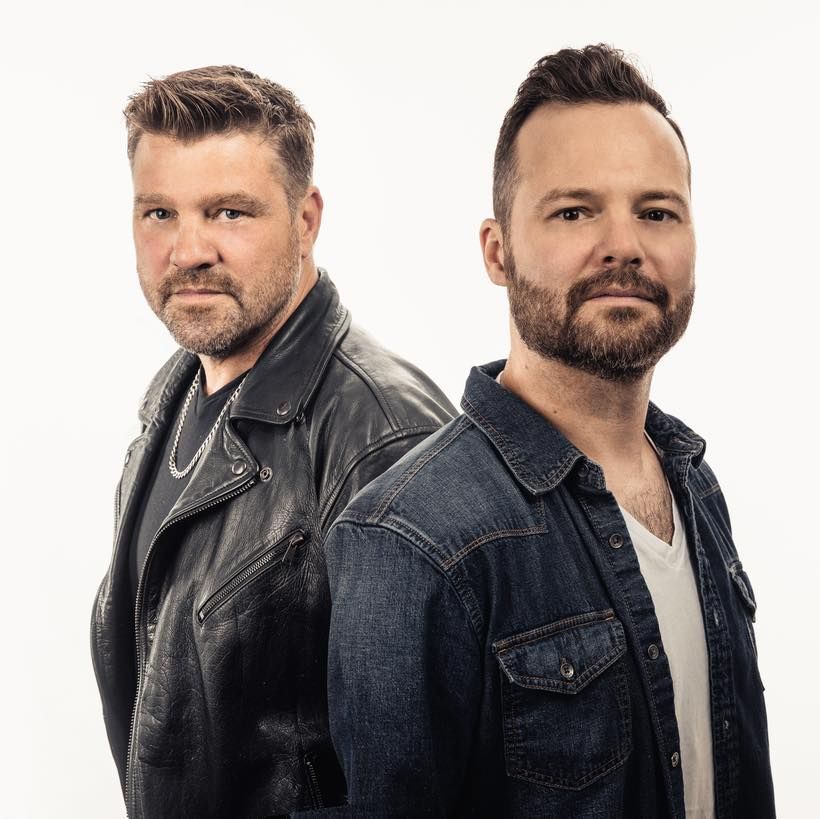 Doc Walker 
New Single 
Music's Journey Podcast INTERVIEW #112 w/ Multi-Award Winning Duo 'Doc Walker' Listen HERE 
Doc Walker is one of the most recognized Canadian country acts of the past two decades, with 21 Top 10 singles and 26 top 20 singles in total, and eight #1 videos on CMT. The Manitoba natives have won 14 Canadian Country Music Awards with over 40 nominees, were nominated for the 2017 WCMA Country Artist of the Year, the 2017 CCMA Recording Package of the Year (Echo Road), and 2018, 2019, and 2021 Manitoba Country Music Awards. The duo has also been nominated for seven JUNO Awards for Country Album of the Year, including a win for their album Beautiful Life in 2009. 
Multiple CCMA and JUNO award-winning Country duo Doc Walker is back, with the release of their new single "She Wants What She Wants" via all streaming platforms.  The distinct sound of Doc Walker coming through the airwaves is something many Canadian country fans look forward to. The new single came in hot and it definitely doesn't disappoint.   The new track is such a catchy tune and it's a story that most females can relate to.  It's about learning how to value ourselves and about being strong. 
''It is always amazing to catch up with Doc Walker and it was so much fun to chat and catch up with Chris Thorsteinson to talk all about life, about the new music and everything in between,'' says Kim Cyr, Editor in Chief for NOW and THEN Magazine, host for the International Music's Journey Podcast, and radio/host on 91.3 FM Bluewater Radio.   ''We have all missed seeing one of the best entertainers in Canadian music so when we see the Doc Walker's tour bus rolling in, we are all smiling.''   
In this interview, I will take you down memory lane with some of Doc Walker's greatest hits.  We talk about life during the pandemic and the dynamics and changes in the music industry today.  Chris Thorsteinson shares many stories about the writing of the songs that we all love from their award-winning albums in the past two decades.  Chris shares some amazing tales about walking out on stage to receive their first Juno Award and so many more incredible moments he shared with Dave Wasyliw and the band.  Chris shares stories about growing up listening to Elvis Presley and Buddy Holly.  There is no doubt that Bob Seger and Waylon Jennings were big influences for Chris's musical journey and the type of music he wanted to record. Doc Walker is back with their brand new single ''She Wants What She Wants''.  To hear my interview with Chris Thorsteinson, click on the link below.
Music's Journey Podcast INTERVIEW #112 w/ Multi-Award Winning Duo 'Doc Walker' Listen HERE 
"The idea for the song came to me one morning while I was messing around in the studio. I came across an '80s guitar sound and it was like a time machine for me. I started to remember all the great music recorded in the '80s and it inspired me to create something similar. The lyrics came from thinking about my three children and realizing that someday my little girl is going to have her heartbroken. It scared me because my job as a father is to protect my children. But I came to the conclusion that life happens and all you can do is try to raise your kids to be strong enough to overcome those situations—and most importantly to have respect for yourself and those around you." Dave took Chris' initial demo and reworked it as the song's producer before handing it over to well-known Canadian producer Eric Ratz for his final mix magic.  
(Dave), "We always feel that country music can have some 'meat on the bones,' as it is a genre heavily rooted in real-life experiences, trials, and tribulations." 
That attitude has played a big part in Doc Walker's longevity, along with an overall drive to explore new musical approaches in order to keep their sound fresh. As Dave says, "We just can't pretend to be something we are not. The fans that have stuck with us I feel have been rewarded with two of our strongest records in recent years, The 8th and Weathervane. And now we can't wait to show the fans what we've been up to!"  
As Doc Walker continues to look ahead, they are also celebrating the 20th anniversary of 2001's Curve, their breakthrough album that spawned the hits "She Hasn't Always Been This Way" and "Rocket Girl," both of which remain staples of their live show. Curve garnered the band its first Juno nominations and first CCMA awards, a scenario that has been repeated many times over the ensuing years. Both Chris and Dave point to receiving the 2008 CCMA Fans' Choice Award at that year's gala in Winnipeg as a particularly significant moment in their lives.  
Dave says, "We've had a lot of career highlights, from getting to work with so many amazing writers to playing in every province and territory in Canada, and touring Australia three times. And then there are the personal highlights, like meeting Willie Nelson and playing the Whisky A-Go-Go in L.A. It's all incredible to look back on; opening for Bon Jovi and having Eric Church open for us—something I doubt he'll be doing again anytime soon!"  
Getting back on tour is something Doc Walker has been eagerly anticipating since the world shut down in early 2020. As Chris says, losing that connection with their audience—albeit temporarily—was something he wasn't totally prepared to deal with. "I think the lack of live shows has given us time to reflect on the last 25 years and reminded me to never take for granted the support we've had from our fans. I also realized how much I missed meat and cheese trays backstage! But seriously, the plan has always been to create music that we are proud of and to spend as much time as we can out on the road playing for the fans."  
As for what the future holds for Doc Walker, Dave says he expects something to come together following their new tour since the band has always fed off the energy of playing live. "That's how everything starts. The more we play together, the more we talk and plan and write and record. The 'snowball' gets big quickly. It has been very difficult not having that outlet for the last couple of years. There is now a heightened appreciation for it because it was taken away as abruptly as if someone had turned off a tap. If there is any silver lining, it's that it's served as a reminder of just how much we love making and playing music." 
Music's Journey Podcast INTERVIEW #112 w/ Multi-Award Winning Duo 'Doc Walker' Listen HERE 
She Wants What She Wants 
Music's Journey Podcast INTERVIEW #112 w/ Multi-Award Winning Duo 'Doc Walker' Listen HERE 
Follow Doc Walker