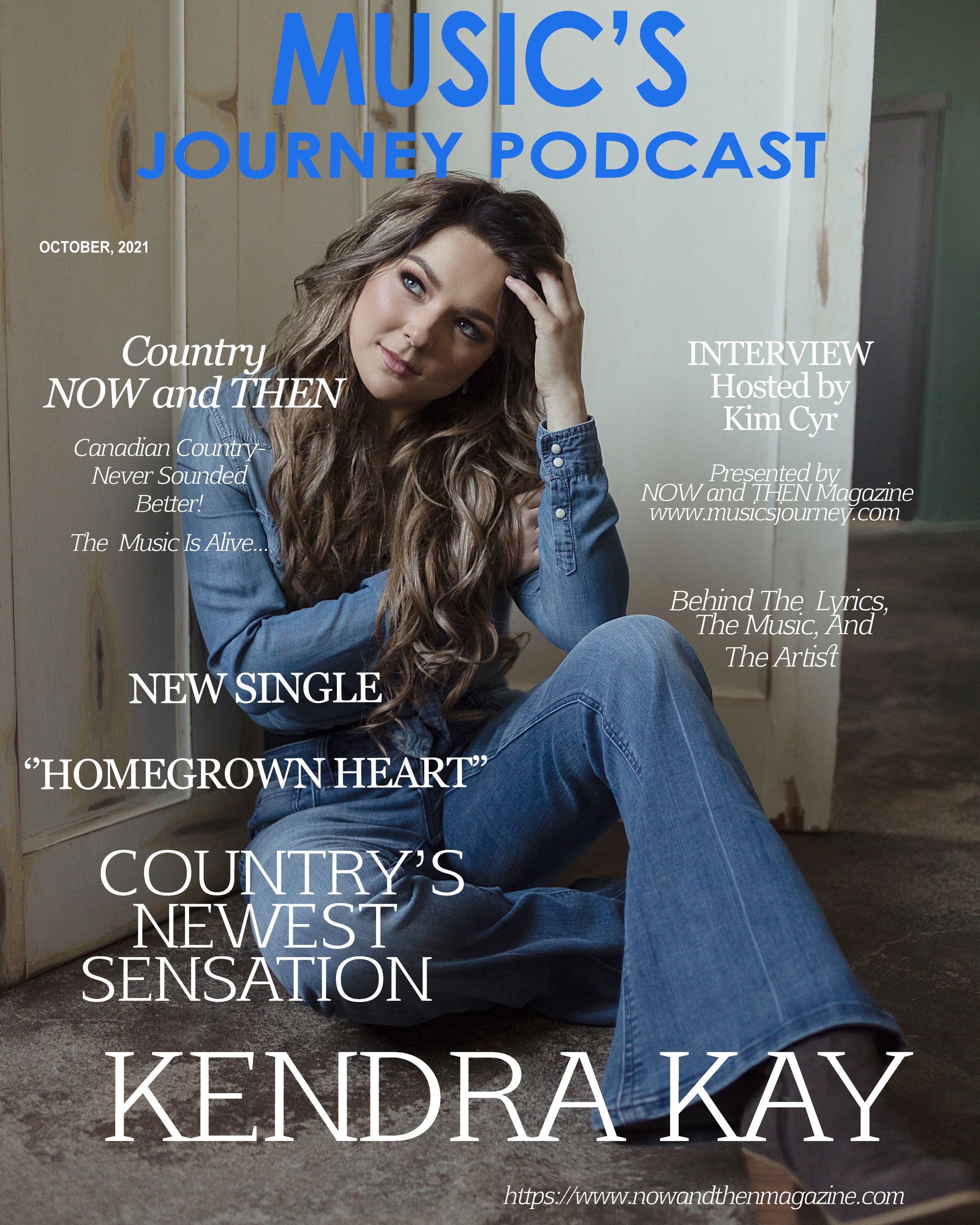 Music's Journey Podcast 
w/ Multi-Award Winning Country Artist
Hosted by Kim Cyr 
Presented by NOW and THEN Magazine 
https://www.nowandthenmagazine.com 
Music's Journey Podcast INTERVIEW #116 w/ Multi-Award Winning Country Artist Kendra Kay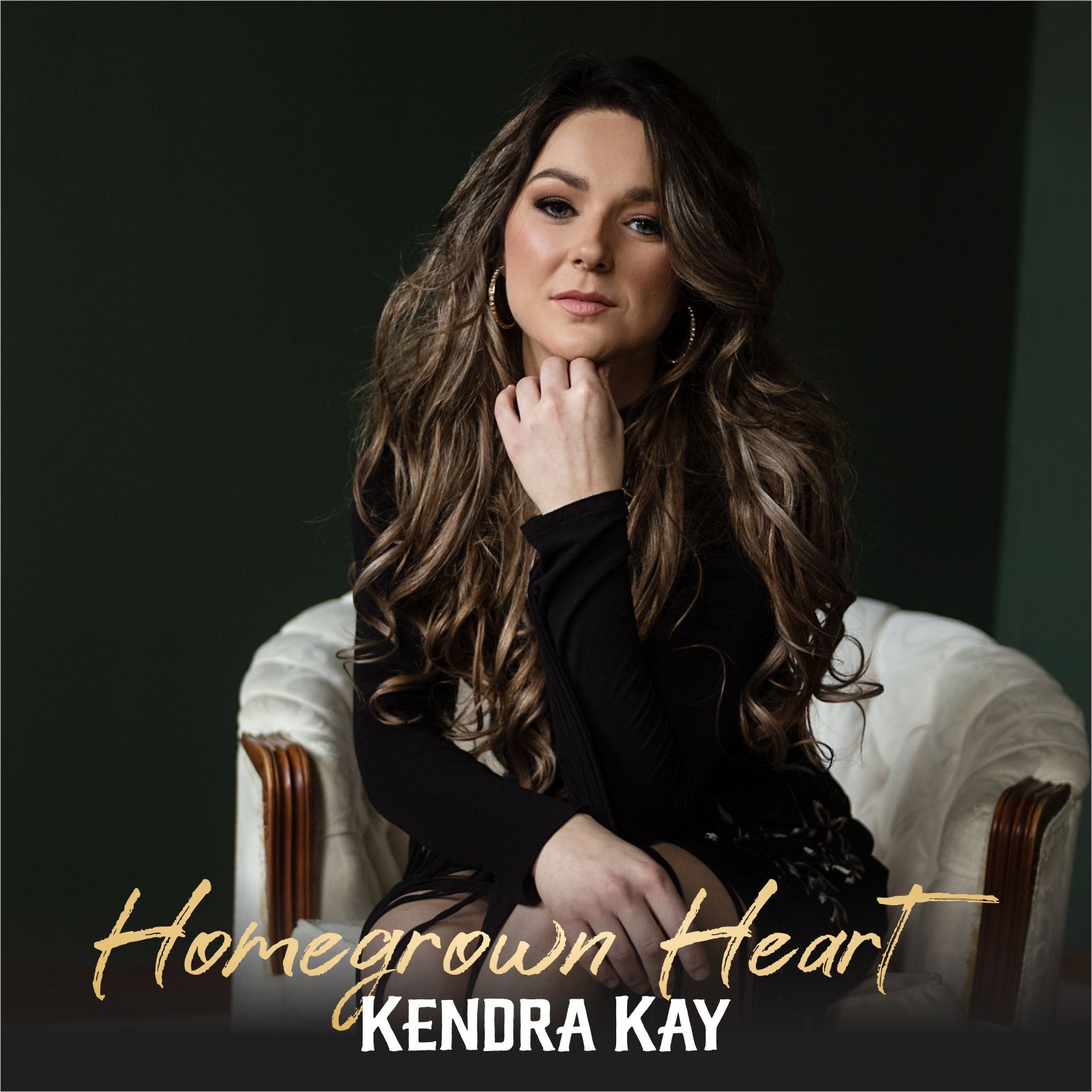 Photo Credit Melanie Heyst 
New Single 
Music's Journey Podcast INTERVIEW #116 w/ Multi-Award Winning Country Artist Kendra Kay   
(Winnipeg, MB) Country Recording Artist Kendra Kay is set to release new music. The 2 x MCMA Female Artist of the Year winner has had the opportunity to spend more time on her family ranch in the past two years than she has in a long time. As a songwriter, she felt naturally inspired to write about it. This is how her next single Homegrown Heart was born.  
"This song is my story – it is inspired by my roots, life, and family. I wrote it to tell the story of who I am, and from the idea that everyone has that little piece of home, it is a universal feeling. When I am not out on the road touring, I am on the road barrel racing or at home working with my horses and that feels like home for me. I know there are so many people out there that will connect with this song and feeling, no matter where they call home," says Kendra Kay.  
When reigning MCMA Fan's Choice Award winner Kendra Kay was unable to tour with her band, she turned to another passion. She loaded up her horse and hit the road for a different reason. Kendra joined the rodeo circuit which led to winning a Championship Buckle for Barrel Racing!  
Kendra Kay continues to grow her audiences as she achieves 1 million global streams, has had music videos placed in rotation on CMT Australia and embarked on tour dates across Western Canada. She hit the road armed with her 5-piece band, playing major events such as the Calgary Stampede, Red River Exhibition Fall Fair, and the Ponoka Stampede to name a few.  
When Kendra isn't working on the ranch, out on the road with her horse or touring with her band she is recording new music, cutting tracks from an impressive list of writers including Carly Pearce, Maren Morris, and Meghan Patrick.  
Homegrown Heart was co-written by Tyler Del Pino and produced by award-winning producer Murray Pulver (Doc Walker, The Bros. Landreth). The traditional inspired song was released to major streaming platforms on October 8th. 
''Kendra Kay has really made her mark in the country music industry,'' says Kim Cyr, Editor in Chief for NOW and THEN Magazine, host for the International Music's Journey Podcast, and radio host on 91.3 FM Bluewater Radio.  ''Kendra is a very talented vocalist and she has something special in the way she can connect with the lyrics of a song.  She can tell a story that connects with the fans.   She delivers that crisp clean vocal with a lot of power holding it nicely in the upper range of her voice.  It is great to hear that traditionally inspired sound that she has made modern and relevant from this rising star.  She has a very bright future in country radio''. 
I had the opportunity to catch up with Kendra before she hits the stage for awards season.  You don't want to miss it.  To hear my interview with Kendra Kay, click on the link below. 
Music's Journey Podcast INTERVIEW #116 w/ Multi-Award Winning Country Artist Kendra Kay    
Kendra Kay - Homegrown Heart (Official Music Video) 
Kendra Kay - Steady (Official Music Video) 
Music's Journey Podcast INTERVIEW #116 w/ Multi-Award Winning Country Artist Kendra Kay    
Follow Kendra Kay