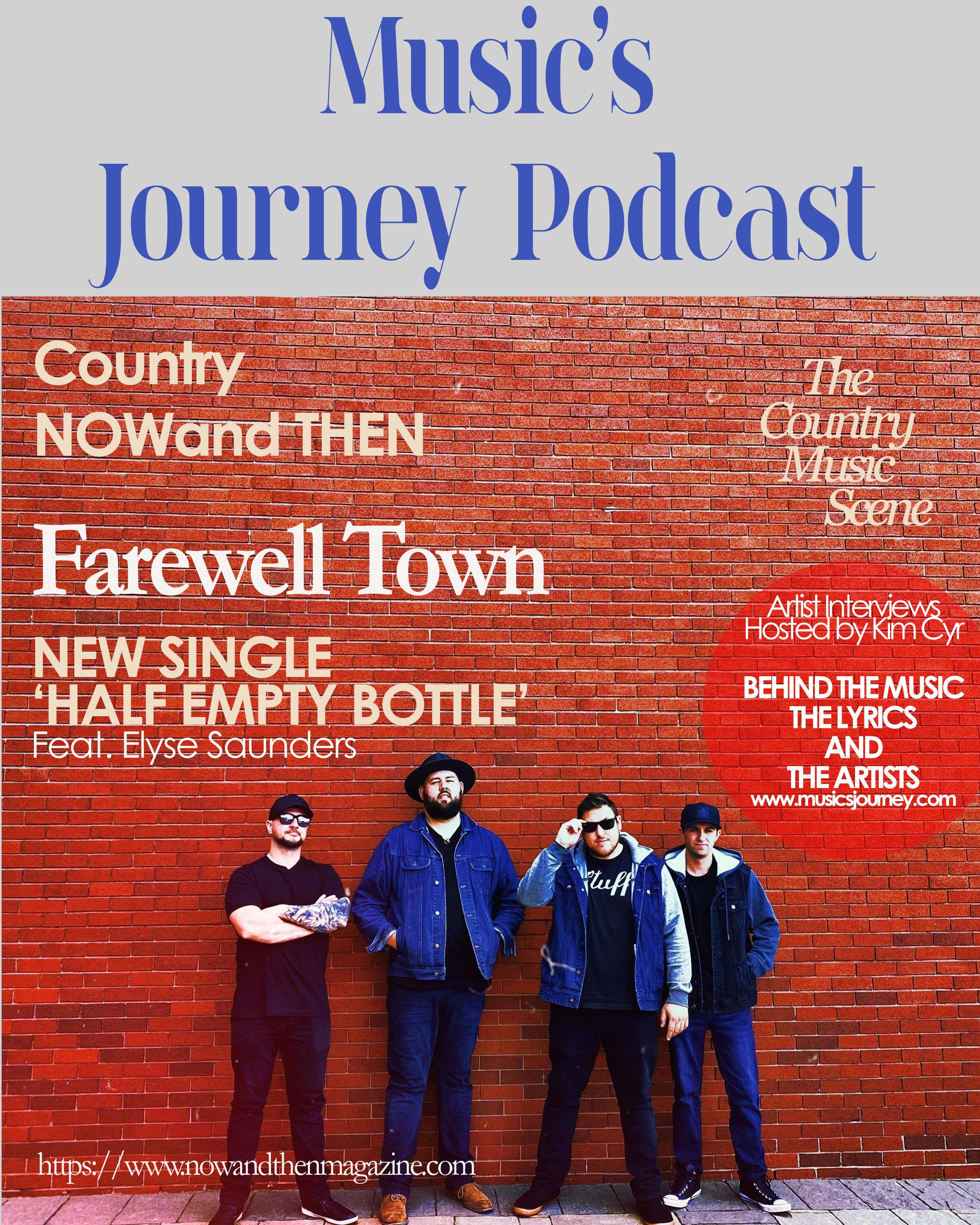 Music's Journey Podcast  
w/ Country Band 'Farewell Town' 
Hosted by Kim Cyr 
Presented by NOW and THEN Magazine 
https://www.nowandthenmagazine.com 
Music's Journey Podcast INTERVIEW w/ Country Band 'Farewell Town' New Single 'Half Empty Bottle' 
Feat. Elyse Saunders, Listen HERE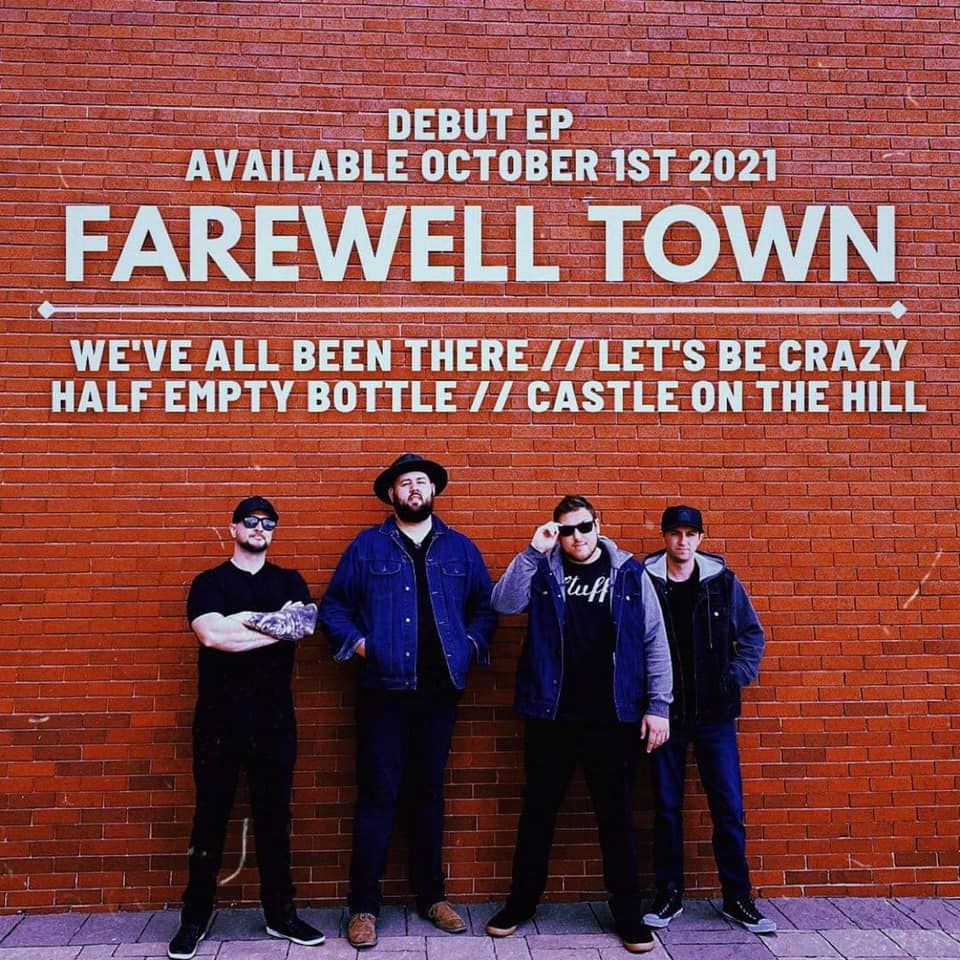 Farewell Town 
New Single 
Feat. Elyse Saunders 
Music's Journey Podcast INTERVIEW w/ Country Band 'Farewell Town' New Single 'Half Empty Bottle'  
Feat. Elyse Saunders, Listen HERE 
East Coast's very own country-rock band, Farewell Town delivers a hard-hitting and captivating performance on stage night after night.  
Farewell Town, consists of four main members: Michael Lloyd (Vocals / Guitars), Shaky White (Vocals / Bass), Jordan LeBlanc (Vocals/ Guitars), and Scott Musgrave (Drums / Cymbals).  
Years before forming Farewell Town, the members grew up in separate small-town communities in Atlantic Canada before saying farewell to their respective towns and joining forces in Halifax, Nova Scotia.  
The band was formed in Halifax, Nova Scotia while playing first as a backing band for emerging local country artists on the East Coast of Canada. They have gone on to play with country artists all over the nation such as Chris Buck Band, JoJo Mason, Aaron Pritchett, Andy Bast, and Ben Chase. Since then, the four-session musicians have combined their uplifting talent and passion for music to form the power-house country-rock band, now known as Farewell Town.   With Michael's compelling vocals and dynamic guitar playing, Shaky's low-end groove, and harmonies along with Jordan's pristine guitar skills and Scott's impeccable timing, Farewell Town always provides an impactful show leaving fans wanting more.  
In early March 2020, Farewell Town hit the studio with producer Andy Bast in New Brunswick to write and record their debut EP. All songs were proudly recorded, engineered, mixed, and mastered on the east coast of Canada. Due to COVID-19 production was halted and the first release was postponed. Their debut single "Let's Be Crazy" was released on April 23, 2021, and went Top 100 (landing at #97) on TRAX report. The song was added to over 50 Canadian Country Radio Stations along with being added to Sirius XM Radio.  
On October 1st, 2021, Farewell Town released their debut self-titled EP. The album consists of four tracks that cover everything from the upbeat-party song "We've All Been There," to the anthemic sing-along "Let's Be Crazy," to the ballad duet "Half Empty Bottle" featuring Elyse Saunders, to the band's rendition and crowd-favorite "Castle on the Hill."  'Half Empty Bottle' is Farewell Town's follow-up single and will be hit on Canadian Country Radio on October 8th, 2021. Be sure to request this perfect fall ballad at your favorite radio station. 
Music's Journey Podcast INTERVIEW w/ Country Band 'Farewell Town' New Single 'Half Empty Bottle'  
Feat. Elyse Saunders, Listen HERE 
Half Empty Bottle (feat. Elyse Saunders)
Farewell Town - "Let's Be Crazy" (Official Lyric Video)
Farewell Town - We've All Been There (Official Lyric Video)
Farewell Town - Castle on the Hill (Official Audio)
Music's Journey Podcast INTERVIEW w/ Country Band 'Farewell Town' New Single 'Half Empty Bottle'   
Feat. Elyse Saunders, Listen HERE 
Follow Farewell Town 
https://www.farewelltown.com/  
https://www.facebook.com/farewelltownmusic  
  https://www.youtube.com/channel/UC4-4asMQTgN_SWvYvkVj36A
https://www.instagram.com/farewelltownmusic/  
https://open.spotify.com/artist/1bKTm7r5cZD6dX8Ary0XKH?si=OU9dnmohTfWnhOoeAhpuCQ  
https://music.apple.com/ca/artist/farewell-town/1552131936