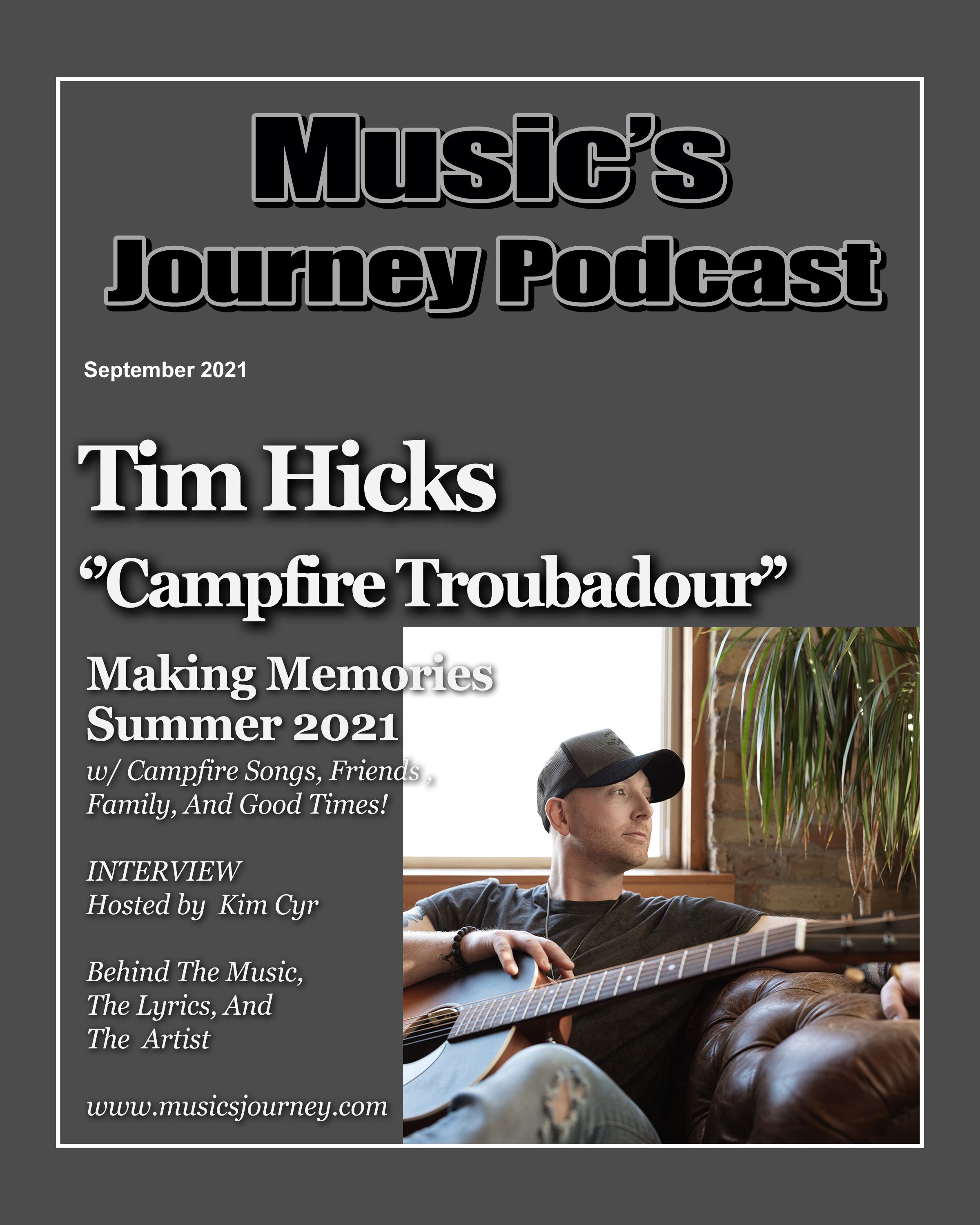 Music's Journey Podcast 
w/ Multi-Platinum Award Winning Country Artist 
''Tim Hicks'' 
Hosted by Kim Cyr 
Presented by NOW and THEN Magazine 
https://www.nowandthenmagazine.com 
Music's Journey Podcast INTERVIEW w/ Multi-Award Winning Entertainer 'Tim Hicks' Summer Isn't Over Yet...Campfire Troubadour The Backyard Party Continues! Click HERE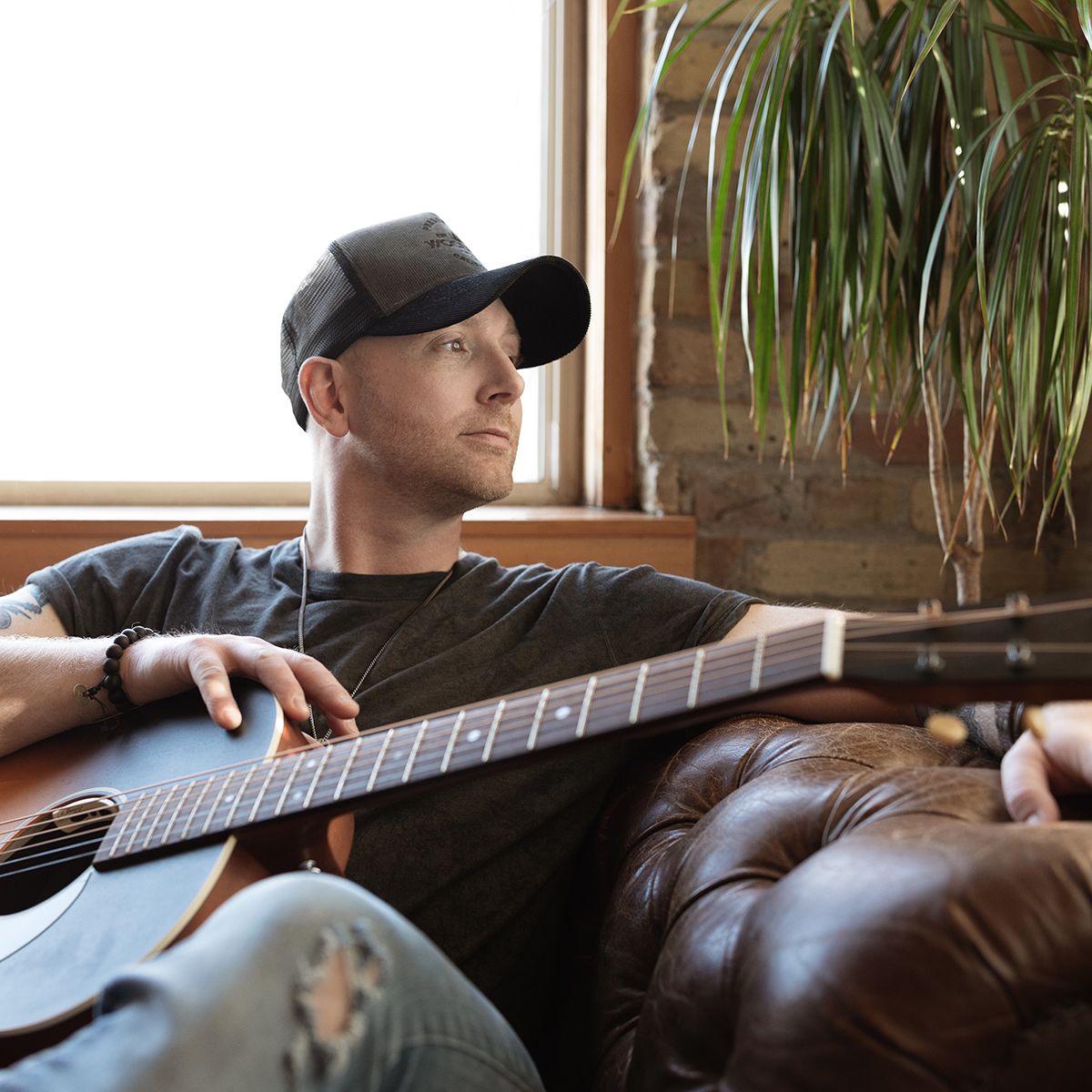 Tim Hicks  
Latest EP 
Music's Journey Podcast INTERVIEW w/ Multi-Award Winning Entertainer 'Tim Hicks' Summer Isn't Over Yet...Campfire Troubadour The Backyard Party Continues! Click HERE
Multi-Platinum award-winning entertainer Tim Hicks released his latest Campfire Troubadour, a seven-song collection on May 21st via Open Road Recordings. While Hicks has cemented deep roots in Canadian country music, his genesis as an artist began with humble beginnings, charming bar patrons nightly with a vast repertoire of solo acoustic material designed to please a crowd. Campfire Troubadour pulls from this model, reimagining Hicks' chart-topping sound for a more intimate setting, as much at home in a fireside jam as it would be in the unassuming rooms he once played.  
Take for instance lead track 'Slow' – injecting harmonica and gang vocals reminiscent of unabashed late-night singalongs with friends, setting the tone for an EP suggesting Hicks' diversity as an artist knows no bounds. The reinterpretation of current single 'The Good, The Bad And The Pretty' is a stripped back offering to pay homage to the fans and experiences that shaped Hicks as a person, artist, and performer, while 'Last Can' delivers on his beloved tongue-in-cheek writing, sure to take the backyard party well past the last call.  
'The Good, The Bad and The Pretty' is the first new release from the four-time JUNO Award nominee and multi-Platinum selling CCMA Award winner since the June 2020 release of his Wreck This EP, which garnered his second #1 single with 'No Truck Song'. His top 5 single 'Loud' from his album New Tattoo; which also featured his first #1 hit 'What A Song Should Do'; was licensed to the NHL for the 2020 Stanley Cup Playoffs and was chosen as the goal song for team Canada during the 2020 IIHF World Junior Hockey Championships. 
Delivering track after track with unparalleled quality and consistency, Hicks' ascent as an elite chart-topping act since making his country label debut in 2013 is undeniable. His vast catalogue of highly praised releases including Throw Down, 5:01, 5:01+, Shake These Walls, New Tattoo, and Wreck This, have earned the four-time JUNO Award nominee and CCMA Award winner three PLATINUM selling singles, nine GOLD singles, one GOLD album, and eighteen Top 10 radio hits, in addition to over 87 million collective streams, multiple sold-out headlining dates and back to back national tours. Hicks, now a three-time consecutive winner, was also the first recipient of the Nielsen Compass Award, which recognizes an artist for the most total content plays including streams, single and album sales as well as total social media following.  
''Tim Hicks brings something really special with his lastest EP Campfire Troubadour,'' says Kim Cyr, Editor in Chief for NOW and THEN Magazine, host of the International Music's Journey Podcast, and radio/host on 91.3 FM Bluewater Radio.  ''Songs like Horses and Hearts and Annaleigh bring that real love of classic country home for us all. '' 
I got the chance to catch up with Tim to talk about this special EP Campfire Troubadour and how the pandemic inspired him to write some new music and finish songs that he had already started that he really wanted to showcase at the right time for the right project.   Campfire Troubadour was the right project for these songs.  
''It's all about family right now and taking the time to make the memories with the ones we care about the most,'' says Hicks.  ''Getting together and remembering the good times, making some new ones with friends and family is what it is all about and Campfire Troubadour is that for me.  I love camping with my family and spending time in the great outdoors.   The songs on this 6 track EP are about family, friends, and having a good time.  Sitting around the campfire is something both Amanda and I love to do with the kids.  We do it every year.''  
Hicks talks about paying attention to what he was really missing out on the road touring.  He didn't realize the gravity of what it takes to care for the family meals, the day-to-day life of looking after the children, the house and all that his wife, Amanda does on a daily basis while being a first responder as a nurse on the front lines. '' 
''I look at things much differently going through all of this in the past year and a half,'' says Hicks.  "I have always been out on the road performing most of my life and when the world stopped and I had that time to be here for my family on the day-to-day schedules and things that needed to be done, I learned how tough that really is.  I sure learned in a hurry the things that I am not so good at.  Laughs...  I am good at fixing things and looking after my family through my music but not so good at cooking and household chores.'' I talked to Hicks about the special songs he chose for this latest EP and what it meant to him to finally put this one together with music that means a lot to him.  To check out my interview with Tim Hicks, click on the link below.  
Music's Journey INTERVIEW w/ Multi-Award Winning Entertainer 'Tim Hicks' Summer Isn't Over Yet...Campfire Troubadour The Backyard Party Continues! Click HERE
Tim Hicks - Slow 
Tim Hicks - The Good, The Bad and The Pretty (Acoustic Live)
Tim Hicks - Annaleigh (Acoustic Live)
Tim Hicks - Horses and Hearts (Lyrics)
Tim Hicks - Don't Look Back in Anger (Lyrics)
Tim Hicks - No Truck Song
Campfire Troubadour Track Listing  
1.  Slow  
2.  Horses and Hearts  
3.  The Good, the Bad and the Pretty (Campfire Edition)  
4.  Annaleigh  
5.  Last Can  
6.  Don't Look Back In Anger  
7.  After All These Beers  
 Music's Journey Podcast INTERVIEW w/ Multi-Award Winning Entertainer 'Tim Hicks' Summer Isn't Over Yet...Campfire Troubadour The Backyard Party Continues! Click HERE
FOLLOW TIM HICKS