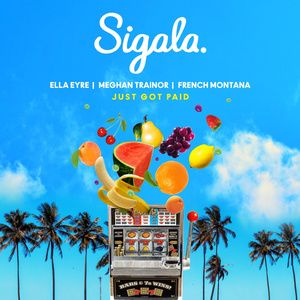 SIGALA 
JUST GOT PAID 
(FEAT. ELLA EYRE, MEGHAN TRAINOR & FRENCH MONTANA) 
British DJ/producer Sigala has released his new single 'Just Got Paid' with Ella Eyre, Meghan Trainor and French Montana on board for vocal duties.   
'Just Got Paid' is a monster tune, here to celebrate the incoming summer vibes and everyone's favourite day … pay day! 
Sigala's debut album "Brighter Days" is set for release September 28th and will feature 'Just Got Paid' alongside Sigala's previous singles and a stack of brand new music. 
Ella Eyre is no stranger to collaborating with Sigala, having also featured on 'Came Here For Love' which lit up airwaves and playlists for most of 2017 after its release. The track is now accredited Platinum in Australia and UK. 
Meghan Trainor and French Montana are no strangers to hits. Trainor has had multi-Platinum accreditations with tracks like 'All About That Bass', 'Lips Are Movin', 'Dear Future Husband', 'No' and 'Me Too', whilst Montana released the 5x Platinum monster tune 'Unforgettable' last year which cemented his position on the global stage alongside his recent tracks with Diplo, Liam Payne, DJ Snake, The Weeknd and more. 
Since he unleashed his Platinum accredited debut single 'Easy Love' to the world – which charted at #14 on the ARIA charts – Sigala has dominated the global dance scene, illustrating his skills not only as a producer, but also as a songwriter who consciously showcases versatile sides to his musicality. With 3 Australian Platinum singles and 7 UK Platinum singles, plus 6 UK Top 10 singles, 10 million worldwide sales and over 1 billion Spotify streams under his belt, Sigala is a force to be reckoned with.