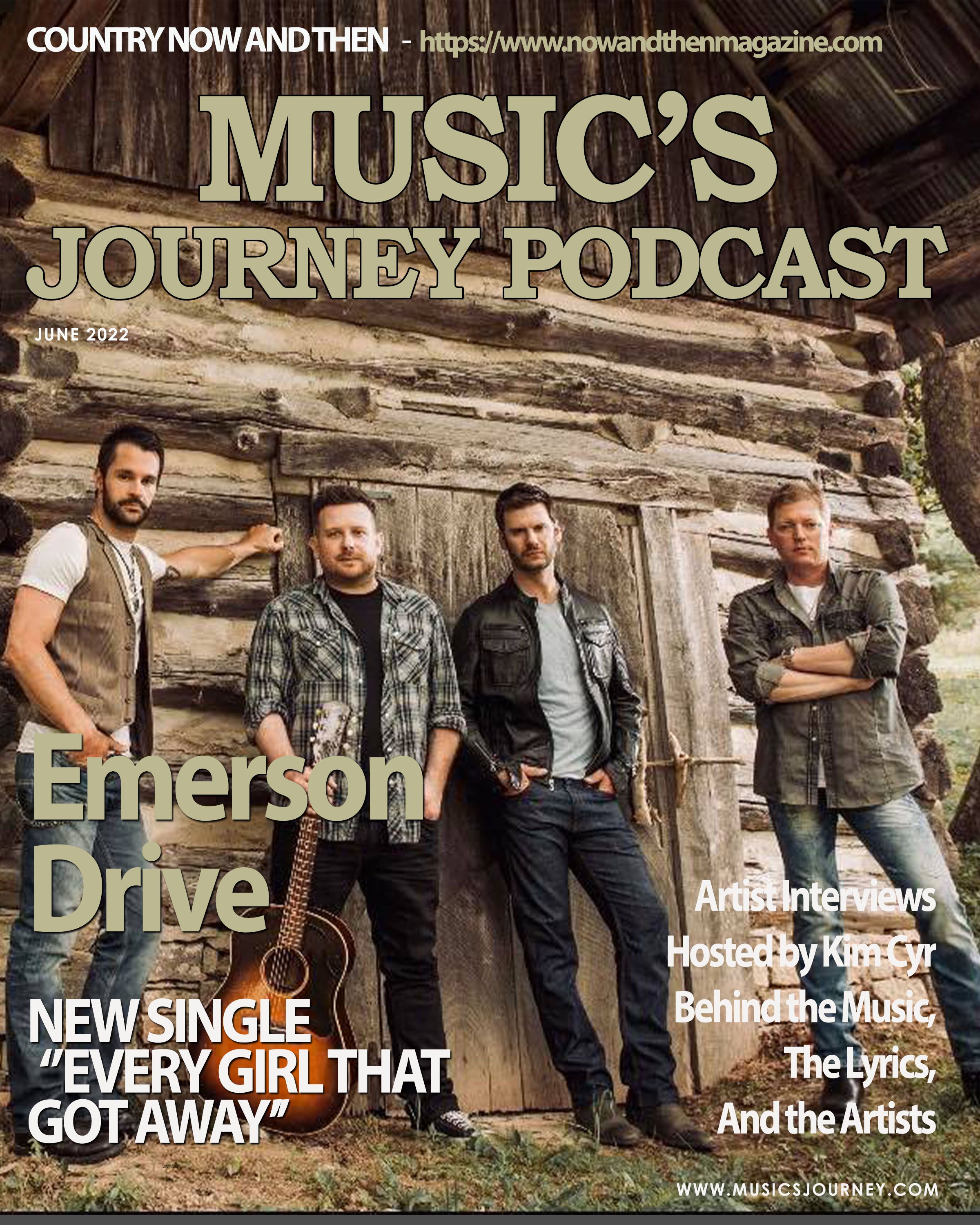 w/ Award-Winning Country Music Group
Hosted by Radio Host Kim Cyr 
Hosted by NOW and THEN Magazine 
https://www.nowandthenmagazine.com 
Music's Journey Podcast INTERVIEW #173 w/ Award-Winning Country Music Group Emerson Drive New Single ''Every Girl That Got Away''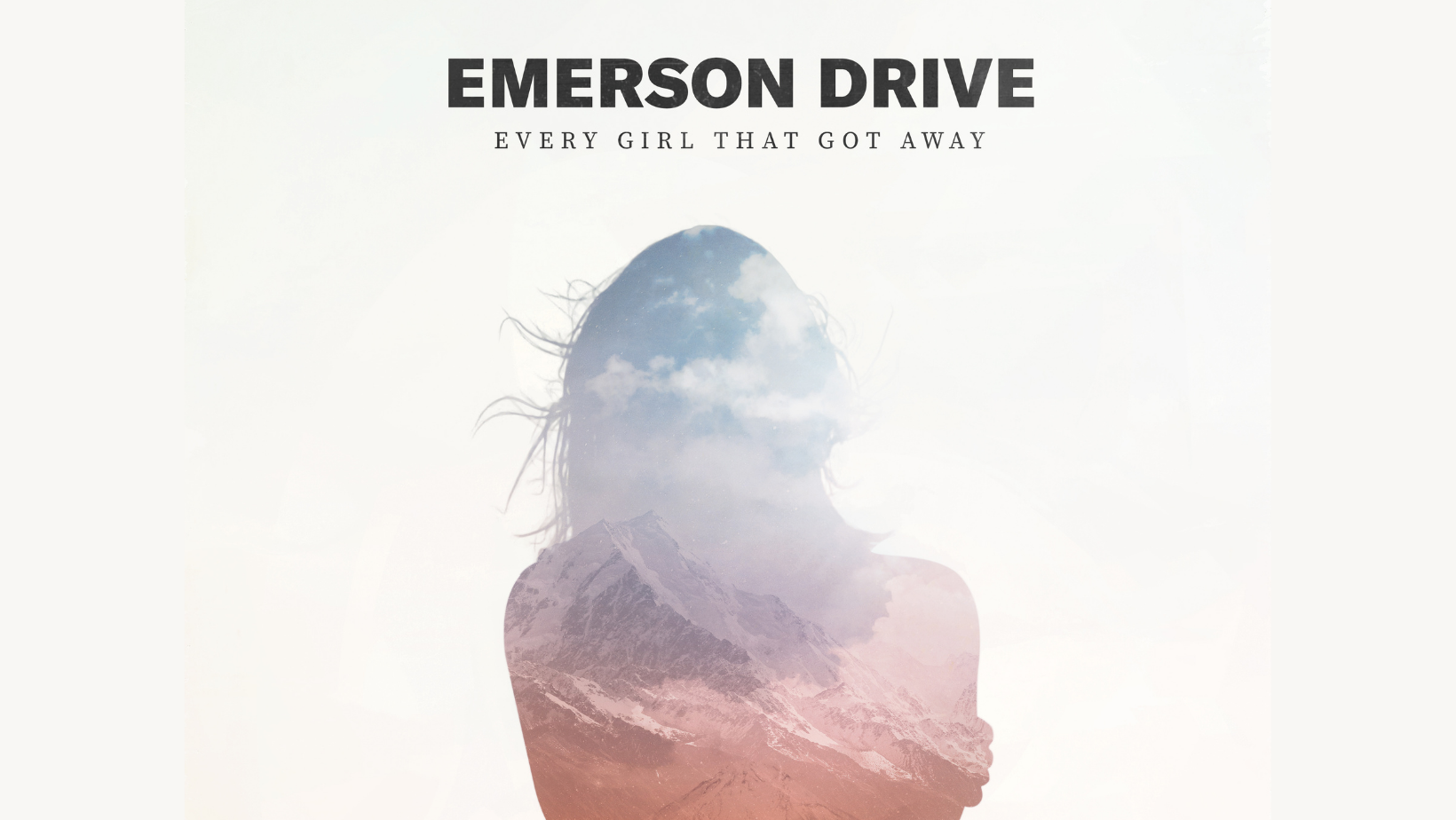 Emerson Drive 
New Single 
Music's Journey Podcast INTERVIEW #173 w/ Award-Winning Country Music Group Emerson Drive New Single ''Every Girl That Got Away'' 
Emerson Drive's astounding career, spanning over 20 years lands them at a place that few musical groups reach. Since bursting onto the scene in North America in 2001 when they released their debut single via DreamWorks Records Nashville, the band's first two singles – "I Should Be Sleeping" and "Fall Into Me" - both peaked in the Top 5 on the Billboard Country chart and quickly became fan favorites. The sextet crisscrossed North America for the next four years, playing over 300 shows a year and racking up Billboard Music Award & Academy of Country Music Association Award wins for Top New Country Artist & Top New Group, respectively.  
But, it was the career-changing song "Moments" that gave the band their first Billboard #1 single in the US in June 2007. The group, which at the time, was comprised of members Brad Mates, Danick Dupelle, Mike Melancon, David Pichette, Dale Wallace & Patrick Bourque, was flying high on success when Bourque decided to step back from the group and leave the road. In September of 2007, Patrick Bourque passed away from suicide, and "Moments" took on a whole new meaning for the band.  
"It's still the song that connects with fans the most. The amount of letters, social media messages, and stories we have heard over the years around 'Moments' and how it has saved people's lives or made a difference in their lives still is crazy to us", says Dupelle. "That's why we all do music. It's to connect with the listeners and leave a mark."  
 In 2011, ED released their first greatest hits package featuring ten of their hit singles – Decade of Drive – and have since gone on to achieve 12 more Top 10 singles in Canada, bringing their total to an astounding 22 Top 10 hits (so far).  In 2013, they achieved their first gold single in Canada with "She's My Kind of Crazy" which is still a fan favorite nearly eight years later. Pichette also stepped back from the band in 2013 to spend more time with his family, making ED  a quartet with Mates, Dupelle, Melancon, and Wallace still active members.  
Over the last five years, while they spend less time on the road, Emerson Drive remains a consistent force in the country music landscape.  
Mates says, "We are at a place where we know what we want and have a balance between our personal lives and our life on the road. We get the best of both worlds. I don't think you can ever expect in this industry that you get to have a two decade plus career. It says so much about our fans, radio support, and the ambition we still have to keep going as a group."  
As it was for many, 2020 was a year of transition and evaluating what 2021 would look like as Emerson Drive went into their 20th anniversary since the release of "I Should Be Sleeping". 2020 saw the guys also hit milestones to be celebrated including their second gold record in Canada for "Just Got Paid" and "She's My Kind of Crazy" which was officially certified platinum.  
2021 delivered new music with ''Footprints on the Moon'' a song full of optimism that is sure to bring a breath of fresh air to the world at this moment! The positive dynamic kicks in the minute the song begins, reassuring us that there is still hope and many wonderful things to happen, so we keep optimistic. The chorus of this hook-laden song says it all. "Don't tell me the sky's the limit, when there's footprints on the moon."  
Emerson Drive has just released their hot new single ''Every Girl That Got Away''.  Just what we needed with this catchy new tune taking you down memory lane about regretting letting someone go that you wish you hadn't.  You are going to love it.  I had the catch-up with lead singer Brad Mates to talk about the brand new single, the group's incredible career, and how much the music industry has changed in the past two decades since they started their own journey.  Brad shared some great stories that you don't want to miss!  To hear my interview with Brad, listen HERE. 
Emerson Drive is the fourth most played group on Canadian country radio in the last decade according to Nielsen BDS, which speaks volumes for the constant quality of their work! 
With over 4000 shows played, millions of miles traveled, countless awards and nominations from the Academy of Country Music, Country Music Association, CMT, Dove Awards, GRAMMY Awards, JUNO Awards, Billboard, and the Canadian Country Music Association, Emerson Drive sets the stage for their 20th year of releasing music and seeing what the next 'Decade Of Drive' will bring for the group. 
Music's Journey Podcast INTERVIEW #173 w/ Award-Winning Country Music Group Emerson Drive New Single ''Every Girl That Got Away'' 
Every Girl That Got Away
Emerson Drive - "Footprints on the Moon" - Official Video 
Music's Journey Podcast INTERVIEW #173 w/ Award-Winning Country Music Group Emerson Drive New Single ''Every Girl That Got Away'' 
Follow Emerson Drive