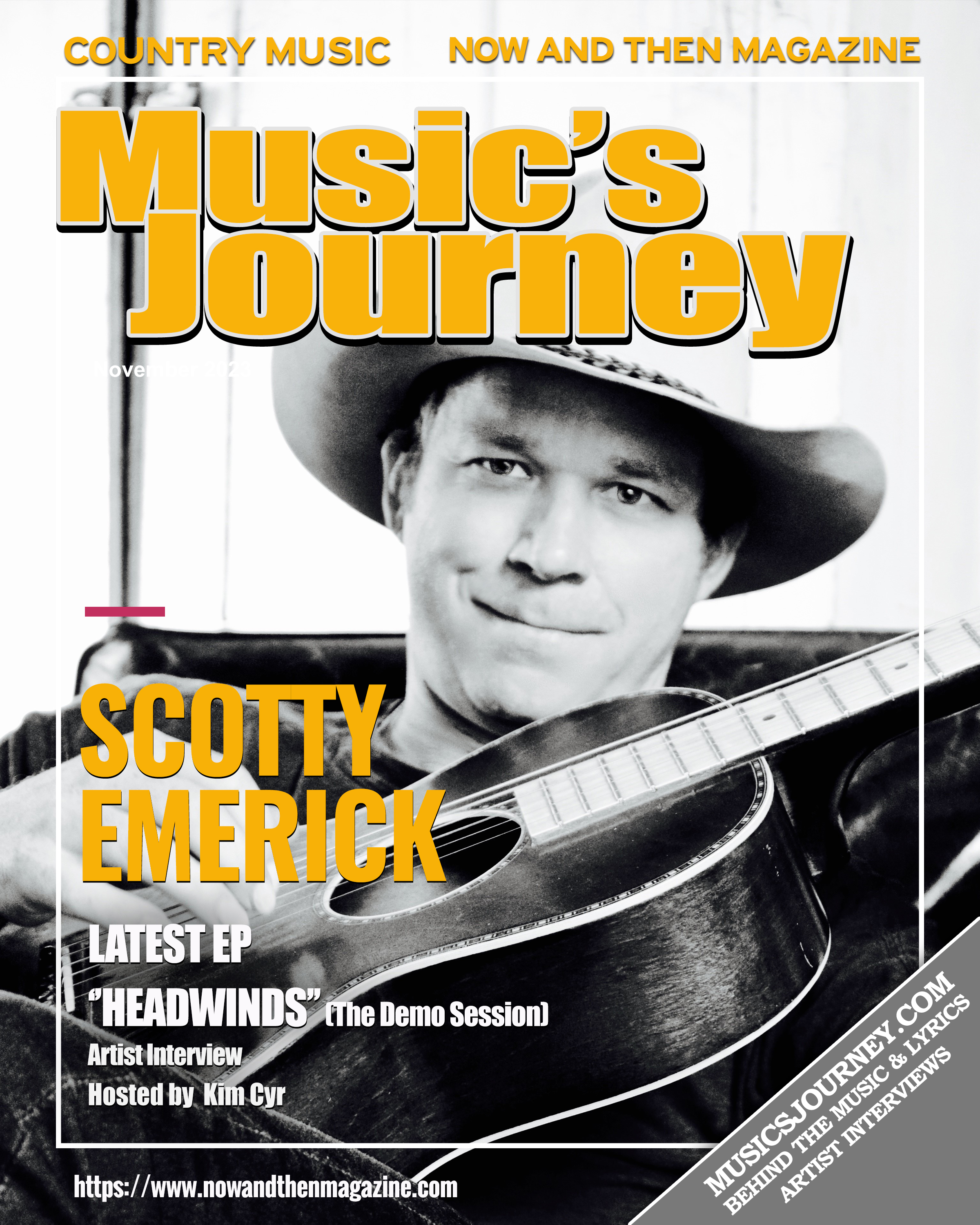 W/ NASHVILLE COUNTRY ARTIST 
HOSTED BY KIM CYR
PRESENTED BY NOW AND THEN MAGAZINE
HTTPS://WWW.NOWANDTHENMAGAZINE.COM
Music's Journey INTERVIEW #234 w/ American Country Music Award-Winning Artist and Songwriter Scotty Emerick His Stories and Music!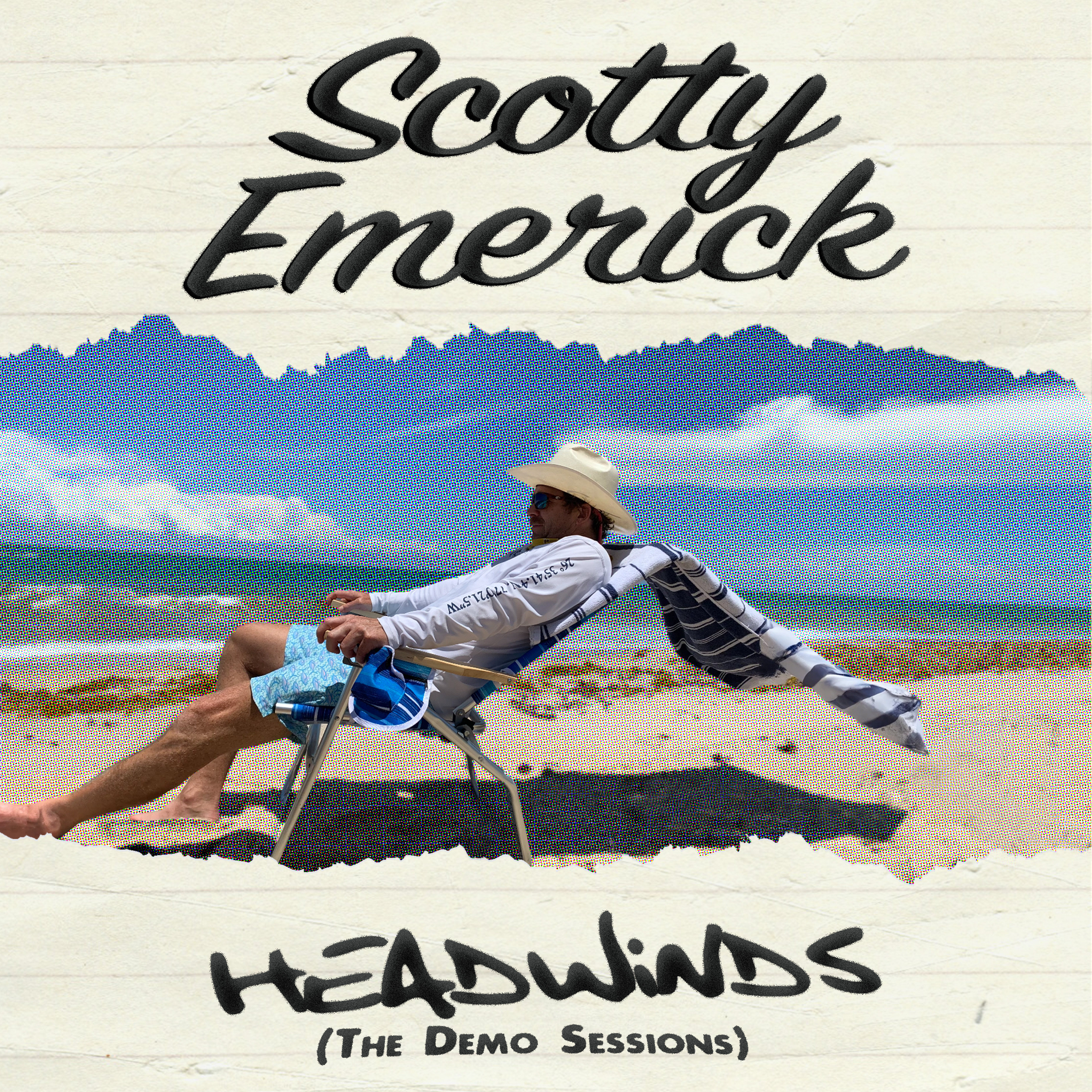 ''Headwinds''(The Demo Session)
Music's Journey INTERVIEW #234 w/ American Country Music Award-Winning Artist and Songwriter Scotty Emerick His Stories and Music!
Scotty Emerick was destined to be a musician and songwriter. He started playing guitar at the age of 6 and almost immediately was performing at family gatherings. By the time he was 11 or 12, Scotty was playing Moose Lodges and VFW halls. Scotty was swept away by the music, and before he'd even finished high school, he knew he had to go to Nashville and seek his fate. He says, "My father got me into Hank Williams Sr., then I graduated to Hank Jr... I was reading liner notes, who wrote all the songs, who played on everything.''
''I knew Nashville was where I could go for the same kind of music. I couldn't get there fast enough."
There was no looking back for the boy who knew of blazing honky tonk singer Gary Stewart, a mythic local hero, if only from the occasional sightings of the ragingly troubled country sensation in Vero Beach, where Emerick ultimately grew up. Stewart was emerging from a too-combustive, failed-to-launch duo with future Country Music Hall of Famer Dean Dillon, the single most recorded writer in George Strait's catalogue.
''Scotty Emerick has an incredible history as a songwriter working with the best of the best in country music,'' says, Kim Cyr, Editor in Chief for NOW and THEN Magazine and host of the International Music's Journey Podcast.  ''It was a pleasure to sit down with Dean Dillion to do an interview in 2022 and he would tell me stories about meeting this great songwriter named, ''Scotty Emerick.''  ''Dean would talk about the style of writing that he loved and Scotty was one of those artists that I needed to reach out to.  Dean loves Scotty and he was amazed by just how talented Scotty is.  ''The man can write just what your heart needs,'' he said.   ''That boy can write,'' says Dean Dillon.
''After I finished the interview with Dillon, I started to do some research on the history of Scotty Emerick and I knew I needed to get him on the show to talk about his history with country music.  There is something about the songwriting process that just seems to come so easily to some artists and Scotty reminded me of Dean Dillon.  You can understand why so many of the best in country music over the past fifty years like Toby Keith, Dean Dillon, Kenny Chesney, the late Jimmy Buffett, Sawyer Brown, Willie Nelson, Red Lane, Hank Cochran, Mac McAnally, and so many more worked with Scotty Emerick as their go-to songwriter of choice.  That says it all, doesn't it?  He is just that good!''
This interview is one that you don't want to miss!  It is jam-packed with music throughout that we all know and love with the stories that were created by a brotherhood of friends that changed lives all over the world with their songs!
To hear my interview full of stories and music with Scotty Emerick,  click on the link below or go to www.musicsjourney.com.
Music's Journey INTERVIEW #234 w/ American Country Music Award-Winning Artist and Songwriter Scotty Emerick His Stories and Music!
Ironic, as Dillon would become one of many mentors for Emerick, who would go on to assume the same role as Dillon in Toby Keith's career. Laughing, the sandy-haired Emerick admits when talking about serving as the creative foil for the Academy of Country Music Entertainer of the Year and Presidential Medal of Freedom recipient, "When I grabbed a guitar, it was 24/7. I slept with it. Toby and I'd do shows: I'd do my show, he'd do his, then we'd get back on the bus, and we'd be back at it. Just making up songs, it was so completely creative. That's all we did, all the time... We sparked so much, it opened up my mind."
But we're ahead of ourselves. Straight out of high school, the kid who grew up on the water – "summertime was the ocean, fall, and winter is freshwater fishing and airboats" – headed to the middle of America to chase his dream. Landing a job bussing tables at the Spaghetti Factory downtown, he started knocking on doors and making the rounds.
"The first month, I was down on Music Row and someone told me I should meet Bryan White, who was the same age," he recalls. The teenagers had big dreams, but while both were consumed with music, White had a plan. He wanted a record deal within a year and got one with Asylum, where he would release two platinum records, win awards, and live the life.
Emerick wanted something a little richer creatively: to live the life, to write the songs, to sop up all the wisdom you could find hanging out with Dillon, Red Lane, and more old-school writers.
"Red Lane lived in an old airplane out in Ashland City," he explains, clearly delighted. "His best friend was Hank Cochran. He was a fabulous guitar player and songwriter, of "Miss Emily's Picture," and Haggard's "My Own Kind of Hat" just to name a very few. 
"He really took me under his wing. I sought him out, because I knew how good he was, and he let me be around so much."
That notion of friendship and support saw Emerick, White, and Sawyer Brown leader Mark Miller sit down to write a song. They not only crafted "I Don't Believe In Good-Bye," which hit Country's Top 5, but Miller invited the 19-year-olds down to Muscle Shoals where the legendary Mac McAnally produced the band.
Once again, the young songwriter, who was consumed by music, took in everything around him. Beyond the iconic studio and famous Muscle Shoals rhythm section of David Hood on bass and Roger Hawkins on drums, he stayed in touch with McAnally. It's a relationship that's seen the two men share stages – along with a certain Floridian songwriter/lifestyle chronicler named Jimmy Buffett – over the last three decades. 
"That was so long and so many miles ago," he marvels. "I was just working on playing, singing and writing. I was just chasing being in Nashville... or maybe staying there. I was living the dream, wherever it was going to take me. I was living in the moment, pretty much day by day."
Even before he ran off and joined Toby Keith's traveling road show, the likable Emerick was forging relationships with the greatest songwriters of the past fifty years. Impressed by his knowledge of not just the songs and the stars, but the people who wrote them, played on them, produced and engineered them, anyone who came in contact with the emerging writer – from Willie Nelson and George Strait to Kenny Chesney and Keith – kept having him come around.
Those artists liked his creative juice, the way life just flows through his songs. And if he had deals with DreamWorks Nashville ("briefly") and Rising Tide ("very briefly"), yielding one album for DreamWorks and a few singles on Show Dog, it hasn't stopped an eclectic group of top-shelf artists from Eric Church, Alan Jackson, Sammy Hagar, Ronnie Milsap, Billy Currington, Gary Allen, and Del McCoury, as well as the above names, from making Emerick's songs their own. 
To that end, Emerick's ability for channeling authenticity into what he writes has seen him earn Nashville Songwriters Association International's Songwriter of the Year, in addition to picking up Best Country Song Grammy and Country Music Association nominations. There are some things you can't fake, and that's what makes the retiring Emerick such a lethal weapon.
"You don't get known for the things that don't happen, you only get known for the things that do," he shrugs. "There's a lot of things that don't happen or fall through, but even in getting that far, the adventures you have..."
Let's talk – or sing – about those adventures, shall we? How about Keith's #1s "I'm Just Talkin' About Tonight," "I Love This Bar," "Whiskey Girl," "As Good as I Once Was" and the driving Willie Nelson duet "Beer for My Horses"? Or Keith's Top 5's "Get Drunk and Be Somebody" and "A Little Too Late? How about the 46 other Keith cuts?
Toby Keith - Beer for My Horses ft. Willie Nelson
Toby Keith - I'm Just Talkin' About Tonight
Toby Keith - I Love This Bar
Toby Keith - As Good As I Once Was
"We both loved the same kinds of songs, and we both knew what it takes to create them. We pushed each other – and that's the exciting part of doing this. Once you lock in creatively, you have no idea how far you can go. Or who you'll go with.'' 
"I think about Muscle Shoals, it was the first time I saw a lava lamp, all those album credits I'd read those names on. It was crazy. I mean, Mac played on (Hank Jr.'s) Family Tradition. There's someone who never changed, always the same and always so talented. He was a good barometer then – and still is – for how far we have to go to get up there."
Getting up there means having a song on Willie Nelson's Grammy-winning album A Beautiful Time, as well as co-writing the Nelson-inspired "I'll Never Smoke Weed With Willie Again." It means doing writer's nights with folks like Dean Dillon all over the world, USO Tours in the Far East, Middle East and anywhere our men and women are deployed, to sit in Antarctica with Buffett's Coral Reefer Band and jumping up onstage with many of country's biggest headliners.
Jimmy Buffett - Like My Dog
Toby Keith- Scotty Emerick - Willie Nelson - I'll Will Never Smoke Weed With Willie Again
While some people come to Nashville with a plan and a defined sense of making it, Emerick just knew he wanted to be where the music was, to suck up knowledge and exhale songs. Three decades in, not much has changed for the guy with the cock-eyed smile whose songs have helped sell tens of millions of albums.
"I've never thought of music as a job," he concludes. "If it ever started to, I'd retreat... to keep that hunger inside me. I've always felt this was something more, something almost middle-aged crazy and fun. You know, I believe in hope, which is the best of all things in my situation. If there's one thing I've learned it's that something else, something good will happen. Maybe even something you couldn't imagine, but is even better.
"That's kind of been the story of my life."
To hear the interview with Scotty Emerick, go to www.musicsjourney.com or click on the link below.
Music's Journey INTERVIEW #234 w/ American Country Music Award-Winning Artist and Songwriter Scotty Emerick His Stories and Music!
Follow Scotty Emerick
Website/Facebook/Twitter/Instagram/YouTube/Spotify/Apple