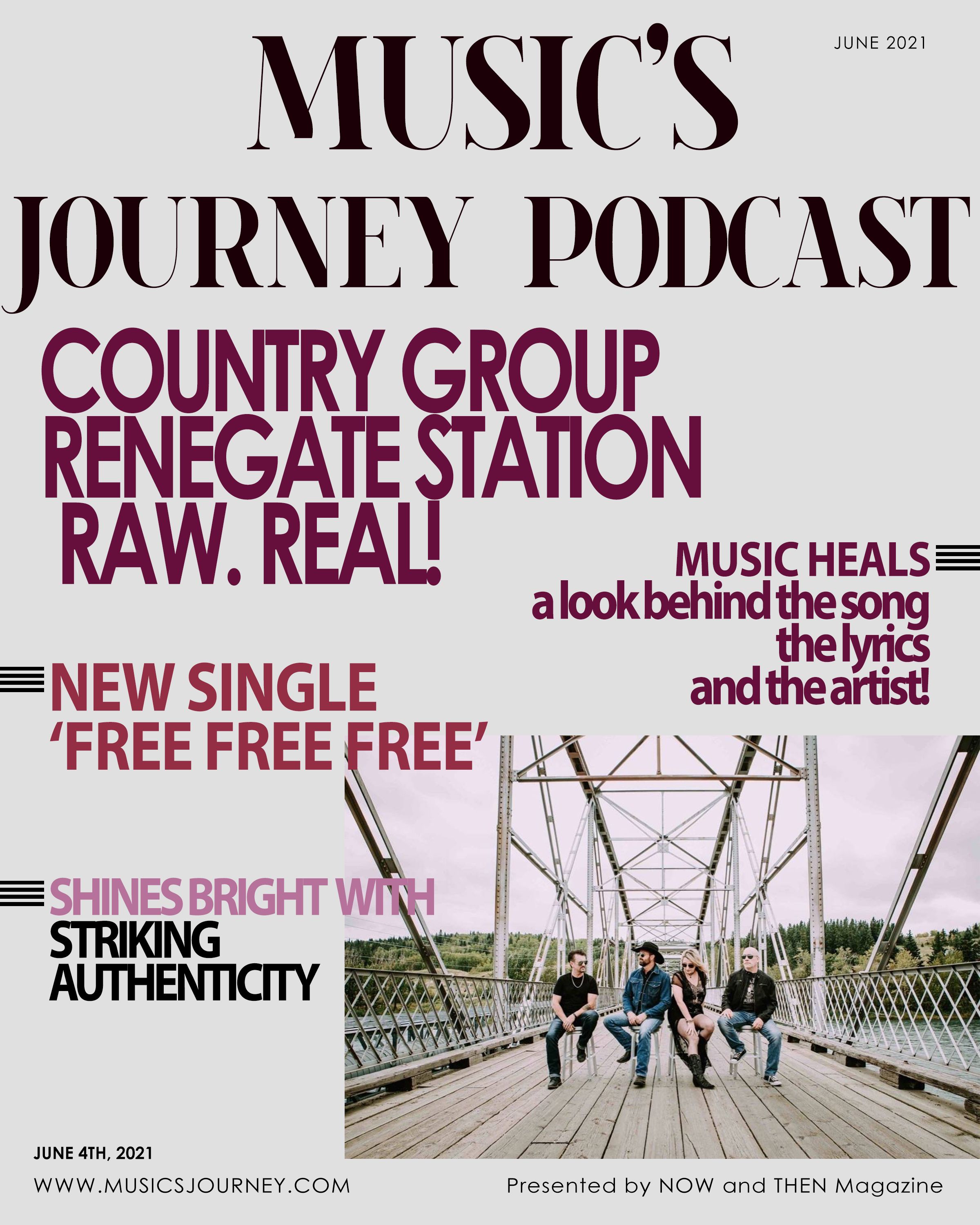 Music's Journey Podcast
w/ Multi-Award Winning Country Group
Hosted by Kim Cyr
Presented by NOW and THEN Magazine
https://www.nowandthenmagazine.com
Music's Journey Podcast INTERVIEW w/ Multi-Award Winning Group 'Renegade Station' Striking Authenticity With Single 'Free Free Free' Listen HERE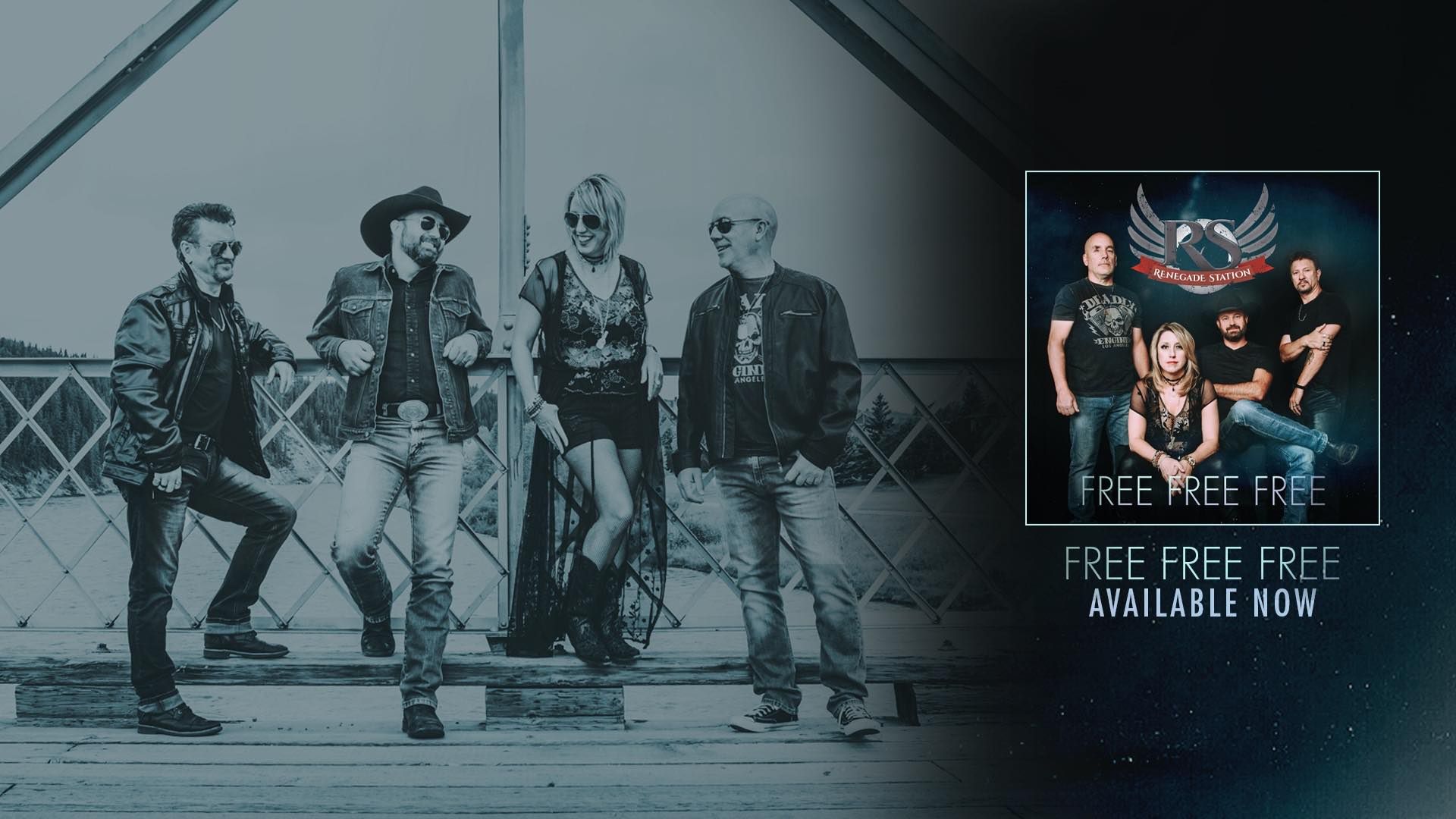 Renegade Station
New Single 
Music's Journey Podcast INTERVIEW w/ Multi-Award Winning Group 'Renegade Station' Striking Authenticity With Single 'Free Free Free' Listen HERE
Alberta's Renegade Station has embarked on a dynamic musical journey that sees the talented quartet elevating their already impressive reputation for creative excellence and superior showmanship to new heights. 
Understanding that sometimes you need to shed elements of your past in order to embrace the wide, wonderful future, the group has revitalized and focused on their musical identity. They have pushed forward with a passion, and unrelenting drive that will see Renegade Station become a name that anyone hearing their unique pop and rock-infused brand of country music is unlikely to forget. 
The band came together after meeting and see each other perform at numerous events in their local area. They immediately connected and the band was formed. As they continued on their musical journey together, not only as a band but in friendship too, they became the "go to" group for numerous events across Alberta. Their harmonious energy became contagious among anyone that attended the events. "We just gelled as musicians and our voices harmonized so well together that we all just felt we needed to do more. So, we acquired ourselves a professional manager and began recording some originals and some songs that were pitched by incredible writers to us," said Luanne. 
Their name is symbolic of the group's unconventional approach to their music and sense of independence. They are unabashed about injecting their original music and the songs presented to them by other noted songwriters with healthy doses of pop and classic rock nuances – with a focus on lushly produced and beautiful layered vocal harmonies which owe as much to Fleetwood Mac as they do to Lady A. 
The "Station" part of their name is a nod to the vintage working steam train that is a tourist attraction in Stettler and which is a throwback to the region's pioneering past. Therefore, a name that is reverent towards tradition, but which also alludes to a desire to go one's own way is ideal for the band as they approach their craft. 
As proof of Renegade Station's commitment to excellence, for the recordings, they worked with respected industry veteran Johnny Gasparic at Dave Temple's MCC Recording Studio in Calgary. "We collaborated a lot on the production side which is awesome. Johnny brings an amazing background and experience with him. He knows that we are very much a vocal band and a harmony band, and he really helps to emphasize our vocals. 
The lead-off hit single, Who's Gonna Love Me Tonight, from the album 'Along for the Ride' fits into the more adventurous approach that is Renegade Station's hallmark. Sung by Kent who shares lead vocal duties with Luanne, it's a mature, somewhat saucy but very true-to-life take on modern romance. 
"We were really drawn to the song at first because of the amazing harmonies, but then once we got a sense of the meaning and message we knew we had to record it. It's a little different and a little more risqué than a traditional country romantic song. It's not the normal 'I love you and you love me' song. It's a little more mature and realistic. Who is going to go home with who? Who is the strong person in the song, and who is the one going to just give in to the temptation of the moment," Luanne said. This single garnered the group numerous nominations, Top 50 on the charts and the ACMA (now Country Music Alberta) Single of the Year (2018). 
They have since released favorites like: Along for the Ride, Don't Hold Your Breath and Safe Harbour, all garnering radio charting plays. 
The rock-solid foundation that was built is not being shunted aside as the talented quartet moves forward. Renegade Station's legacy is etched deep into the firmament of the western Canadian music scene and that can never be taken from them. In recent years they have won back-to-back Association of Country Music in Alberta, as Group of the Year (2015 and 2016) as well as the ACMA Fan's Choice of the Year in 2015. They also garnered a CCMA nomination for songwriter of the year for their tune 2:15 and Luanne was also nominated for CCMA Bass Player of the Year for 2016. They have numerous nominations under their belt. 
The band has shared the stage with a who's who of Canadian and international country music luminaries, from George Canyon and Carolyn Dawn Johnson to David Lee Murphy, Emerson Drive,  Bobby Wills and Trooper. 
Renegade Station albums are a bold statement by a collection of talented musicians and songwriters that is infused with authenticity, impressive vocal performances and insistent melodies that will stick with you for days. 
And with this impressive collection of new songs, a live show that never fails to enchant and entertain, and an unparalleled creative drive, Renegade Station is truly poised to break through to a national and international stage.
''I had such a great time chatting with Kent Nixon guitar player and lead vocals of the multi-award-winning group 'Renegade Station,'' says Kim Cyr Editor in Chief for NOW and THEN Magazine and host of the International Music's Journey Podcast.  ''Renegade Station's harmonious energy is contagious with their bold rock-infused songs we have all grown to love.  They are the go-to group to play events right across the country.  The group has won numerous awards and nominations across the board and they just keep delivering hit after hit. 
''Renegade Station's latest release 'FREE FREE FREE' reminds us all that we've all been guilty of taking the little things in life for granted. We all focus on the "big" things (jobs, cars, houses, prestige, etc…) and lose perspective about what's actually important.  It is simple and eloquent in the way that the sentiment is expressed; it says it, without having to spell it out,'' says Cyr. 
''There was so much fun and laughter during this interview and I will tell you this, ''No one should ever lay down and go to sleep anywhere that Kent might be present with a sharpy in his hand,'' says Cyr.  You need to hear why.  Who is the prankster of this group?  Lots of fun stories you need to listen to with my Burning Questions portion of the show in the interview.  Click HERE  
Music's Journey Podcast INTERVIEW w/ Multi-Award Winning Group 'Renegade Station' Striking Authenticity With Single 'Free Free Free' Listen HERE
Renegade Station - FREE FREE FREE (Official Video)
Music's Journey Podcast INTERVIEW w/ Multi-Award Winning Group 'Renegade Station' Striking Authenticity With Single 'Free Free Free' Listen HERE
Follow Renegade Station