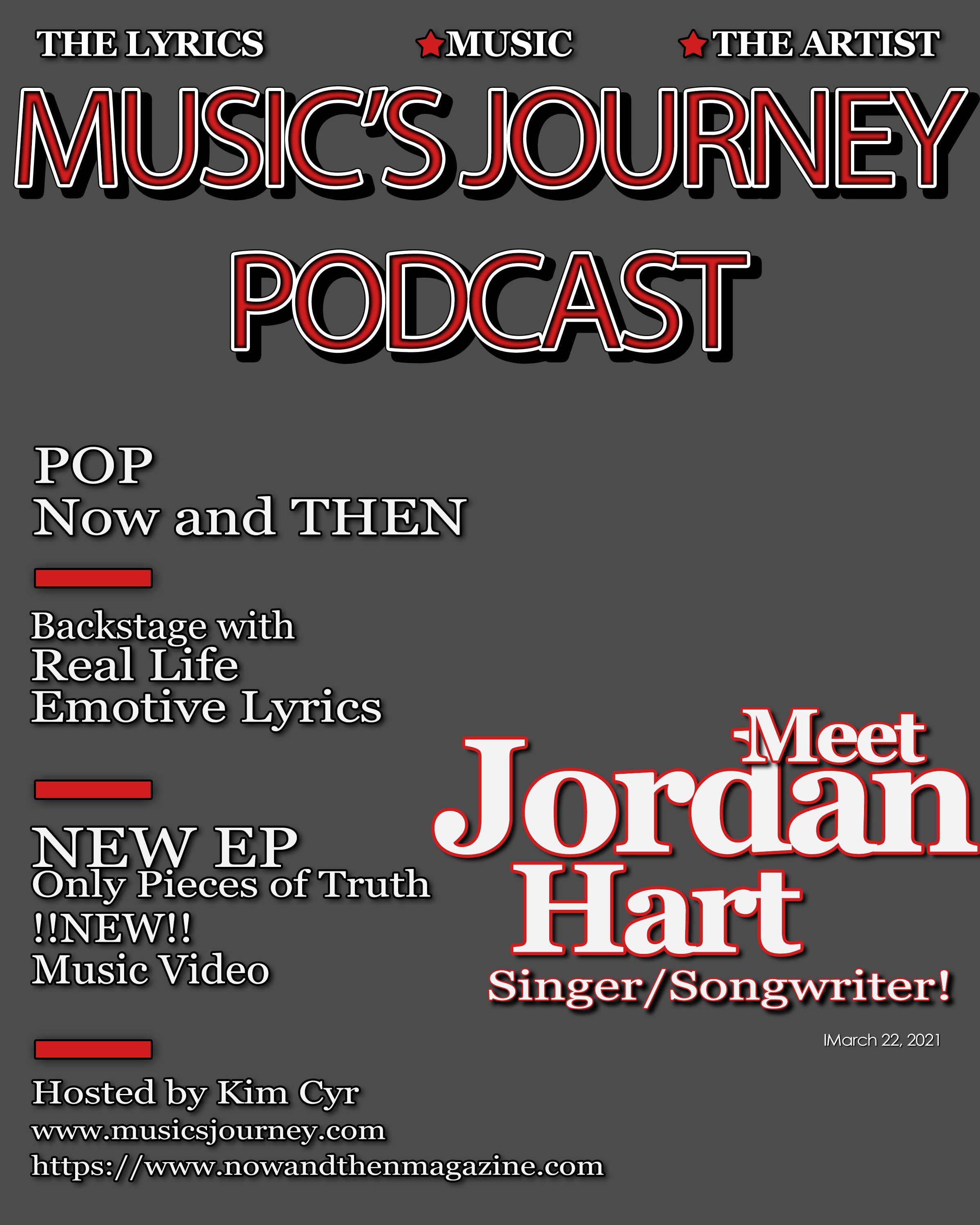 w/ Pop Artist ''Jordan Hart''
Hosted by Kim Cyr
Presented by NOW and THEN Magazine
https://www.nowandthenmagazine.com
Music's Journey Podcast INTERVIEW w/ Canadian Pop Artist ''Jordan Hart'' Connects As An Amazing Lyrist With His Debut EP ''Only Pieces Of The Truth''

Jordan Hart 
Releases New Single and the Music Video 
Music's Journey Podcast INTERVIEW w/ Canadian Pop Artist ''Jordan Hart'' Connects As An Amazing Lyrist With His Debut EP ''Only Pieces Of The Truth'' 
Jordan Hart debuts his brand-new video for Only Pieces of the Truth, the single was released today via Believe Digital and all streaming services. Hart is a singer-songwriter from Alberta, now based in Toronto, ON. The single is an emotive, mid-paced, and gentle song with gloriously sweeping arrangements and the video features a beautiful dance performance expressing our desire to communicate but failing to do so. It was directed by Julia Hendrickson (Justin Nozuka), produced by Lucy Cameron, and choreographed by Lauren Runions.  
Said Hart. ''The central character realizes that all he wants to do is be vulnerable and that he is "holding all the cards, wishing you could see inside his walls." But even still, and especially because the stakes are so high, he can't bring himself to take the first steps forward toward repairing the relationship ("staring at your door, I'll never knock").''  
Hart reached out to Julia Hendrickson after being impressed by her work on Justin Nozuka's past videos. The video was filmed in an old, abandoned mansion in Toronto. The concept of the video was to explore the line between the purely natural and slightly distorted or manipulated. The dancers wore little to no makeup and were dressed very simply as to contrast beautifully against this forgotten space that was once such a grand statement of human presence.  
''The mansion's decaying paint and old wood make it feel like space is being reclaimed by the natural world,'' said Hart. ''The natural light that quietly exposes the dark abandoned rooms reminds me of our profound impermanence in the face of the vastness of the environment that surrounds us.'' 
In 2019, Hart embarked on a 100-day straight busking challenge in Toronto, through thunderstorms and snowstorms he played on. Every Sunday, 100 percent of the money he raised was donated to L'Arche Canada, an organization that helps create communities that support people with intellectual disabilities.  Since then, he has secured a record deal with Believe Digital and All Points (based out of the UK). The momentum from his daily busking also culminated in a sold-out show at the Great Hall in Toronto and his career streams also increased by over a quarter of a million. As a featured artist, his work with Lucky Rose on the song ''Lost'' has accumulated over 15 million streams across all platforms and the track was top 30 at CHR Canadian radio. He is currently putting the finishing touches on his debut EP, out now. 
''Pop artist ''Jordan Hart'' has built his career through his live performances and honing his brilliant artistry and vision as a singer/songwriter,'' says Kim Cyr, Editor in Chief for NOW and THEN Magazine and host of Music's Journey Podcast.  ''Hart describes his debut video for his single Only Pieces of the Truth as a connection to his heart and soul.  His vision moves you and connects you emotionally to that feeling we all can find hard to face and allow ourselves to be and that is vulnerable.  The dancing in the video drives home that message with softness and the love that is expressed between the two dancers.  You can feel the love that can be so strong but can be broken with the walls we build around ourselves that we feel are protecting us but in truth are robbing us of the compassion of what love can bring into our lives.  You can't feel love completely or understand it without allowing yourself to be vulnerable a hundred percent of the way.   I love this video and the visionary artist that Hart has become.  Hart shows his emotive vocals and lyrics to this brilliant song,'' says Cyr.
To hear the full interview, click on the link below.
Music's Journey Podcast INTERVIEW w/ Canadian Pop Artist ''Jordan Hart'' Connects As An Amazing Lyrist With His Debut EP ''Only Pieces Of The Truth''
Jordan Hart - Only Pieces of the Truth (Official Video)
Jordan Hart - Freedom (Live Acoustic) 
Jordan Hart - Whole (Lyric Video) 
Music's Journey Podcast INTERVIEW w/ Canadian Pop Artist ''Jordan Hart'' Connects As An Amazing Lyrist With His Debut EP ''Only Pieces Of The Truth''
Follow Jordan Hart