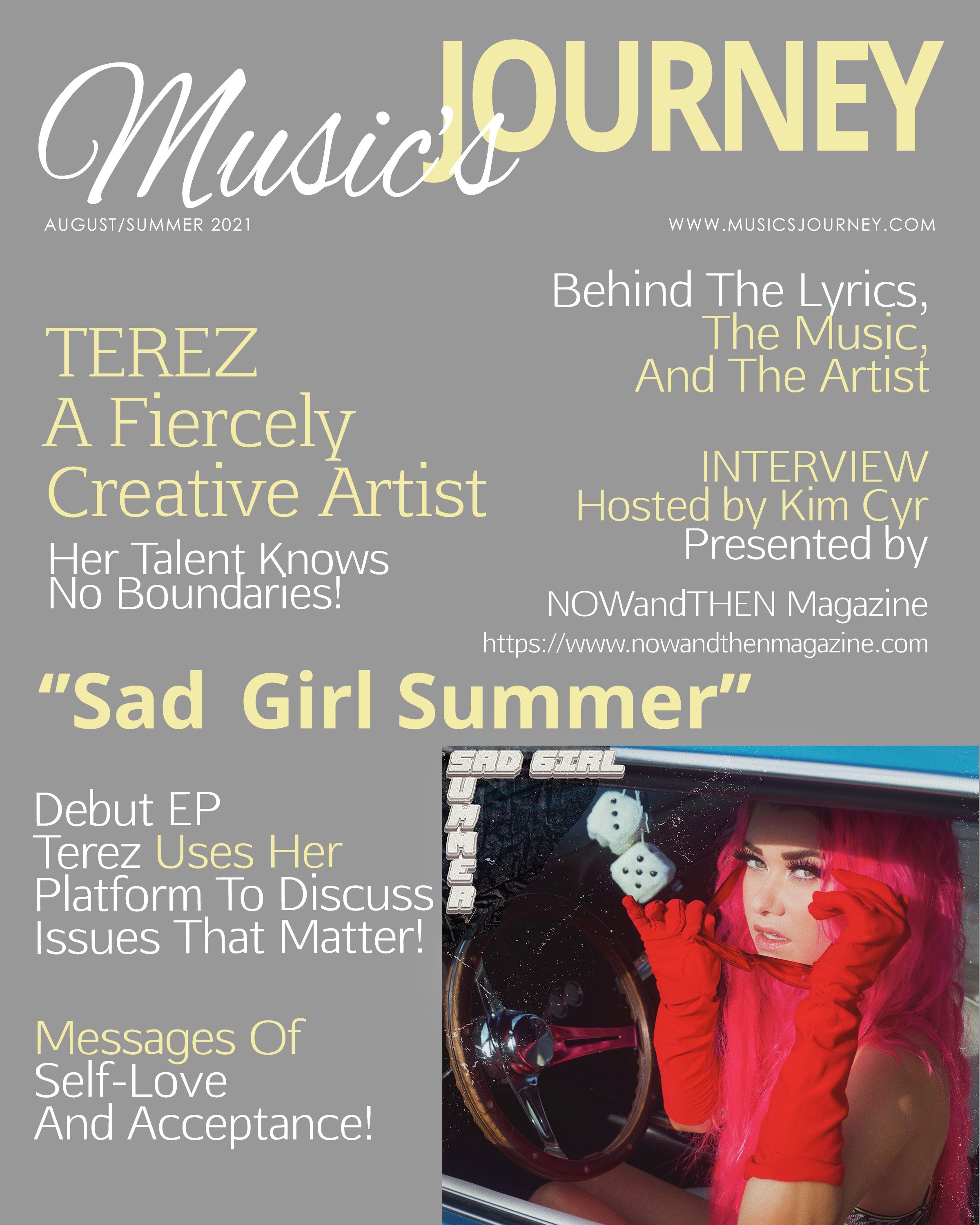 Music's Journey Podcast Show 
w/ Producer/Singer/Songwriter Pop Artist ''Terez'' 
Hosted by Kim Cyr 
Presented by NOW and THEN Magazine 
https://www.nowandthenmagazine.com 
Music's Journey Show #INTERVIEW w/ Producer/Singer/Songwriter Pop Artist ''Terez'' Debut EP Sad Girl Summer Out Today! Click HERE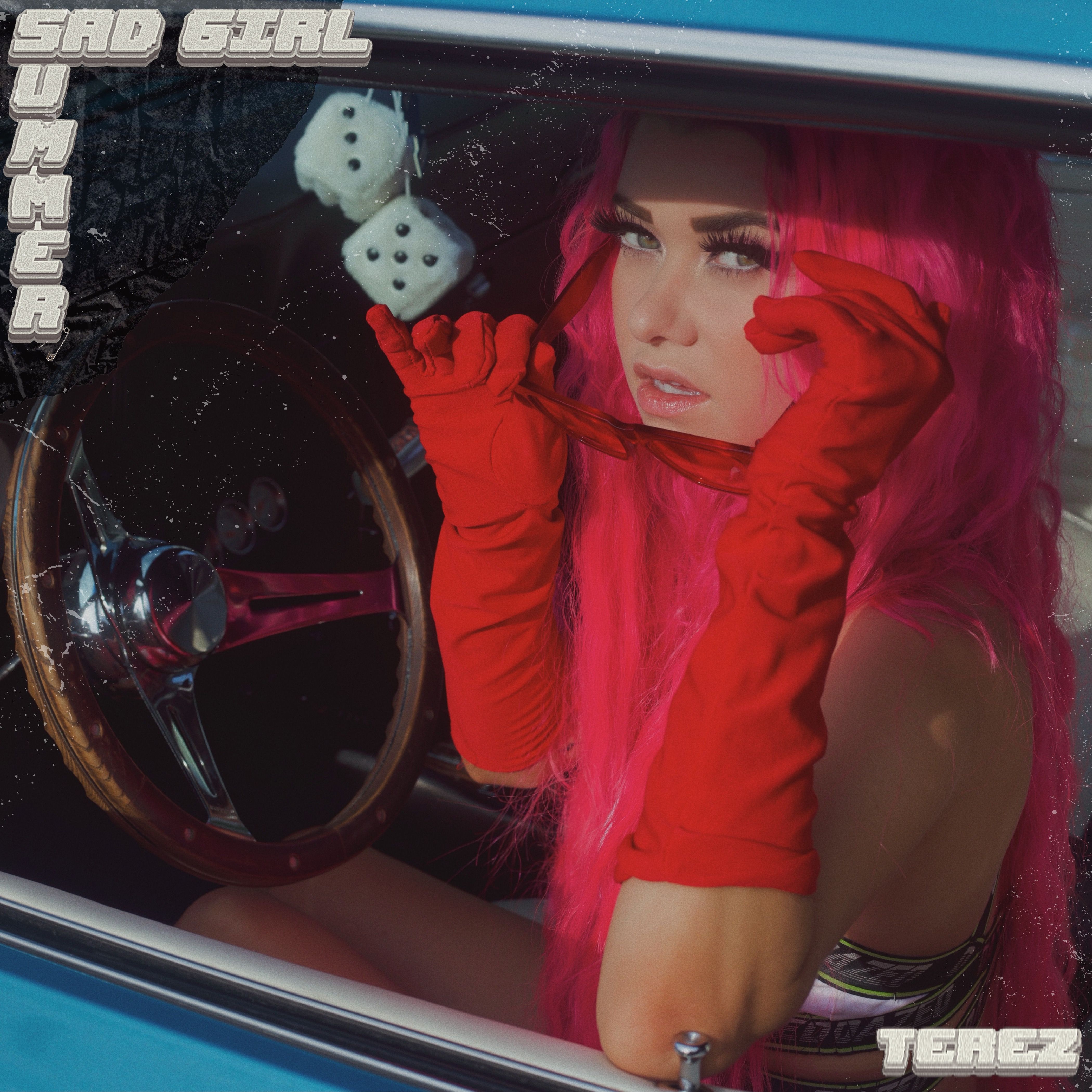 TEREZ
Debut EP
''Sad Girl Summer''
Music's Journey Show #INTERVIEW w/ Producer/Singer/Songwriter Pop Artist ''Terez'' Debut EP Sad Girl Summer Out Today! Click HERE
Toronto, ON – Canadian singer-songwriter, Terez, has announced the release of her brand-new, debut EP "Sad Girl Summer''. 
Terez is a fiercely creative artist whose talent knows no boundaries. Still, in her early twenties, the Métis singer-songwriter is also a creative director, women's rights and LGBTQ+ advocate, and ranks among the 2.1% of female music producers in the industry today. With nearly a lifetime of songwriting and performances under her belt, Terez has performed alongside Keith Urban, opened for Canadian artist Ria Mae, and was slated to perform alongside breakout Canadian artist RALPH in the spring of 2020. She has been commissioned to write songs for dozens of artists around the world, creative direct music videos and artist's brands in Toronto and Calgary, and much more. With her ability to write and perform most genres of music, Terez's own unique musical style blends pop and R&B with a punk edge and are complemented by her deep and meaningful lyrics and velvety yet powerful vocal tone. 
Terez's debut EP, "Sad Girl Summer" directly alludes to her love of contrast and dichotomy between melody and lyrics. "The 'Sad Girl' portion of the title is the deeper emotion within the EP, while the 'Summer' is the fun, uplifting, and at times light-hearted nature of the project." Filled with lyrical and 
Melodic contrasts, uplifting and relatable songs, "Sad Girl Summer" showcases the vast musical talents of an artistically mature multi-instrumentalist who bridges the gap between pop, R&B, and punk. 
Following her participation in the SOCAN Equity X Production Mentorship Program aimed at narrowing the massive gap between male and female producers, Terez served as co-producer on six of the seven tracks on "Sad Girl Summer". The program helped the artist obtain the technical skills needed to more easily craft the sounds she was aiming for on the project, followed by a mentorship with a Canadian producer who also collaborated on the EP, Kelland, to take her skill set to the next level. 
The first single off of the EP, "Hot Mess", is an ode to poking fun at oneself. The song turns a night of coincidences and mistakes into a fun, uplifting anthem designed to remind listeners to laugh off all the craziness and chaos of life and enjoy the moment. The song is complimented by a vibrant, imaginative, and colorful video that highlights Terez's brilliantly creative eye in addition to her ear. From the full spectrum of emotions on the electro-pop stylings of "This City", to the revengeful, cheeky lyrics of "Cake" and the vulnerability of "Lonely", "Sad Girl Summer" is filled with highly relatable lyrics, powerful, gripping melodies while touching on issues that many people face but find hard to discuss such as, self-love, mental health, the impact of social media, and acceptance. 
The EP features the lead track, "Sad Girl" – a bubbly pop song that serves as an analogy for social media. With lyrics that directly contrast the melody, "the song seems happy and fun but if you dig into the lyrics you'll see this person is not okay. That's what this song is all about - you see it on social media every day". 
With a creative eye that is rarely seen in the industry today, Terez's debut EP "Sad Girl Summer" seamlessly merges her creative, captivating melodies and relatable lyrics with her numerous other artistic talents, namely creative direction and music production. Staying true to her classic sound while showcasing her growth and discussing topics that are often hard to write about, Terez's "Sad Girl Summer" showcases a young and talented artist with an understanding of music and the industry itself that can take most artists decades to cultivate. 
"Sad Girl Summer" is available everywhere.
Everyone has secrets and unflattering truths; Terez aims to showcase her truth to make fans feel more accepting of their own. Her deeply vulnerable, and personal lyrics aim to make listeners feel related to and understood, while her pop melodies and dynamic vocals make you want to dance.
Music's Journey Show #INTERVIEW w/ Producer/Singer/Songwriter Pop Artist ''Terez'' Debut EP Sad Girl Summer Out Today! Click HERE
Terez - Cake (Official Music Video)
Terez - This City (Official Music Video)
Sad Girl
Terez - Hot Mess (Official Music Video)
Music's Journey Show #INTERVIEW w/ Producer/Singer/Songwriter Pop Artist ''Terez'' Debut EP Sad Girl Out Summer Today! Click HERE 
Follow TEREZ