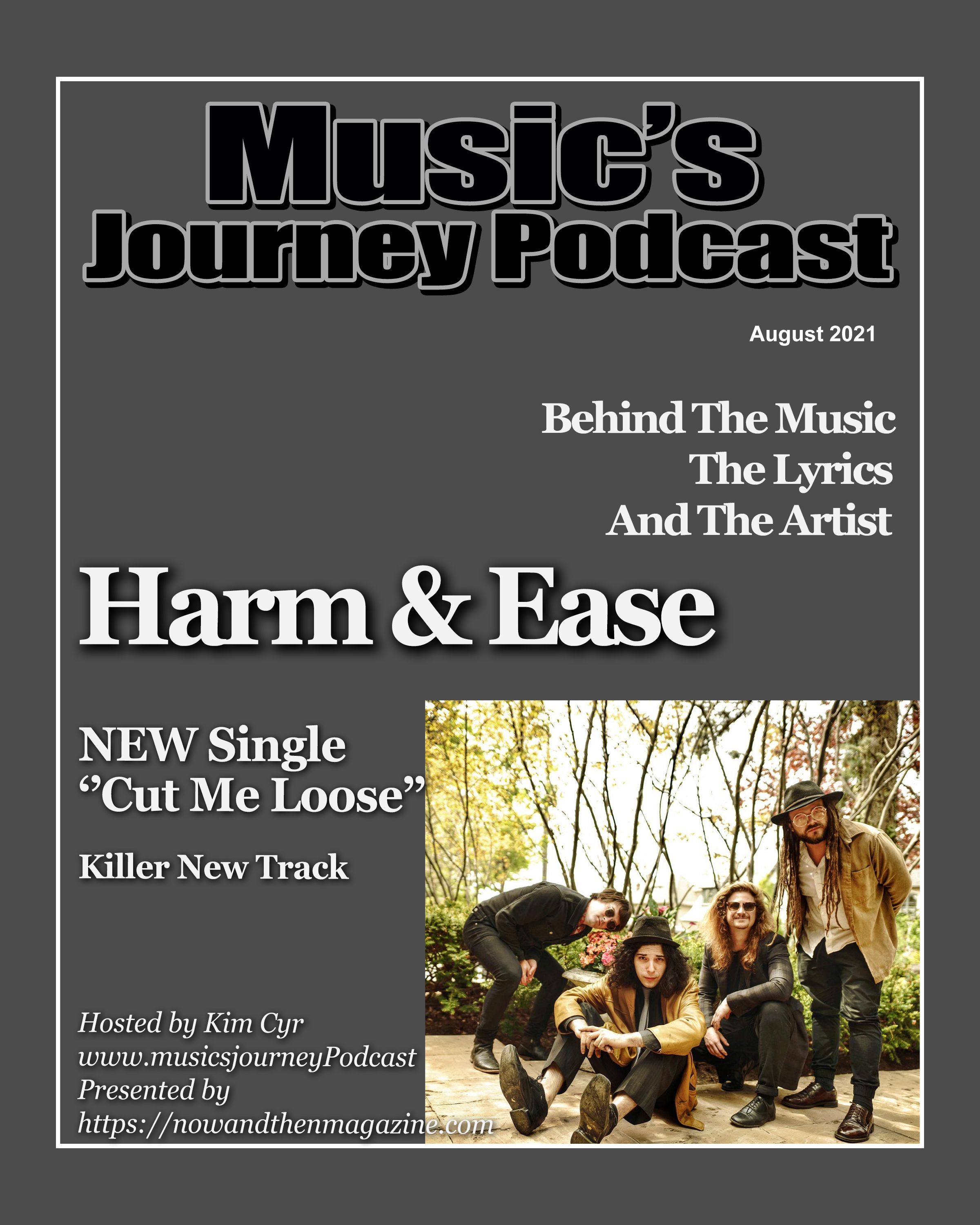 Music's Journey Podcast 
w/ Canadian Rock Band ''Harm & Ease'' 
New Single ''Cut Me Loose'' 
Hosted by Kim Cyr 
Presented by NOW and THEN Magazine 
https://www.nowandthenmagazine.com 
Music's Journey INTERVIEW w/ Toronto Rockers 'Harm & Ease' Winning Fans Worldwide With New Single ''Cut Me Loose'' Listen HERE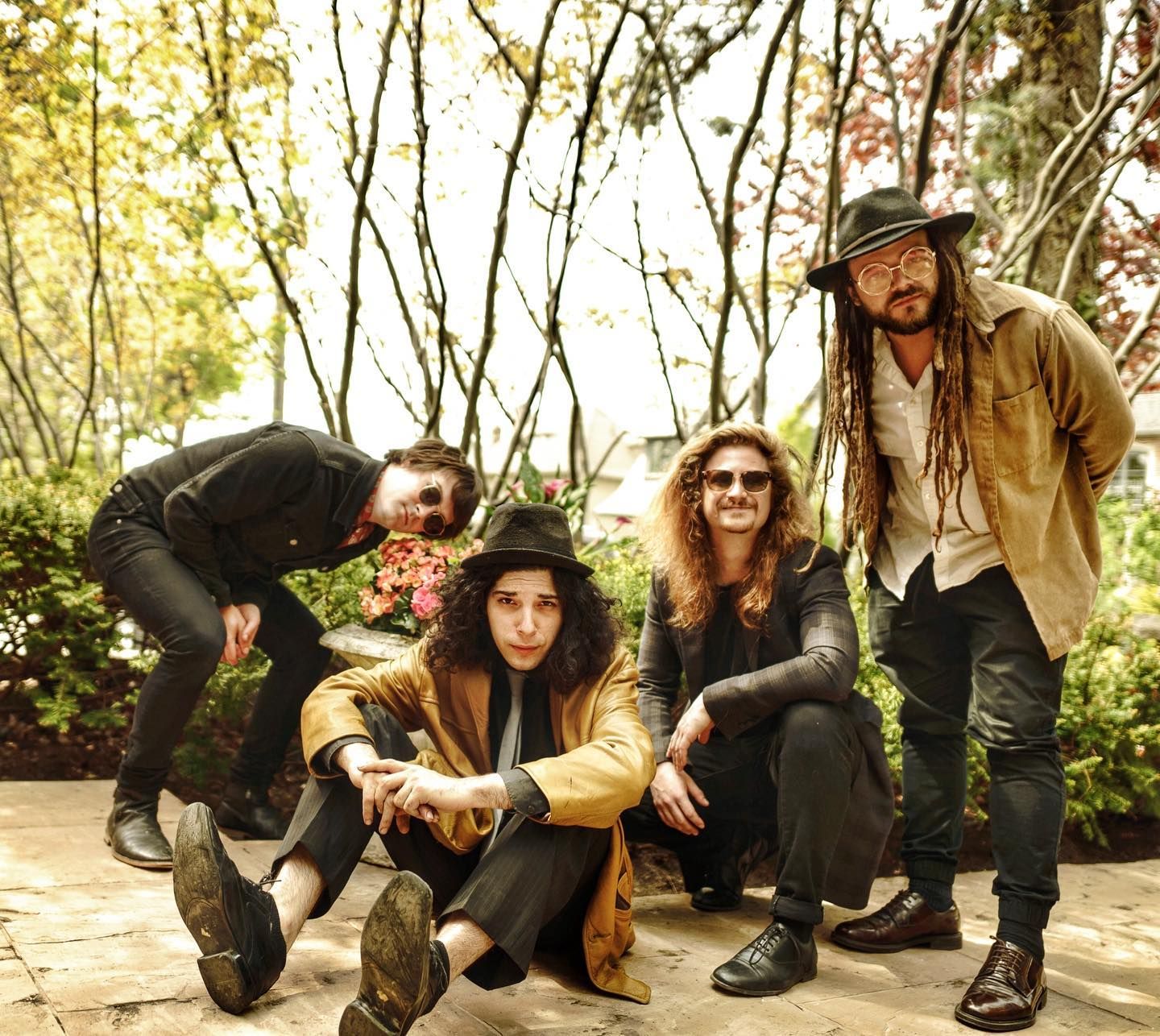 New Single 
''Cut Me Loose'' 
Music's Journey INTERVIEW w/ Toronto Rockers 'Harm & Ease' Winning Fans Worldwide With New Single ''Cut Me Loose'' Listen HERE 
Harm & Ease is a Rock & Roll band originally founded in Burlington, Ontario made up of:  
Founding members Danny Lopez and Rylan Whalen originally met in their first year of high school. In the predictable suburbs of Burlington, Ontario is where they swiftly began a musical relationship. Harm & Ease was officially formed in 2010 as an acoustic project allowing them to explore a more melodic vibe not present in the metal scene. Eventually, fate would find Lopez, along with his family, being uprooted with little warning finding themselves in Buenos Aires, Argentina. However, this wasn't enough to separate the songwriting duo. Dedication, sacrifice, and a hell of a lot of plane rides kept the artistic pair inseparable and propelled them into their next stage.  
Harm & Ease is a Rock & Roll band originally founded in Burlington, Ontario made up of Rylan Whalen (Vocals), Danny Lopez (Guitar), John Goodblood (Bass/Guitar), and Alex Hamnett (Drums). This lineup was formed in Buenos Aires Argentina after several reiterations revolving around Whalen and Lopez (founders). The addition of Goodblood and Hamnett proved proficient in rounding out an already brilliant basis. Recording and debuting their 1st two albums in the bustling, artist hub of Buenos Aires. They found themselves reaching an international following as they took over the South American rock scene.  
Danny Lopez and lead singer Rylan Whalen met 12 years ago while attending Burlington's Central Public. By the time they reached high school, they were writing songs together, with another school chum, Alex Hamnett, on drums.  
Lopez, 25, is Columbian by birth. His family fled Columbia as refugees, landing at first in Florida and then moving to Burlington when Lopez was 13. While Lopez was in Grade 12, his family decided to return to South America, making a new home in Buenos Aires, Argentina. 
Lopez and Whalen stayed in touch on a daily basis, continuing to write songs together through Skype. After a year, Whalen put together enough money to fly to Buenos Aires. He stayed almost five years.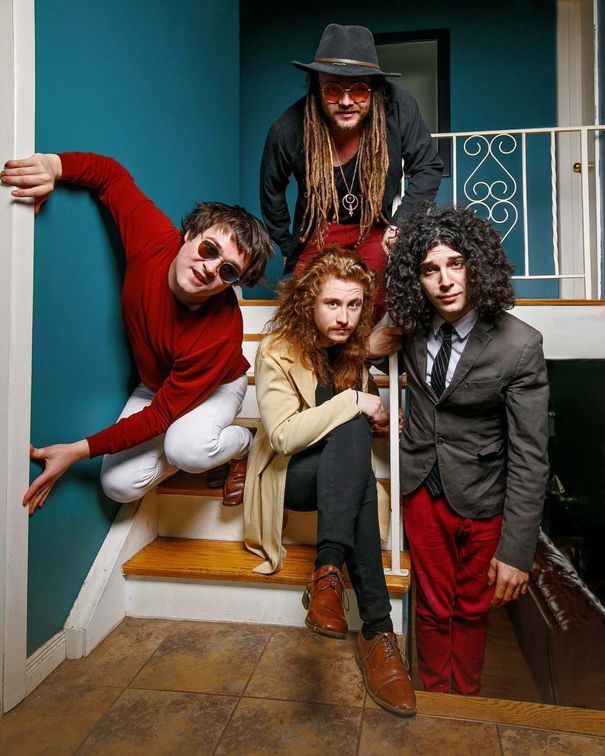 Harm & Ease. Rylan Whalen (left), Danny Lopez (top middle), Alex Hamnett (bottom middle) and John Goodblood (right).JOE LOPEZ PHOTO 
Connections were soon formed with world-renowned talents such as Multi-Platinum and Juno Award-winning artist Gianni Luminati of  Walk off the Earth allowing the recording process to begin and their first Canadian recorded album 'Midnight Crisis'. Produced by Dominic John David (known for his work with Jack White, Beck, and Willie Nelson), Harm & Ease channels the rock & roll giants of the 60s and 70s and passes it through their modern filter, creating a sound that comes across as fresh yet familiar and steeped in the roots of classical music and songwriting. In 2017, the band released their first album "Wonderful Changes", recorded in a mansion to be demolished in Buenos Aires, Argentina. Showcasing a melodic conceptual brand of songwriting with lush arrangements, and a choral quality to their backup vocals. Their second album "Black Magic Gold" cranked up the volume and featured a much more blues rock-driven sound, with swampier darker songs and funeral march horns. They have recently recorded a single with Grammy award-winning producer Joe Cicarelli (Elton John, The Foo Fighters, Morrisey, The Raconteurs) titled "Nothing More Than Love".  
Nothing More Than Love - Harm and Ease
"I first saw the band in a small club in downtown Hamilton ON in the summer of 2019. I was immediately enamoured by their playing and their ability to have the whole club up dancing and rockin' out. After meeting the band after the show I was very intrigued by their story and how the members from 3 different countries were brought together by friendship and a love for music. For many years I had been looking for a band to work with that really inspired me and that had the same passion for music and art. I offered to represent the band as their manager and they were very happy to oblige. We've been working hard over the pandemic on all facets of the Harm & Ease project and are ready to take the rock world by storm," said Gianni Luminati.
The band has released their new single "Cut Me Loose" dropped on July 16th. This upbeat modern rock anthem showcases the band's unique sound & dueling lead singers. The track puts the subjects of love & betrayal into play through a dramatic yet action-driven storyline. 
''The new track ''Cut Me Loose'' has really solidified Harm & Ease with the sound that fans will recognize with the live performance lifestyle, that powerful energy and howling gritty blues we all love, hard-hitting guitar riffs, and the spirit of real rock and roll,'' says Kim Cyr, Editor in Chief for NOW and THEN Magazine and host of the International Music's Journey Podcast show.   
To hear their incredible story, click on the link below for the full interview!
Music's Journey INTERVIEW w/ Toronto Rockers 'Harm & Ease' Winning Fans Worldwide With New Single ''Cut Me Loose'' Listen HERE 
Harm & Ease (Official Lyric Video) 
Music's Journey INTERVIEW w/ Toronto Rockers 'Harm & Ease' Winning Fans Worldwide With New Single ''Cut Me Loose'' Listen HERE 
Follow Harm & Ease